New Netgear 100G Network Switches Address AV over IP Applications
Leave a Comment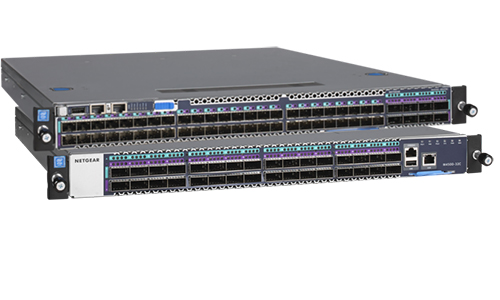 Bolstering its selection of AV over IP-friendly devices, the new Netgear 100G network switches offer professional integrators a choice of 10G and 100G solutions.
Netgear says it has added to its 10G line to provide integrators a choice of 16-, 24- and 48-port models, and its new M4500 line 100G products provide higher-performance options that enable integrators to address AV over Ethernet.
"Netgear is driving the technology transition for the audio visual space by offering more managed switches that can ease the move from traditional complexities and expense of disseminating video and audio to big screens," said John McHugh, senior VP of SMB and services at Netgear, in the company announcement.
"We now offer a range of port options to meet the needs of smaller deployments such as in home or small business, and the 100G option will address the growing demands of providing the highest quality video to the stadium-level displays," he said.
Netgear 100G Network Switches Incorporate Proprietary Technologies
Developed for higher-demand systems, the new M4500-32C and M4500-48F8C are a new class of network switches, according to Netgear.
Netgear explains that its new 100G switches "combine the configurability of an AV matrix switcher with the power and scalability of Ethernet to support hundreds of endpoints within an AV over IP system."  A key feature of the Netgear 100G network switches is they eliminate the need for Layer 3 protocol independent multicast [PIM] routing.
The switches also include Netgear's IGMP Plus, which is said to simplify system architectures using L2 techniques across a network.
The M4500-32C 32 port 100G switch can be set up to aggregate the edge switches for a complete setup for large installations up to 320×320 SDVoE 10G devices within a single architecture.
Related Content: ISE 2019: ZeeVee, NETGEAR Enable 'World's First Ethernet Switch with Integrated HDMI Connectivity'
Some of the other new switches Netgear introduced include the M4300-16X 16-port 100M/1G/2.5G/10GBASE-T switch with PoE+ across all ports in full provisioning mode. The half-width 1U switch comes with either a non-PoE power supply or with a power supply capable of providing up to 500 watts of POE power to all 16 ports.
The M4300-24XF is a half-width 1U 24-port 10GBASE-X SFP+ fiber switch with two shared 10GBASE-T copper ports.
Netgear's final new switch is the M4300-48F. This 48-port 10GBASE-X SFP+ fiber switch is a full 1U product that also provides two shared 10GBASE-T copper ports.
All of the M4300 network switch products are Software Defined Video over Ethernet (SDVoE)-certified, and the prices for these products are as follows:
M4300 16X managed switch with 16x10GBASE-T ports and the APS299W PSU that provides 199 watts for PoE is $1,900. The copper port and 500-watt PoE budget model carries an MSRP of $2,200
M4300 24XF carries a suggested price of $1,900
M4300 48XF carries a suggested price of $3,400
M4500-32C carries a suggested price of $15,000
M4500-48XF8C carries a suggested price of $1,300