Surviving a Recession with 4 Tips: How AV Integrators Can Weather an Economic Downturn
With economists predicting a possible recession in 2020 or 2021, AV integrators should take several actions to survive an economic downturn.
Leave a Comment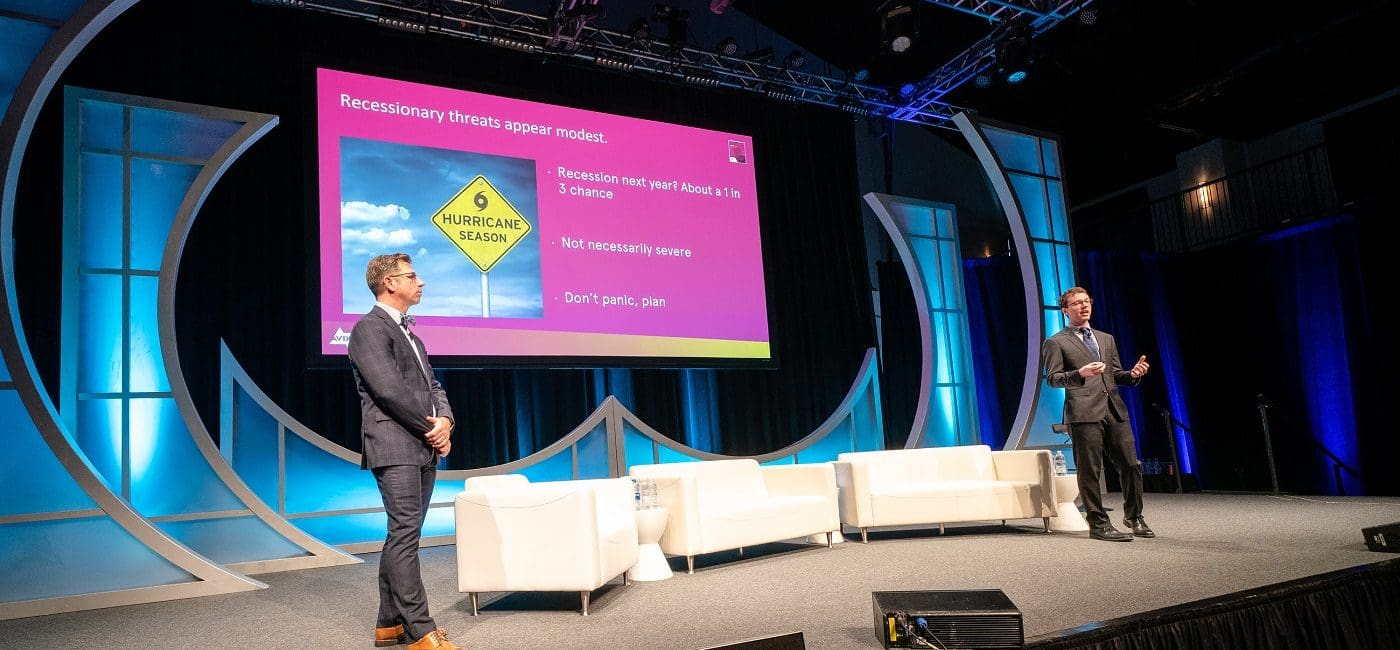 Most business owners are keeping a watchful eye on U.S. and global markets as trade politics, geopolitical uncertainty and slowing GDP growth indicate that a recession could take hold at some point in 2020 or 2021.
The pro AV industry has been enjoying steady growth and is expected to reach $325 billion in 2024, up from $247 billion this year, according to industry trade group AVIXA.
To protect that growth, AV integrators can take several steps to shore up their assets and businesses to transform into a sustainable business — even when markets collapse and unemployment rises.
Don't panic
Each recession is due to a variety of different factors and some sectors will be hurt more than others in an economic downturn, but AV might just make out OK, said Julian Phillips, executive vice president of Whitlock.
During the last downturn just over a decade ago, the impact on the AV industry was not that significant, Phillips said.
The next recession, which many economists say could happen in the next few months and years, is not expected to be nearly as bad as the Great Recession.
In fact, some in the pro AV industry actually saw business improve during that economic downturn, as they seized on the demand for technologies that made lives easier for modern workers became popular as travel budgets declined and remote working became more mainstream.
"Demand for videoconferencing shot through the roof," Phillips said.
Some economists are even mixed on if a recession will even happen in 2020, according to AVIXA economist Peter Hansen, who put the chances of a recession at around 33%.
However, that doesn't mean the recession will be severe or particularly harmful to AV, which dropped by about 4 or 5% peak-to-trough during the Great Recession, when U.S. GDP fell 4.3%.
Technology has advanced greatly since 2008, and AV is now integrated in many more markets, giving AV integrators the opportunity to expand their income sources before an inevitable downturn.
Diversify revenue streams
AV integrators almost always serve several markets and typically boast diverse revenue streams, which can go a long way toward creating a sustainable business able to withstand reduced customer spending.
According to Hansen, AV integrators that rely on new construction for business should look more to maintenance, since the construction industry fell about 30% in 2008-2009. AVIXA's research shows that 20% of the industry's revenue comes from new construction while 40% comes from maintenance and 40% comes from renovation.
"A broken system will need to be fixed no matter what is going on in the economy," he said.
Integrators should also look to growing, recession-proof markets, like healthcare. According to AVIXA's research, healthcare is growing at a CAGR of 8.5%, but AV integrators saw just $5.4 billion in revenue from that sector, which is about 2.1% of the overall AV market.
That industry in particular has proven to be sustainable even through tough economic times. According to the U.S. Bureau of Labor Statistics, healthcare jobs grew by 6.6% from 2007 to 2010 while the rest of the workforce declined about 7%.
Read Next: How Your Company Can Prepare for the Next Economic Recession—and the Recovery
Further, healthcare employment increased by 31.6% from 2001 to 2014, while total employment saw job growth of just 5.7%, which was consistent with the fluctuating economy.
However, not all of your eggs should be placed in that healthcare basket, warns Hansen. The impact of a recession is almost impossible to predict, and that includes which markets are most impacted.
For example, hospitality has historically been hit hard during recessions, but that might be different in the diverse economy of the 2020s, Hansen said.
Being in as many verticals as you can manage can help your company pivot quickly from one vertical to another to keep revenue streaming in.
"It allows you to be ready for the unknown," Hansen said.
Service, service, service
Many in the industry are tired of hearing about the need to switch to a managed services model, but if integrators know they can count on consistent revenues streaming in every month, it could go a long way toward budgeting during an economic slump.
A total service-based model, Phillips said, is virtually recession proof.
"People in the technology industry have been doing this for three or four decades," Phillips said.
The industry has been relatively hesitant to transform into service-based models, but that could give integrators confidence that revenue will continue to come in regardless of the economic picture, said Sean Wargo, AVIXA's senior director of market intelligence.
Industry trends are almost begging for that service-based model to take hold, as hardware is becoming cheaper and margins on that equipment are declining.
"That should create the opportunity for service on top," Wargo said.
Eliminate inefficiencies
According to Phillips, AV integrators are by nature incredibly inefficient.
"It's a very difficult industry," he said.
AV integration requires a multitude of complex disciplines to come together under one project: architecture, mechanical engineering, audiovisual, IT, IoT, cloud services and managed services.
AV integrators need to actively seek out those inefficiencies and find ways to eliminate certain inefficient processes. Freeing up money by cutting unnecessary spending can go a long way in a recession.
"There are so many different elements we have to bring together," Phillips said. "Where we have such complexity there is also friction. When you have friction, you have cost."