AV News to Know April 9, 2021: New Products, Cool Projects and People in New Places
In this week's edition: Key Digital partners with AtlasIED, a floating Arctic cathedral and more movement and promotions across AV.
Leave a Comment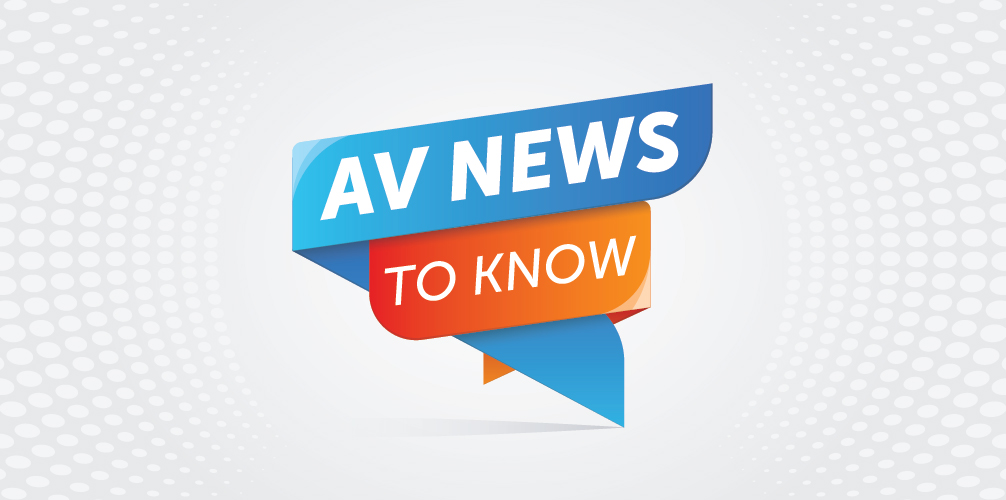 Here's a closer look at some of the AV news, products and projects you might have missed this week. We call it AV News to Know:
New AV Products
Yamaha UC Expands ADECIA Family with Tabletop Microphone Option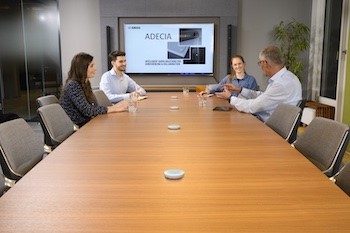 Yamaha Unified Communications has added the RM-TT wired tabletop array microphone as a new option to ADECIA, a complete family of easy-to-install products designed to work seamlessly together to provide customizable communications solutions for meetings or learning spaces.
The ADECIA tabletop solution, like the ADECIA Ceiling System, integrates the RM-CR remote conference processor, VXL1-16P Dante/PoE-compatible line array speaker and SWR2311P-10G Yamaha's PoE network switch.
Key Digital Announces Compass Control Pro Partner Alliance with AtlasIED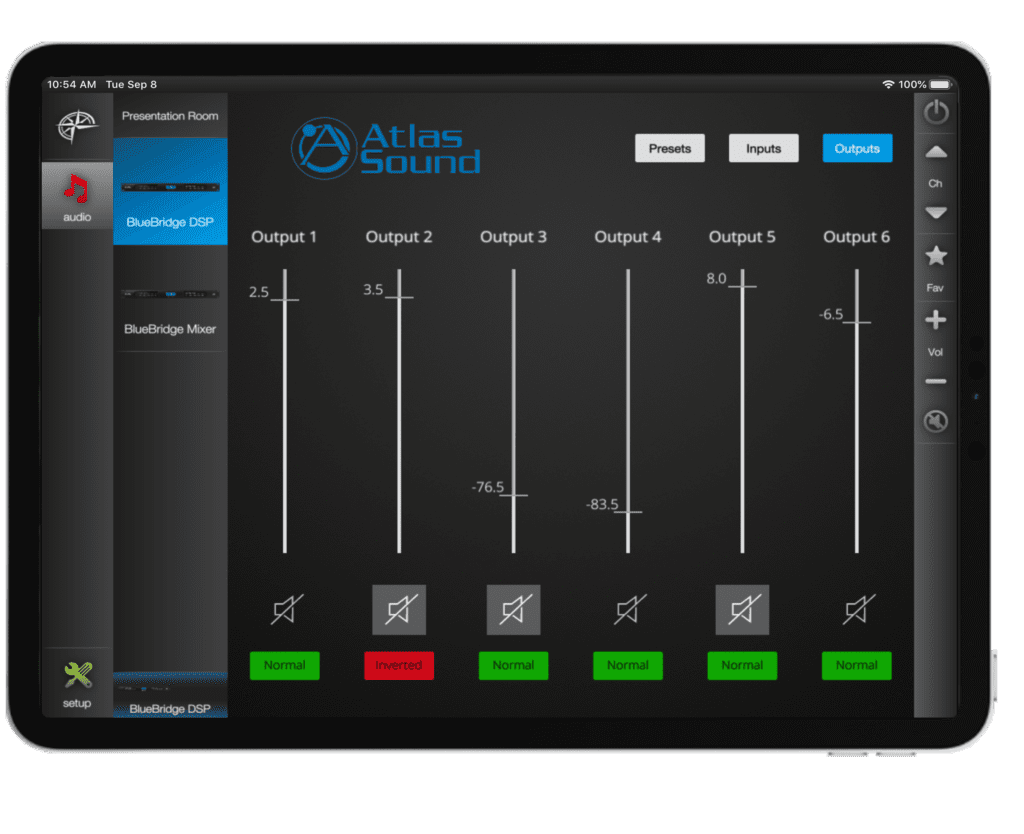 Key Digital this week announced a technology partnering with AtlasIED and its BlueBridge DSP.
This DSP product module joins the Compass Control Pro Partner Alliance program and its
comprehensive and constantly growing list of integration products streamlined within the control software.
DVDO Offers Free Commercial-Grade Cameras
DVDO this week announced that it will give away free commercial-quality high-definition cameras to Pro AV dealers making qualifying purchases at dvdo.com.
For each $500 purchase at dealer cost on dvdo.com, resellers can receive a free DVDO-C1-1 professional webcam (MSRP $109). For each $3000 purchase, resellers can earn a free DVDO-C2-1 PTZ conferencing camera (MSRP $1049).
Finally, a free DVDO-C3-1 intelligent auto-tracking camera (MSRP $1499) is offered for each $5000 purchase. The offer is good through May 31.
Utelogy Partners with Lightware Visual Engineering

Utelogy Corporation has further expanded its Utelligence Program for A/V and UC Device Standardization by introducing new drivers for Lightware Visual Engineering's video matrix switchers and signal extension systems.
Lightware's solutions offer feature-rich data and analytics to users in an open and agnostic way. By partnering with Utelogy, the company utilizes Utelogy's software tools for monitoring and managing the AV devices in its own product catalog, including the Taurus UCX range of USB-C and USB peripheral switching products, Cisco Switching products, and its 1GB AV over IP Platform, Vinx.
Audio Visual Projects
L-Acoustics Unites Fans at World's Biggest Post-Lockdown Concert
"Haere Mai Wellington, welcome to the biggest show on earth!" exclaimed Six60's lead singer Matiu Walters to an exhilarated 32,000-strong audience at Wellington's Sky Stadium.
In fact, record-breaking crowds at open-air venues welcomed the homegrown band on each of their six shows for their Six60 Saturdays tour in early 2021.
Throughout the tour, fans enjoyed the band's electrifying performance through an L-Acoustics K Series system deployed by College Hill Productions.
Turning shows into unforgettable experiences is no new feat for New Zealand's premier sound production company. College Hill has been supplying systems for major international acts like The Rolling Stones, Elton John, Coldplay, Bruno Mars, and Guns N' Roses, as well as for local favorites like Six60 for 25 years.
"Our relationship with Six60 began several years ago," says College Hill operations manager Reeco Adriaansen. "Both their FOH engineer, Chris Tate, and monitor engineer, David O'Brien, are part of the College Hill team, and this helps us to ensure that we are always on top of the band's needs, especially for their bigger shows and multi-date tours."
"Our strategy of selecting only the best equipment led us to become the official L-Acoustics rental network partner for New Zealand," says Johnny Keirle, front-of-House system design and system engineer at College Hill.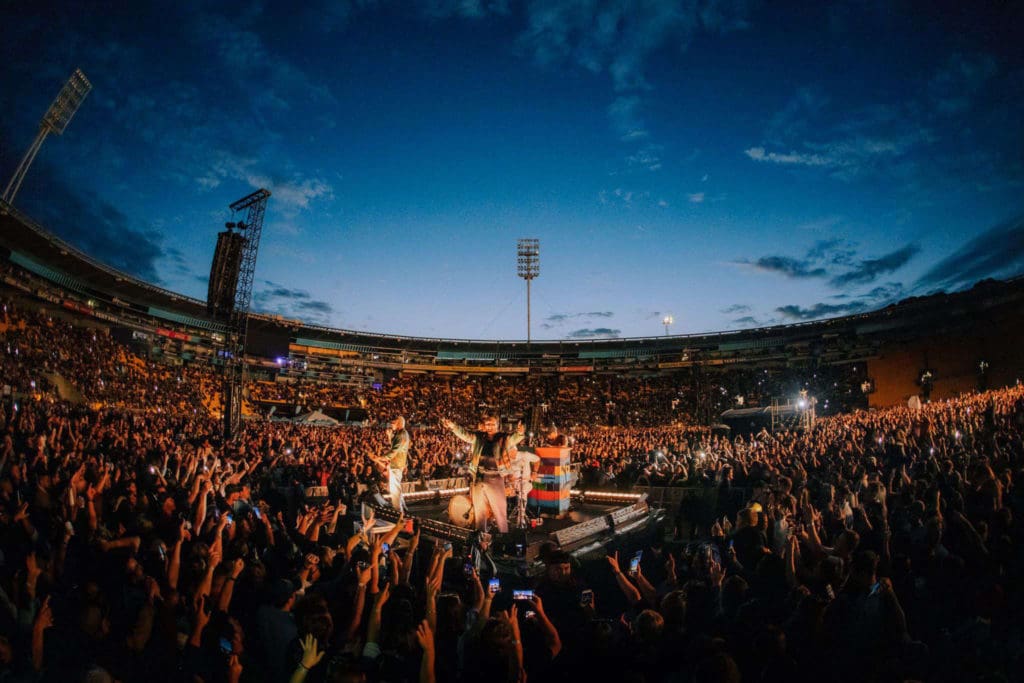 For the Six60 tour, most venues were flat-field, festival-style sites, which required a system capable of long throw.
During the initial show design phase, a clean-looking stage was specified, so the College Hill team was asked to fly the PA wide and as far upstage as possible.
"We had proposed a 20-cabinet hang, but we were asked to compromise due to weight limitations," said Keirle. "We reduced that to a 14-cabinet hang, eliminating four K1-SB and two K1. We adjusted the main hang design approach and made minor mechanical adjustments to our now 14 cabinet arrays to get the most impact from the reduced length."
The final configuration comprised left/right hangs of ten K1 and four K2 each. Two K1, 12 K2 and four K1-SB subs were deployed for sidefill. Eight V-DOSC were flown for L/R delay with five additional V-DOSC floor stacked for the center delay.
As there was no possibility to fly subs, the team had to rely exclusively on floor sub arrays, positioning 24 SB28 in 12 stacks of two subs in an arc that followed the irregular shape of the stage lip, working around the barrier line and stage access pathways.
Mainfill was catered for by 12 dV-DOSC positioned as four stacks of three in the main pit area, with a further six ARCS placed on the outer edge of the pit.
The system was controlled by a total of 66 LA8 amplified controllers and a P1 processor, which was used with the M1 measurement suite for system alignment and optimization during setup and as hardware for console inputs and matrixing, plus for RTA and SPL metering in NWM.
The P1 sensor was also used for air compensation control throughout the show.
According to Keirle, Sky Stadium is notorious for its poor sound quality. Tate echoes Keirle's thoughts.
"We had members of staff coming to us post-show to express their amazement at the system, with the venue manager telling us he hadn't heard sound that good in his entire 15-year career at the venue," he said.
"We all felt privileged to be out gigging in such strange times," Tate concludes. "It was an honor to be chosen to provide equipment and services for this tour. It definitely felt a little surreal, but I think the entire crew and audience felt really thankful and lucky to be part of such a fantastic experience."
The Six60 Saturdays have been so popular with fans that additional dates have been added through April, including an Auckland show at iconic Eden Park on April 24, where they will be the first musical act to play in New Zealand's largest sports stadium.
Alcons Pro-Ribbons Floating in Iconic Arctic Cathedral
The distinctive triangular shape of Tromsdalen Church (Ishavskatedralen, or the Arctic Cathedral) is one of the most recognized landmarks in the Norwegian city of Tromsø.
Despite its iconic status as a place of worship, tourist attraction and symbol of the city, for many years it suffered from poor sound for the services and many recitals and concerts it hosts. All that has now changed, thanks to the installation of an Alcons Audio LR7 pro-ribbon sound reinforcement system.
Consecrated in 1965, Ishavskatedralen is considered a masterpiece by architect Jan Inge Hovig. 11 aluminium-coated concrete plates either side of the roof give the church its well-known form, complemented at one end by a giant stained-glass window and, at the other, a main entrance in an end wall of clear glass, with a giant cross tying all the elements together.
The church is an important cultural center, featuring many live recitals. With a program peaking at more than 500 concerts in one year, they include the popular midnight sun and northern lights concerts, which have both become a staple of Tromsø culture.
The most important thing for church sound is ensuring that speech is crystal clear throughout the main body of the building. For many years Ishavskatedralen had a passive sound reinforcement system, which made speech sound boomy and muffled.
"The wish of the church staff was to have a sound system that delivered high quality speech, but also worked well with the many concerts they host. They had grown weary of rolling equipment in and out for events, often multiple times a week," says Eirik Haua, sales manager of Tromsø-based audio specialists Lydproduksjon.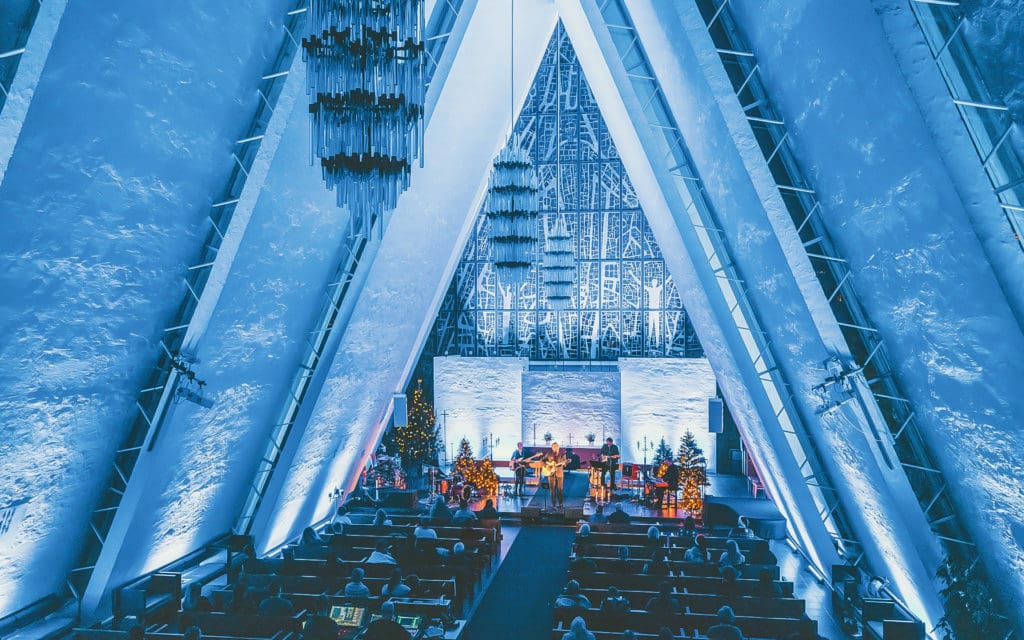 Lydproduksjon supplied and installed a system comprising 10 Alcons LR7 6.5" micro line array modules, two BF302 double 15" high output subwoofers, and four VR5 5" mini versatile monitors.
The system is powered and controlled by one Sentinel10 (4x 2500w) and one Sentinel3 (4x 750w) amplified loudspeaker controller. For inconspicuous integration, the system was delivered in a room-matching color scheme through Architect Color Option.
"The system ensures everyone in each of the church's 720 seats gets the best possible sound experience," said Eirik. "It was specially produced in a custom white color to match the interior of the church, making sure it perfectly complemented the visual aesthetic and did not detract from its iconic architecture.
"We think it is the optimal solution for the church and we are grateful that they trusted us to design and install the system," he said.
Church warden Mogens Ogden confirms Eirik's words, adding, "The system delivers pure sound, both loud and quiet, which fills a tight, clean church space. The main speakers look like they are floating, rather than hanging. It perfectly supplements the timelessness of the architecture. Although Jan Inge Hovig passed away in 1977, we know that he would be happy."
People and Places
Listen Technologies Names New Regional Sales Manager
Listen Technologies Corporation has named Micheline "Mikey" Shaffer as western regional sales manager.
Shaffer will lead the team selling Listen Technologies' full suite of solutions, including Listen EVERYWHERE, ListenTALK, ListenRF, and ListenIR, to dealers, integrators, consultants, and manufacturer representative firms throughout the western U.S.
Shaffer has worked in the assistive technology industry for 10 years and is a passionate advocate for inclusion. She joined Listen Technologies in 2016 and most recently was vertical market sales manager.
QSC Promotes Frank West to VP, Systems Americas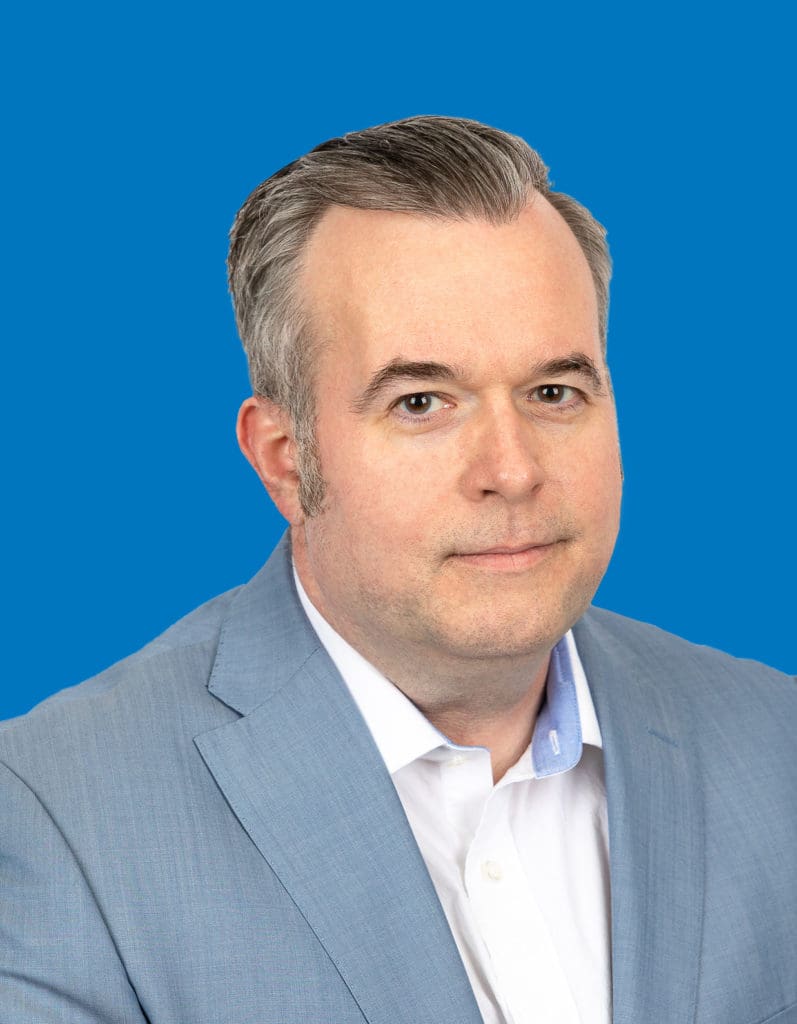 QSC recently announced the promotion of Frank West to VP of systems for the Americas (U.S., Canada and Latin America).
In his new position, West will continue to maintain positive sales momentum while helping QSC realize its vision to become a leading AV software platform company.
Userful Welcomes Shane Vega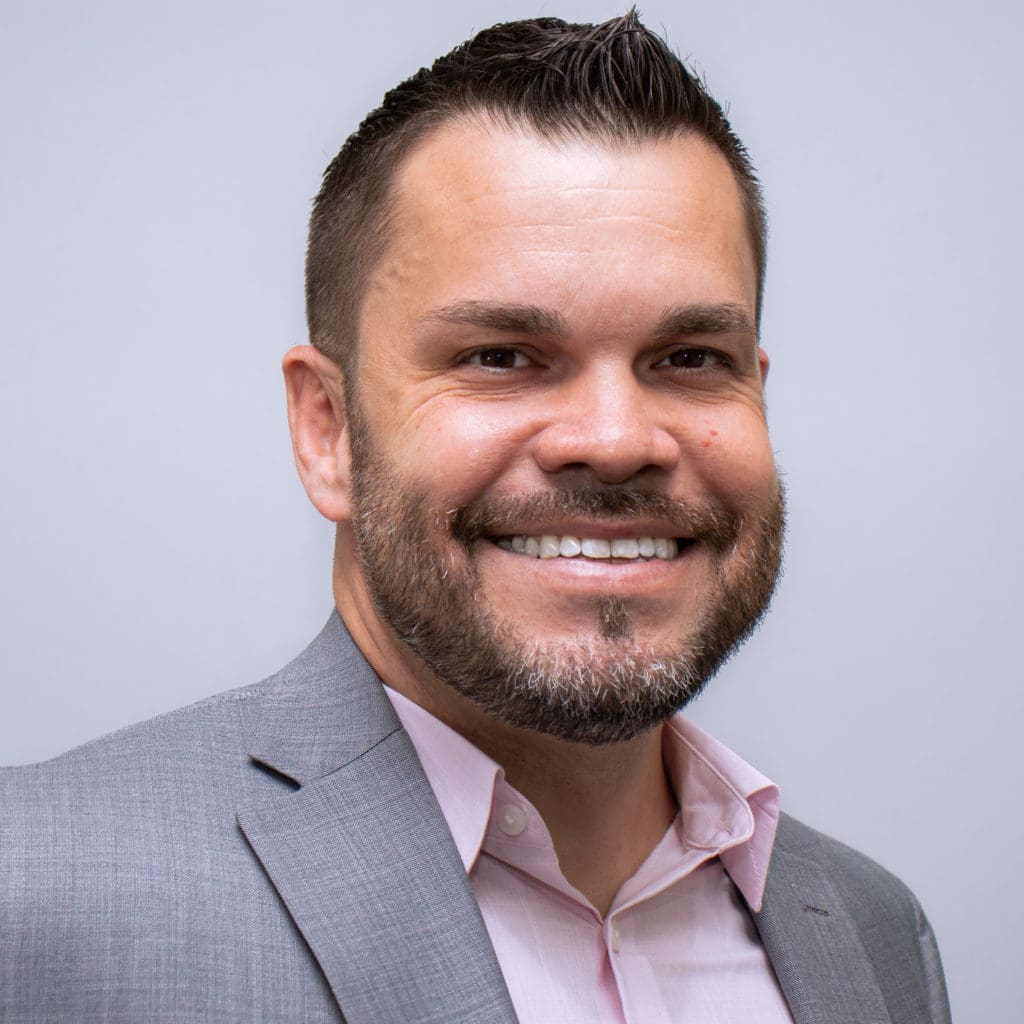 Userful Corporation announced the appointment of Shane Vega as director of product marketing and business development.
Vega will be responsible for scaling the product team and managing Userful's product suite. He brings more than 22 years of expertise dealing with advanced technologies used to provide situational awareness and brand awareness to his role at Userful.
Most recently, Vega held the role of national business development manager within the Advanced Solutions Group at AVI-SPL.
HETMA Elects Board of Directors
The Higher Education Technology Managers Alliance (HETMA), founded in 2019 by Joe Way and BC Hatchett, has filed formal articles of incorporation as a 501(c)(3) nonprofit organization in California.
HETMA held an open call for nominations and vote of its membership to elect the first board of directors. The results are:
Executive Board
Chair, Board of Directors: Joe Way, University of Southern California
Vice-Chair, Board of Directors: BC Hatchett, Vanderbilt University
Secretary: Annie Foster, Elizabethtown College
Treasurer: Dean Wentworth, US Courts / Formerly, United States Military Academy West Point
At-Large, 3-Year: James King, Stockton University
At-Large, 2-Year: Erin Maher-Moran, Johns Hopkins University
At Large, 1-Year: Tim Van Woeart, Rutgers University
Committee Chairs
Diversity, Equity, and Inclusion: Kayden Kassof, American University
Conference Committee: Jimmie Singleton, University of Southern CaliforniaHETMA Approved Program: Donovan Monday, West Virginia University
Membership: Mike Pedersen, Iowa State University
Regional Team Co-Chair: Craig Shibley, California Baptist University
Regional Team Co-Chair: Will DeWitt, College of Charleston
Communications: Lex Peters, University of Southern California
Focus Groups: Raj Singh, University of Southern California
ProSource Adds PRO Associate Member and Four New CI Members
ProSource recently announced the addition of one new PRO associate member and four new Custom Integrator (CI) members to the organization.
The following new PRO associate member was added:
Curacao, Los Angeles, Calif.
The new CI members are:
All Metro Tech, Salt Lake City, Utah
Arizona Sound & Light, Tucson, Ariz.
Houston Audio & Home Theater, Houston, Texas
Vertex AV, Huntington Beach, Calif.