AV News to Know November 5, 2021: New Products, Cool Projects and People in New Places
Here's a closer look at some of the AV news this week that includes new videoconferencing products, audio systems installations, acquisitions, and more.
Leave a Comment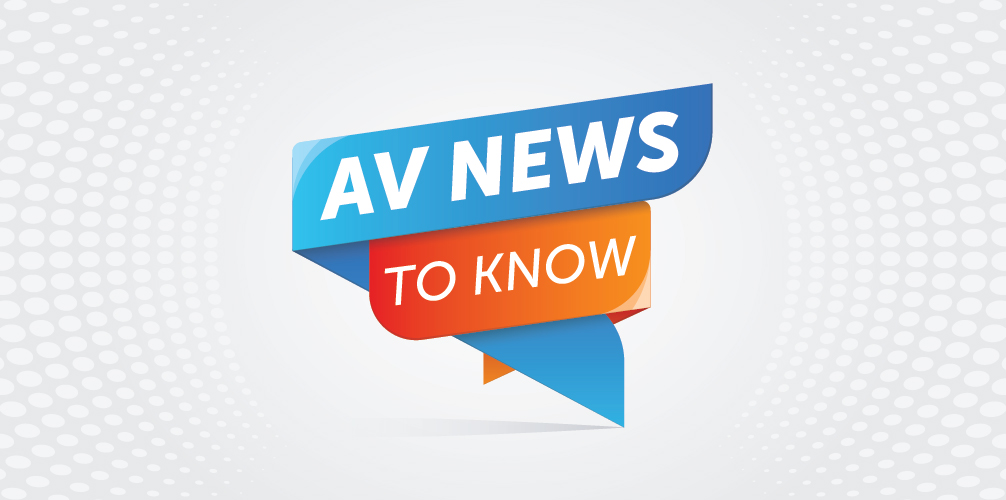 Here's a closer look at some of the AV news, products and projects you might have missed this week. We call it AV News to Know:
New AV Products
DPA Microphones Expands its Product Range
DPA Microphones recently released a new accessory, the MS4099 Mic Stand Mount, for its renowned 4099 CORE Instrument Mic. The company has also begun shipping the brown version of its new 4466 CORE Omnidirectional and 4488 CORE Directional Headset Microphones.
According to the company, the MS4099 is a sturdy and flexible solution for mounting the 4099 onto any mic stand, and it can be used on both three-eighths inch and five-eighths inch threads. Borrowed from the design of other DPA mounting options, the barrel of the MS4099 mic holder makes it quick and easy to attach or remove the microphone. Additionally, the mount can be turned for vertical or horizontal use, depending on the application. It is also compatible with the brand's 4097 CORE Micro Shotgun.
Besides this, the company also revealed that the new 4466 and 4488 headsets are now available in brown and feature the brand's 5mm round microphone capsule and the design of the company's 6066 Subminiature Headsets. These latest offerings provide the security, durability and flexibility necessary for use in theatre, broadcast, worship and corporate conferencing.
In a statement, the company highlighted that with a one-size-fits-all design and adjustable height and boom length, the headsets can accommodate small to large head types, and unique, three-point gripping system to ensure a greater level of security. Furthermore, the headsets' flexible ear hooks provide continued comfort during extended use. In addition to the brown solution, DPA Microphones said that the headsets are also available in black and beige options.
Biamp Introduces Vidi Conferencing Cameras
Biamp announced the launch of Vidi, a line of professional grade conferencing cameras for meeting spaces ranging from huddle rooms to small and medium sized conference rooms. This introduction of the Vidi family of conferencing cameras expands Biamp's portfolio of audiovisual solutions for modern meeting rooms.
"The launch of our new Vidi conferencing cameras demonstrates our commitment to offer complete solutions for a wide range of meeting spaces," said Joe Andrulis, executive vice president of Corporate Development at Biamp.
Andrulis further added, "As unified communications become increasingly essential to how organizations conduct business, there is a growing need to extend high quality video meetings from large and mid-size rooms all the way down to small meeting rooms and huddle spaces. Vidi conferencing cameras offer an outstanding video experience that complements Biamp's widely adopted and admired audio systems ideal for reliable, effective collaboration in all of these spaces."
According to the company, the Vidi conferencing camera family debuts with two camera models, the Vidi 100 and Vidi 250. Designed for small rooms and huddle spaces, the Vidi 100 is a cost effective 4K camera with a 120 degree field of view and a built-in mic array that offers excellent picture and audio quality.
The more sophisticated Vidi 250 is designed for small to medium sized rooms. It includes a 12MP sensor that supports 4K video with a 120 degree field of view while allowing for electronic pan-tilt-zoom with no image degradation.
Biamp added that advanced features include premium optics that eliminate image distortion and smooth automatic participant framing, zoom, and focus functionality, along with a built-in microphone array. Additionally, flexible mounting options let the camera be positioned above, below, or to either side of a display or off any wall.
Audio Visual Projects
LEA Professional Amplifiers Improve Audio Quality and Affordability at Colorado Public School
As Ridgeview Classical Schools in Fort Collins, Colorado, a public K-12 charter school serving approximately 750 students, realized it was time to upgrade their auditorium AV system, they chose LEA Professional to provide reliable amplifier power within an affordable package.
The company stated that local AV systems integrator Sight + Sound Technologies was sub-contracted in to help Ridgeview Classical with a sound system upgrade within the school's main auditorium. The project actually started a few months earlier but was running over budget, leading to school managers reevaluating the project for cost-saving adjustments.
"The original estimates only included equipment costs, not labor, and the school had a strict budget they needed to adhere to, but of course, quality and usability were still important," said Kris Johnson, COO, Sight + Sound Technologies. "So, we ended up working with the system designer to value engineer the project and come up with a solution that would still accomplish the school's performance goals, and save some money."
According to LEA Professional, the auditorium, which seats about 350, is a multi-use space used for various meetings, presentations, and announcements, as well as for entertainment and musical productions. Within the auditorium, there are four EAW MKD Series speakers and a set of delay and side-fill speakers. Johnson explained that the team worked to retain as much of the original system as possible, but an opportunity for cost savings was identified within the power amplifier selection.
Johnson and the team thus looked to audio amplifiers from LEA Professional and found the power ratings, frequency response, and connectivity options they needed at a price point that fit the school's budget. The four main speakers are now powered by a 704D Connect Series amplifier, and a 354D Connect Series amplifier powers the fill system. A Dante audio network connects the whole system.
The company highlighted that the Dante Connect Series amplifiers are perfectly suited for small- to medium-scale installations. This range of two-, four-, and eight-channel amplifiers feature direct HiZ (70V or 100V) or LoZ, selectable by channel. Moreover, system designers can engage the built-in Wi-Fi access point, or connect to the venue's Wi-Fi, or use the FAST Ethernet to connect to any local area network via Cat5 or Cat6 cable. The Dante Connect Series also features analog inputs and Dante inputs and external I/O control for remote on/off and fault monitoring.
Johnson praised the LEA system and said, "We've done quite a few projects with the LEA amps, and they've all been great. We trust that LEA is going to hit the mark for our customers."
He then concluded, "We feel like we won on both sides of the equation with excellent price and quality. We've been pleased with LEA, for sure, and the school is enjoying their system."
People and Places
Spectra Audio Design Group Joins Paladin Technology Group of Companies
Spectra Audio Design Group, a full-service technology systems integrator, agreed to join Paladin in an effort to expand its Audio Visual Design offerings as well as geographic market share.
According to a statement, all employees of Spectra will be joining the Paladin Technologies Group of companies through this transaction. Spectra stated that they hope to bring their vast knowledge of audio visual design, and audio visual engineering, as well as their long-standing relationships with clients, contractors, architects, and tradesmen into this agreement.
"We are extremely impressed with the high performance team that Spectra has built up over the years and we have no doubt the collaboration with Mick Barber's existing US team will lead to quality solutions for our clients," stated Ted Reid, President of Paladin Technologies.
Principal/Owners Jason Derector and Michael Goodrich both remarked, "We see this as the natural next chapter in the Spectra journey to team up with the leading complex technology integrator. We are excited by the growth opportunities this will present to our colleagues while also remaining firmly convinced this development will also make us an even better partner for our clients."
The company stated that Henberger served as Spectra's financial advisor. Leo Klijn, partner with Henberger, added, "I couldn't be more pleased for Michael, Jason, their employees, and their customers. This transaction offers expanded geographical coverage for Spectra's customers and expands Paladin Technologies' footprint to the East Coast."
Spectra emphasized that they will continue doing business as Spectra, a Paladin Technologies company while all existing contact information and operational practices will be retained as the team integrates with the Paladin Technologies group of companies.
William Wong Joins Riedel as Sales Manager for Southeast Asia
Riedel Communications announced the appointment of William Wong as the company's regional sales manager for Southeast Asia. According to a statement, Wong will join the company with more than 20 years of experience in the broadcast video industry and will be responsible for leading both direct and channel sales across the region.
"With years of experience in broadcast technology sales in Southeast Asia, William has a terrific understanding of markets across region, an impressive network of connections across channel partners and direct clients, and a reputation as a knowledgeable and personable sales professional," said Simon Roehrs, director APAC at Riedel. "We're very pleased to welcome him to Riedel."
According to the company, Wong most recently served in roles as senior sales manager and regional sales manager for Southeast Asia for EditShare UK. He earlier served in similar roles at Imagine Communications and Matrox Video. Over his career, Wong has worked with leading media organizations across Malaysia, Singapore, Indonesia, Myanmar, Thailand, Cambodia, Philippines, and Vietnam, and has also worked closely with channel partners in managing sales, after-sales, and support of key regional clients.
"Riedel continues to innovate and deliver new solutions that are shaping the future of the broadcast and production industries," said Wong. "It's an exciting time to be joining the company and bringing greater awareness of Riedel solutions to territories across Southeast Asia."
Cerberus Sentinel Acquires Atlantic Technology Systems
Cybersecurity and compliance firm, Cerberus Cyber Sentinel Corporation, announced that it acquired Atlantic Technology Systems, Inc., the New Jersey-based managed services provider.
According to the company, under the terms of the agreement, Atlantic will become a wholly owned subsidiary of Cerberus Sentinel and will continue to provide integrated risk managed services to a broad array of U.S. customers.
"Atlantic has built a very successful niche in the financial markets," said David Jemmett, CEO and founder of Cerberus Sentinel. "The company brings over 30 years of experience delivering regulated IT management, monitoring and security to the financial services industry. Atlantic will further enhance our differentiation in the marketplace and continue expanding our expertise and offerings in the cybersecurity field."
"By integrating our solutions with the Cerberus Sentinel culture, together we can bring a higher level of support and security services to our customers than was previously available," added James Montagne, president and CEO of Atlantic Technology Systems. "Without question, in today's environment cybersecurity truly needs to be a culture and not just a product. This is the Cerberus hallmark and our joint commitment to the industry," concluded Montagne.