AV News to Know Oct. 11, 2019: New Products, Cool Projects and People in New Places
In this week's edition: LG introduces 4K Ultra HD TVs for hotels, John Lennon Bus heads to AES New York and Almo adds to its advisory board.
Leave a Comment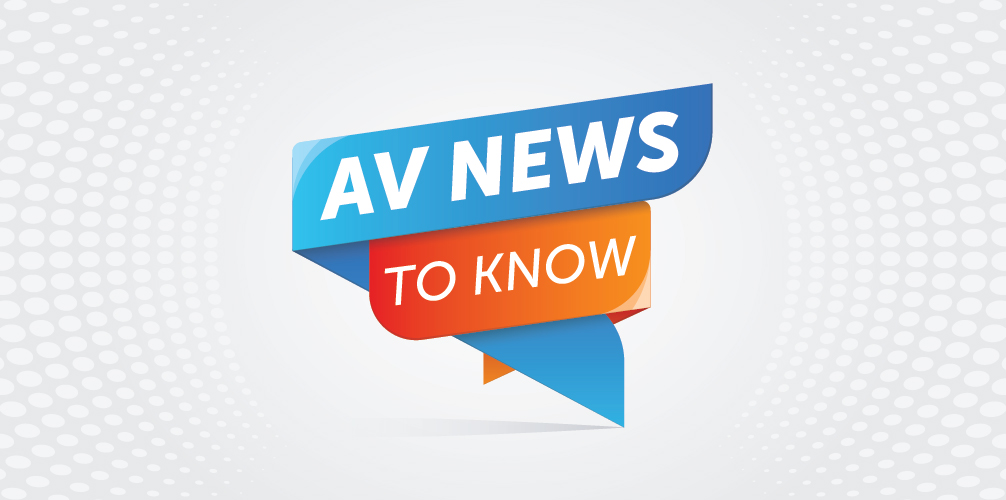 Here's a closer look at some of the AV news, products and projects you might have missed this week. We call it AV News to Know:
New AV Products
LG Introduces 4K ULTRA HD Hotel TVs
LG Business Solutions USA has launched the first 4K Ultra HDTVs designed specifically for the hospitality market with NanoCell display technology.
LG's UT770H  series of Pro:Centric smart hospitality TVs brings LG's LCD TV display technology from the consumer market into the hotel room for the first time. These new hotel TVs leverage LG's NanoCell IPS technology panels to deliver picture enhancements, color accuracy and wide viewing angles to LED-backlit LCD TVs.
LG's proprietary NanoCell technology uses nano particles (each roughly one nanometer in size) to absorb surplus wavelengths of light, enhancing the purity of colors on the screen while expanding the color gamut and ensuring consistent color performance from any angle.
Each model also utilizes DTS Virtual:X, a new audio optimization technology that analyzes incoming signals in real time and adjusts output to provide the perception of surround sound from a two-channel system.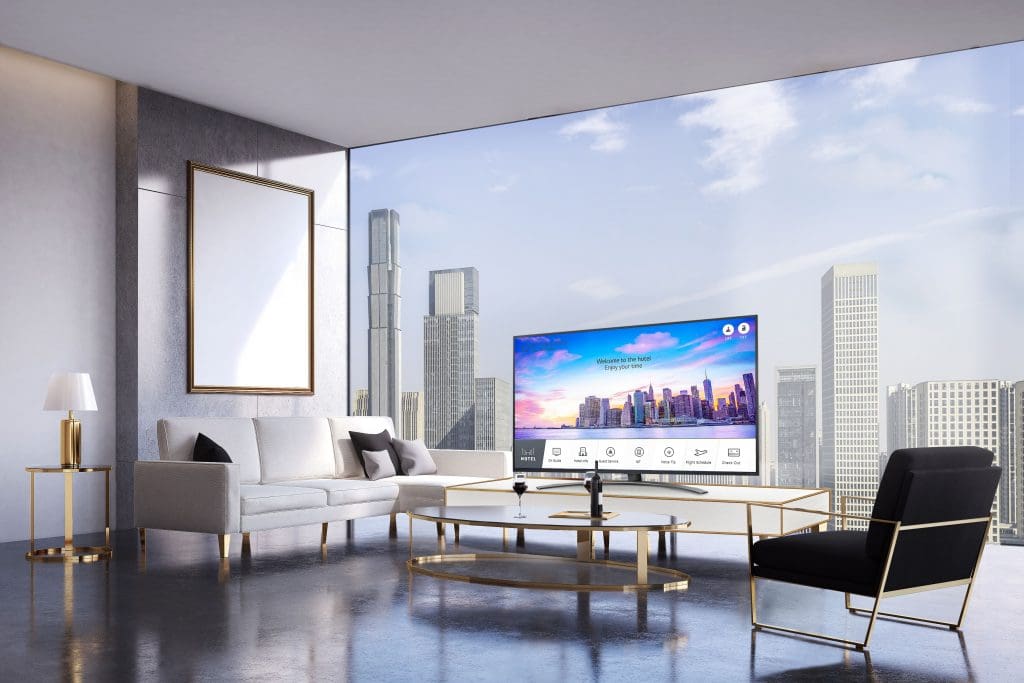 AV Experts from Major Universities to Discuss Networked AV
A roundtable discussion exploring the transformative effects networked AV has on learning and higher education will take place at 11 a.m. PT on Oct. 29. The event includes an in-person discussion between multiple AV experts.
A live Q&A, where webinar attendees can ask questions of the participants, will occur immediately after the discussion.
Those taking part in the roundtable discussion, hosted by Audinate, include:
Joe Way, Director of Learning Environments at the University of Southern California
Guy Eckelberger, Director of Information Technology at the University of Oregon
Sean Snitzer, Senior Systems Analyst at Arizona State University
Scott Burgess, Manager of Recording Labs and Live Sound at the University of Colorado, Denver
Will Davidson, Media Systems Engineer at Brigham Young University – Idaho
Sony Releases Next Generation of UWP-D Wireless Microphone Series
Sony's new UWP-D series wireless microphones have begun shipping. The UWP-D21 wireless microphones are now available, with the UWP-D22 and UWP-D26 expected to ship in December.
The UWP-D series wireless systems offer support for Multi-Interface Shoe (MI shoe) and a new Digital Audio Interface. The UWP-D series enables direct digital audio interface and low noise by skipping the D/A and A/D process in combination with a new SMAD-P5 MI shoe adaptor and compatible camcorders including Sony's PXW-Z280 and PXW-Z190 XDCAM models, using firmware version 3.0, as well as the α7R IV (ILCE-7RM4) 35mm full-frame camera.
Audio Visual Projects
John Lennon Educational Tour Bus to Stop at AES New York
The AES New York Convention will feature its first visit from the John Lennon Educational Tour Bus, which invites AES attendees to tour its facilities, learn about its mission of inspiring creativity, and participate in the interactive tent experience featuring jam sessions using the latest gear.
Daily gear giveaways worth over $6,000 – with gear from Audio-Technica, Focusrite, Genelec, K&M, Neutrik, OWC, and Yamaha – will take place at the bus at 1 p.m. each day of the show.
The John Lennon Educational Tour Bus is a mobile audio and HD video recording and production facility. In its 22nd year, the bus continues to be dedicated to providing young people with tours of the studios, participation in free digital media production workshops and the production of giant peace signs.
Assisted by three on-board engineers, students can learn how to write, record, and produce original songs, music videos, documentaries, and live multi-camera video productions – all in one day.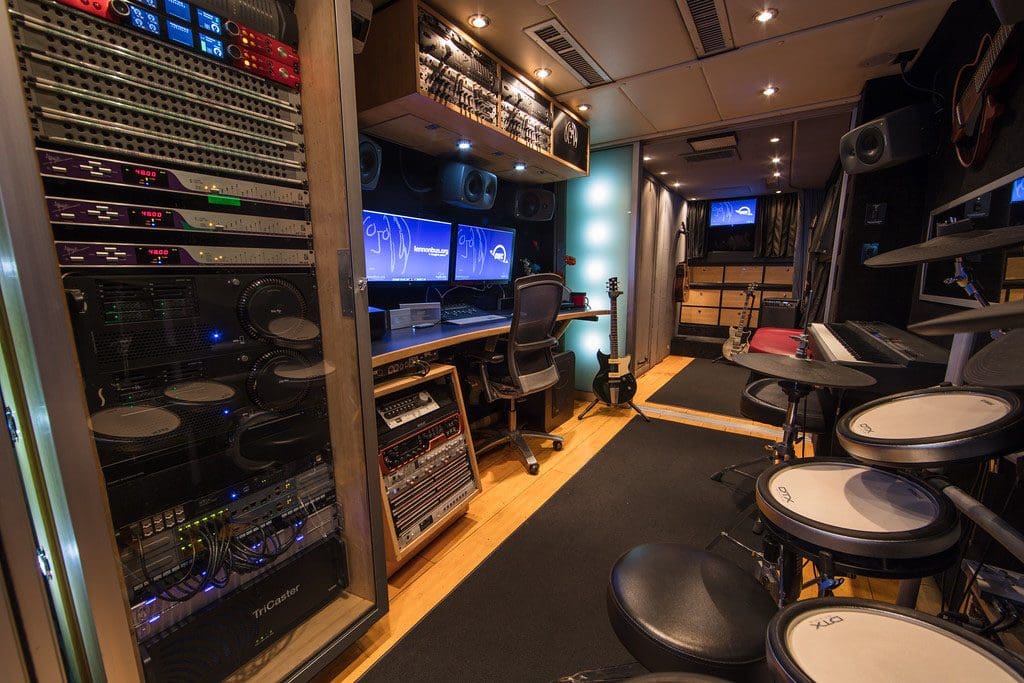 Focusrite RedNet Offers Future-Proof Setup for Fellowship Church Knoxville
Fellowship Church Knoxville, a four-campus church in east Tennessee, got an upgrade to its AVoIP system at its main campus in Knoxville, Tenn., over the summer with the addition of several components from Focusrite's RedNet range of Dante-networked audio converters and interfaces, including seven RedNet MP8R eight-channel mic pre and A/D converters and two RedNet D64R 64-channel MADI bridges.
"This church is incredibly savvy when it comes to technology," said Phil Bledsoe, integration manager for The Production Source of Knoxville, Tenn. "They did all of their own research when it came to choosing what to upgrade their audio network with."
Seattle's 13 Coins Restaurant Drive Multi-Screen Experience for Guests
13 Coins restaurant in Seattle closed the doors on its flagship South Lake Union location after 50 years. The 24-hour restaurant set up shop in a new building on King Street in Pioneer Square, within sight of CenturyLink Field and a short walk to T-Mobile Park.
The new 13 Coins features two levels. Upstairs is the main dining area and bar with an adjoining outdoor patio, while the downstairs "Lower Quarters" features another bar and four private dining areas that can be rented out independently or combined into one large space.
With a location in the heart of Seahawks' and Mariners' territory, owner Al Moscatel envisioned a multitude of displays located throughout 13 Coins' bars and private dining areas, playing live sports and other programming.
Seattle-based integrator Wipliance installed 12 Sony displays in 13 Coins' upstairs bar and patio and another 17 downstairs, in the area known as Lower Quarters. The crown jewel is an Epson – V11H733920 projector with a super short throw lens pro
jector shooting onto a 165-inch motorized drop-down screen from Screen Innovations.
Video sources include 11 Comcast HD cable boxes and one local HDMI source for digital signage and presentations by guests holding private events.
Each of 13 Coins' Comcast HD cable boxes and the local HDMI source are equipped with Just Add Power's VBS-HDIP-707 PoE transmitters, while VBS-HDIP-508 PoE receivers are attached to the displays and projector.
People and Places
PSA Announces Managed Security Service Provider Program with Razberi Technologies
PSA this week announced the addition of Razberi Technologies to the partners in its Managed Security Service Provider (MSSP) program. The MSSP program is designed to help systems integrators diversify their service offerings and realize the full potential and benefits of a managed services business model.
"Razberi helps integrators secure video surveillance networks and Internet of Things (IoT) devices against cyber attacks," said Dan Dunkel, managing director of PSA's MSSP program. "Cybersecurity is one of the most pressing and daunting issues facing integrators today and Razberi products automate the functionality and are simple to install and maintain."
Tim Baxter Joins Almo Corporation Advisory Board
Almo Corporation this week announced that former Samsung Electronics North American president and CEO Tim Baxter has joined the Almo Advisory Board.
"Tim brings decades of leadership success and has cultivated expertise in a wide range of areas, particularly Almo's four core businesses – appliances, consumer electronics, Pro A/V and housewares – which enables him to provide a very unique perspective to our board," said Warren Chaiken, president and CEO of Almo Corporation.
"Bringing Tim's voice to the Almo Advisory Board is sure to result in a wealth of new ideas that help accelerate the goals of the board and benefit all Almo shareholders, from our employees and suppliers to our distribution partners and the overall industries we serve, " he said.
Ashly Audio Adds to International Leadership Team
Ashly Audio has appointed Andy Lopez as Export Sales Manager. The addition is a strategic hire to support the company's long-term plan to grow the business in the international market.
Lopez, who has worked in the AV industry for more than two decades, has spent the past 17 years of his career focused primarily on international business development.
Before joining Ashly, Lopez worked as Director of International Sales at MSE Audio. In that role, he worked directly with international dealers and representatives to support the sales goals of the company. He will have similar responsibilities at Ashly.