Barix to Unveil Multi-Site Background Music Streaming Solution at ISE 2018
Barix Retail Player system combines hardware endpoints with web-based management portal to lower costs and streamline usability for large-scale deployments.
Leave a Comment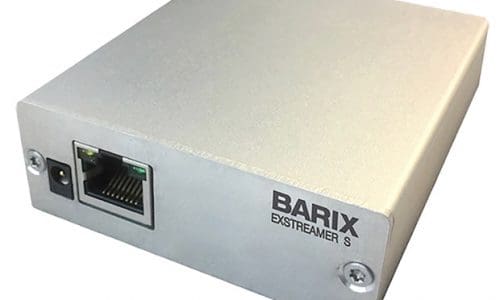 Bringing its next-generation audio over IP technology to large-scale retail, hospitality and corporate music applications, Barix ISE 2018 plans include unveiling its Retail Player background music streaming solution in stand 8-K255.
Barix's newest multi-channel background music streaming solution "combines robust hardware endpoints with an intuitive, web-based management portal while defining a cost-effective new price point for deployments spanning large numbers of sites," according to the company press release.
"For customers wanting to deliver streaming background music and messages across a high number of locations, budget restrictions and price sensitivity have often led them to use consumer-grade players that lack the reliability and usability of dedicated solutions," said Reto Brader, VP of sales and marketing at Barix, in the announcement.
"Our new Retail Player system shatters those pricing barriers, providing a dependable, easy-to-manage and easily scalable solution that's also affordable."
That starts with Barix's new Exstreamer S hardware, running the Retail Player firmware.
Powered by the company's new IPAM400 IP audio module, which is also debuting as part of the Barix ISE 2018 offerings, the Exstreamer S "provides high-quality decoding of live audio streams and advanced buffer management in an ultra-compact form factor," according to the press release.
The Exstreamer S "continues Barix's hallmark of superior reliability, with 25 years MTBF (mean time between failures)," according to the announcement.
The units feature a 3.5mm stereo audio jack and Ethernet port, with support for IPv4 and IPv6 networking protocols and IT security requirements.
Barix ISE 2018 Release Configures Easily
Meanwhile, the new Barix Retail Player Portal "provides centralized configuration, management, status monitoring and stream switching for Exstreamer S devices across multiple locations," according to the press release.
Offered as a cloud-based service or for customers to purchase and install locally on their own servers, the portal lets users switch streaming channels via a web browser or mobile device without needing to interact directly with the receiving decoders.
"Customers with multiple streaming channels often want to switch between them when their audience demographic changes," said Brader.
"For example, a fitness club may suddenly be crowded with people from a different age group, and want to switch the music to suit that new set of members. With Retail Player, the club's manager can switch streams through the portal without ever needing to access the hardware."
The Barix Retail Player portal also simplifies maintenance and upgrades of multiple Exstreamer S devices, including the ability to remotely update the units' firmware as new features and enhancements are released to meet customers' future needs.
The initial release of the Barix Retail Player solution, with basic configuration server functionality, is slated for later in the first quarter of 2018. As the solution is designed for large-scale deployments, the Exstreamer S hardware will be sold in bulk for projects spanning many hundreds of sites.
Barix will also continue to offer its very successful SoundScape SaaS-based streaming service for advanced audio delivery applications combining live and stored content with dynamic advertising insertion.
See more products debuting at Integrated Systems Europe 2018 here.