Check Out Poly's Zoom Rooms-certified Meeting Devices
Poly's Studio X30 and Studio X50 video bars along with the G7500 video conferencing system are the first Zoom Room Appliances to be Zoom-certified.
Leave a Comment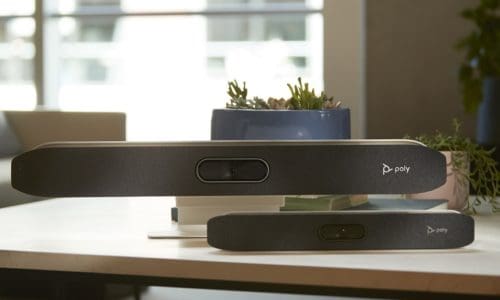 Meeting room specialists and Zoom Room installers should take note that Zoom Rooms devices from communications and collaboration device manufacturer Poly are the first to receive Zoom certification.
Those devices are the Studio X30 and Studio X50 video bars along with the G7500 video conferencing system. Those are now the first Zoom Rooms Appliances to be certified by the video conferencing platform giant, Poly says in a press release.
According to Poly, the devices are the first Android-based devices to offer native Zoom Rooms functionality, meaning they're fully managed via Zoom Device Management and offer an out-of-box, streamlined experience.
With the Zoom certification, the devices combine a full Zoom Rooms experience with Poly's audio and video capabilities, including advanced speaker and conversation tracking and intelligent noise filtering.
The appliances are also equipped with security features like a hardened operating system, secure update distribution and third-party testing for security vulnerabilities.
Read Next: Poly Unveils Device Management Service Poly Lens At ISE 2020

In a statement, Tim Root, Poly's vice president and general manager of room collaboration, said both companies are setting the standard for native video collaboration devices.
"Our collective portfolio of Zoom certified devices makes it easy for users to collaborate from anywhere, with friction-free meetings that customers and IT managers expect," Root said.
Poly has an established collaboration relationship with Zoom that spans a broad portfolio of communication solutions that includes purpose-built devices for Zoom Rooms, Zoom Meetings and Zoom Phone.
The certification of the devices now allows users to operate the Zoom-certified devices from anywhere, including their home or remote offices, making communication and collaboration easier as many workers are still out the office due to the COVID-19 pandemic.
The newly certified devices will help ensure that meetings are seamless and secure, said Jeff Smith, Zoom's head of Zoom Rooms.
"Together with Poly, we can deliver a radically simple video experience with technology that is easy to deploy, manage and use so that your meeting remains the focus," Smith said.