Hunan Museum Uses over 40 Christie Projectors to Illustrate History at the Han Dynasty Tomb
GS Series and HS Series Christie projectors, including 1DLP projectors, are used to illuminate 2,000-year-old tombs with historical text.
Leave a Comment

Christie projectors have been used at the intersection of creativity and history before. But now, over 40 Christie 1DLP projectors are installed at the Changsha, China Hunan Museum, which houses 2000-year-old tombs of King Ma and Lady Dai.
Projection-mapped visuals use 14 projectors comprising HS Series and GS series models installed around the 17-meter-deep trapezoidal-shaped pit grave.
Meanwhile, a dome theater projection based on ancient astrological works unearthed from the Mawangdui site — called "The Divination of the Five Planets" — is illuminated by 12 Christie DWU850-GS projectors.
If that wasn't enough projection in one place, visitors at the zone called "People of Hunan Province" see a curved screen and sand table, as well as a three-sided wall, known as "homeland" and "dare to call a new day." These overhead deployments of Christie projectors illustrate the area's social and cultural history.
"Hunan Museum is home to some of the most precious cultural and historical relics in China, including artifacts from Mawangdui that dates back to the western Han Dynasty," said Tony Chen, general manager of Christie's partner, Wincomn Technology.
"The projections serve as a bridge that connects visitors with ancient culture and history, enabling them to create a deeper emotional resonance."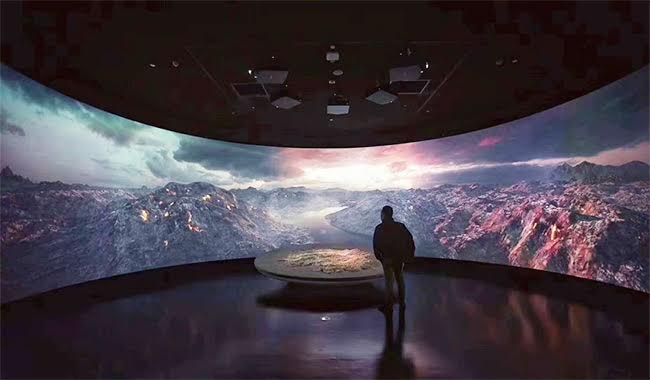 Projection Mapping Used for Portraying History in a Modern Way
Lin Yu, Vice President, Christie Asia Pacific, says, "In modern society where technology is constantly evolving, the display of cultural assets has become more diversified. The use of digital projections can certainly augment the showcase of China's history and cultural heritage."
The ancient tomb of Lady Dai is unequivocally the most popular exhibit in the museum, as well as the most challenging installation from a technical standpoint.
According to Chen, lighting up the entire tomb measuring 19.5 meters long, 17.8 meters wide and 17 meters deep was a tremendous feat. A total of 14 laser phosphor projectors, comprising 12 Christie D13WU-HS and two Christie DWU700-GS, were installed.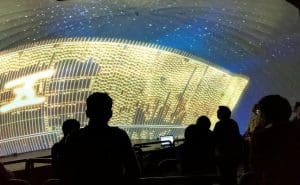 Read Next: 100-feed Video Wall at Westgate is 'Most Dense in the World,' Says Christie
Engineers from Wincomn Technology used 3D modeling and UV mapping to determine the exact location of each image, since all 14 projectors had to be installed in a "concealed" manner at different angles as requested by the Hunan Museum. In this way, the visuals can be projected accurately on all surfaces.
At the same time, Wincomn's engineers had to overcome the challenges of irregular blending, as well as ensuring the synchronized playback of visual contents.
This exhibition area showcases the history and development of Hunan Province using a three-sided wall projection accomplished with eight ceiling-mounted Christie DWU599-GS laser phosphor projectors that filled the entire space with vibrant visuals.
Benefits of the Christie Projectors at the Hunan Museum
Christie GS Series eliminates the need for lamp and filter replacements, providing 20,000 hours of operation.
Wireless connectivity, small footprint, low-weight, quiet operation and a full suite of lenses make them ideal for boardrooms, conference rooms, education, houses of worship and other small and medium venues.
Christie HS Series is the world's brightest 1DLP​ laser phosphor projector boasting up to 13,500 lumens in WUXGA and HD resolutions​, with Christie BoldColor Technology.