Client Relationships are the Goal
CTI scores on customer satisfaction and repeat business with the Philadelphia Union soccer club.
Leave a Comment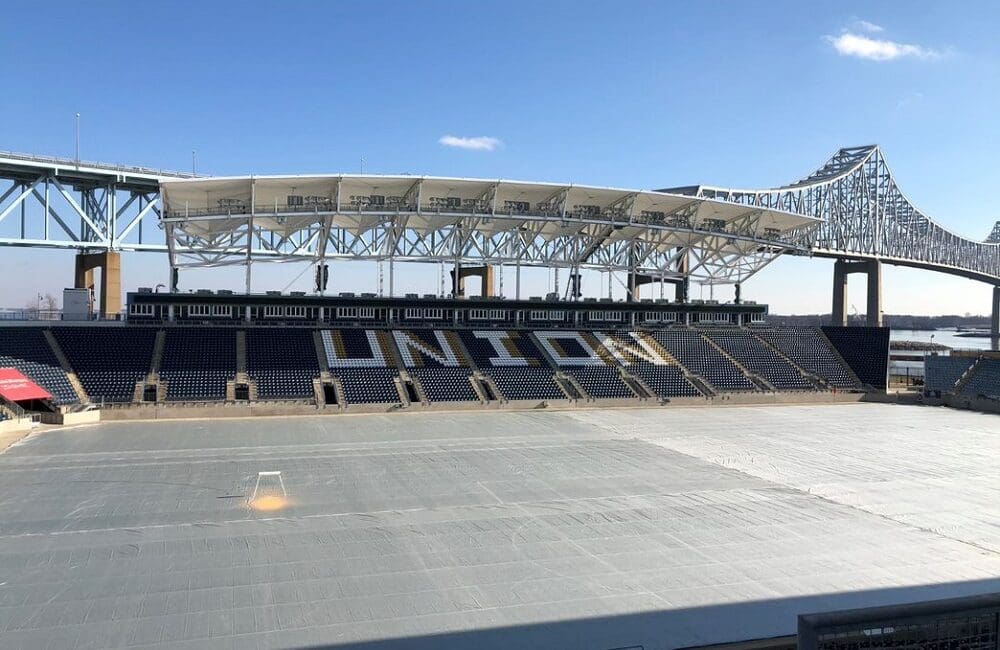 When it comes to achieving a world-class AV deployment, the most important factors aren't the hardware and the software; instead, the foundation of a successful application is a rock-solid relationship between integrator and client. Fortunately for the Philadelphia Union — a Major League Soccer (MLS) club whose home stadium is Subaru Park, located in Chester, Penn. — it found a committed partner in Conference Technologies, Inc. (CTI). 
Subaru Park opened its doors in 2010 and, for the following 10 years, its video production and display technologies remained largely the same, even as technological advancements raced forward. Thus, when management OK'd a multi-million-dollar revamp, including not only integrated technology but also facility changes to enhance workflow and improve the fan experience, it was a golden opportunity to bring the stadium back to the cutting edge. Carl Mandell, senior director of broadcast and entertainment for the Union, was entrusted with a multi-million-dollar dedicated budget for video systems. Mandell, in turn, invested his trust in consultant Anthony James Partners (AJP) and, eventually, CTI, which responded to the Union's RFP and won the project in fall 2019. 
Laying the Foundation
Jim Wile, branch director, CTI, who heads up operations and business for his branch of the venerable integrator, says AJP's involvement made the project especially appealing. "We have a really strong working relationship — a history," he explains. "We know what's expected of us; we know how to participate; and we know how to provide value." Wile also mentions that Subaru Park represents the integrator's first foray into the world of Major League Soccer — a sport whose popularity is already world-leading and whose status is growing rapidly in the U.S. "That's certainly a market we wanted to be involved in," he notes. Thus, CTI responded to the RFP and, in competition with three or four other integrators, submitted its bid. Then, it was up to Carl and his team to make the right choice. 
Core to CTI's approach is to lead with its talent, and that was what helped to seal the deal. According to Mandell, "Right off the bat, when we met with CTI, it was like, 'Here's the team of people you're going to work with. Here's what you'll come to expect.'" That developed a bedrock of trust that only solidified further when CTI won the job and began its design and integration efforts. "It was important that we were able to give Carl a level of comfort that the folks he was going to be working with were truly expert, were truly accessible and were part of the team," Wile opines. By having the experts — for example, Cheri Parker, senior project manager, and Ryan Brodie, technical services director — available to talk to the client, CTI could clearly demonstrate its level of organization-wide expertise. 
Overcoming COVID-19 Project Complications
With CTI having won the project in fall 2019, vendor POs started dispatching that October, decommissioning of the old system occurred in November and December, the new system began to be staged in CTI's Maryland Heights, Mo. facilities at the same time, and onsite integration commenced in January 2020. The intention was to have the new system firing on all cylinders for the MLS regular season in March. 
According to Mandell, "For control rooms that get built in sports stadiums, this was probably one of the most aggressive timelines," with perhaps a month or two shaved off the typical timeframe. Wile explains, however, that the compressed timeline wasn't a stress to CTI, whose more than 100 technical personnel give the company a lot of horsepower. "This is the work we do," he says with confidence. All together, about 20 members of the CTI team (onsite and offsite) contributed to the Subaru Park project, working hand in hand with Mandell's core team of nine. 
No level of technical mastery can contain a pandemic, however, which meant that the project team had to contend with nationwide lockdowns after onsite integration had begun. Indeed, in March 2020, the project team prioritized health and safety, strategically pressing "pause" on onsite activity. However, that doesn't mean the integration team wasn't working! Citing CTI's large, full-featured Maryland Heights facility, Wile says the integrator's capacity to stage systems in its own spaces ensured there would be no delays. "We were still able to work," he explains. "We were able to continue the project and be ready for the Union when the Union was ready for us." 
Onsite work resumed in June 2020, with Parker, Brodie and others finishing up some last punch list items. At that point, though, nationwide capacity restrictions prevented the team from playing at Subaru Park. Although that was, of course, disappointing, it did offer Mandell and his technical team a chance to acclimate themselves to the new technology at their disposal. "We were running at probably 10% to 20% capacity in 2020 [in terms of] complete functionality of the control room," he says. In 2021, Subaru Park reopened the control room with the Union's full production crew, complemented by CTI event support. By that point, all parties knew exactly how to deliver an exceptional experience using the new technology. 
High Dynamic Range
Although a few million dollars is a healthy technology budget, the Union and consultant AJP certainly had to make choices about what investments it would prioritize. Arguably, the most important decision was to transition from a 720p workflow to a 1080p60 HDR workflow. "At the end of the day, I asked, 'How can I get the best quality product to maximize our budget?'" Mandell recalls. That question made him realize that 4K was simply not worth the budgetary outlay it would entail, especially given the ancillary equipment updates that native 4K files would require. That decision-making was of a piece with the Union's overall pattern of spending its money wisely and finding ways to invest in value. 
Related: Kicking It Off: Solidifying a Soccer City with Digital Signage at Lynn Family Stadium
CTI agreed with Mandell's calculus, with Wile saying, "In a sports venue where there are very large screens and you're outdoors — all of those factors — you wind up with the high dynamic range being more impactful than the higher resolution of 4K." He makes the underappreciated point that huge displays, viewed from significant distances, are an entirely different equation than when someone is outfitting their home living room with a 4K TV. So, with all stakeholders aligned behind 1080p60 HDR, CTI and its partners had clear guidance with regard to equipment selection. "We needed to find equipment that could handle the signal flow," Mandell explains. "Every single thing along the way had to support that." 
Key Equipment
In terms of key project equipment, Ross Video lies at this project's heart. Subaru Park benefits from a Carbonite Black Plus switcher, an XPression graphics system, an XPression Tessera for LED control and an Ultrix-FR5 routing/AV processing platform. Wile describes Ross as the cornerstone of the integrated production environment, with the video switcher acting as the control center. Agreeing, Mandell calls the company's products the key drivers of the control room. "They are, I would consider, the brains of the [space]," he adds. 
Asked why the Union invested in Ross technology specifically, Mandell says that, with the company's products, there are no limits. "If you can dream it, they can implement it," he says. Wile adds, "You have facilities available to you inherently because of the way this stuff works together. It's a terrific technology point for Ross, and they've done a terrific job of realizing that." The company also stretches far beyond the boundaries of mere vendor, coming out to commission its systems. In fact, its creative services department, called Rocket Surgery, came in to help implement Mandell's designs for graphics display. 
With respect to monitors and video displays, CTI and the Union invested in a range of vendors' products: Samsung, Sony, Ikegami and Marshall. All, except the Marshalls, are HDR-compatible. Getting into more granular detail, Ikegami ULE-217-HDRs are at user stations, Marshall M-Lynx-702s are at user stations and Sony FW-49BZ35F displays comprise the monitor wall in the control room. According to Wile, the Marshall and Ikegami monitors were chosen due to their suitability for critical-viewing applications. And outside the confines of the control room, CTI integrated about 150 IPTV and signage displays from Samsung. Those occupy ancillary environments such as concessions, the team store, suites and club spaces. The Samsung models were chosen for being both durable and very bright. 
Regarding cameras, CTI and the Union settled on a Sony-centric approach. "I was really big on choosing Sony," Mandell says. "I'm a very big fan of their products." He also emphasizes that Sony was a perfect partner considering the switch to an HDR workflow. "They, at the time, had some of the best products out for that space," Mandell adds. From Sony's broad line, six core products were selected: three HDC-3100s (one of which is used as wireless with a Wave Central system), one HDC-5500 for high frame rate and two BRC-X1000 PTZ cameras. The additional cameras, which Wile analogizes to being "GoPro-style," are Marshall CV-565 POVs to capture, for instance, a goal's-eye perspective of the ball hitting the net. 
NETGEAR's Contributions
When it comes to switches, NETGEAR was the optimal choice because of the company's position straddling the worlds of IT and AV equally. According to Wile, "Although there are a lot of different network technologies, NETGEAR has really focused on creating a media-centric product. They're optimized in their configuration [and] in their product line to work very well in a media environment." Wile continues, "The network really is the heart of the system. And NETGEAR has a specific set of products that are well suited for that — not only in their hardware but also in their software configuration." In this application, the network is built around M4300 Series switches, organized in a redundant spine-and-leaf configuration. Of the six racks in the rack room, each one has a NETGEAR switch at its top to control the traffic; what's more, each of the four main consoles in the control room has an accompanying NETGEAR switch. 
John Henkel, director of SMB product marketing, NETGEAR, explains, "NETGEAR is used in individual racks for whatever equipment is in that rack. And we have various switches that are designed perfectly for that installation." Delving into the spine-and-leaf topology, he continues, "So, for all the leaves — individual racks of equipment — we've got you covered. And then, as you connect them up, you have all the proper uplinks. So, we have switches with fiber ports that'll do 10Gb and 40Gb uplinks. We even have the larger spine switch that has 100Gb uplinks." 
Watch: How NETGEAR Prepares the Network for Solid AV-over-IP Solutions​
Much as CTI works hard to develop strong relationships with its customers, the integrator also maintains robust vendor partnerships, including with NETGEAR. "CTI has been a partner of ours for many years," Henkel says. And part of that bond might lie in each organization's willingness to pitch in to deliver an outstanding result. "People are finding out left and right that our response is awesome," Henkel enthuses. "We will work with you before the project to figure out what switches you might need. We have people on staff who know all this…who do this for a living…who do hundreds of projects." Wile underscores the point, saying that NETGEAR has a strong support system for configuration and commissioning and that the company makes its engineers readily available.
Relocating the Racks
No project is without its unexpected challenges. It's how those difficulties are surmounted that illuminates the effectiveness of the integrator. For Subaru Park — and for Mandell specifically — a big priority was to get all the racks out of the control room due to the undesired noise their presence had caused through the years. To achieve that result, Mandell secured access to a former IT closet and determined that it would be a rack room, with all the necessary cabling fed to/from the control room across the hall. Originally, CTI's plans called for seven racks, which included some vacant space to allow future additions. However, with the installation of a large, powerful air handler to keep temperatures cool, the team had to find a way to get down to only six racks. 
"Using our experience, we were able to offer some suggestions on how best to solve that problem," Wile states. "We were able to work collaboratively with both the consultant and the end user to offer suggestions that would keep them on budget and on time." Wile emphasizes that the combination of CTI's extensive experience working with sports venues and its longstanding relationship with AJP uniquely positioned the firm to resolve the problem effectively. 
Commissioning and Continuing Support
As a matter of course, CTI invests considerable time in system configuration and commissioning. According to Wile, "The commissioning process and the configuration of these systems is very important. And we are incredibly fortunate that the people we have on our staff that do that work…a lot of them have what we refer to as 'gameday experience.'" By that, he means that members of the CTI team have worked in production capacities in stadiums and arenas. Therefore, they know precisely what Mandell and his team must accomplish. 
For that reason, CTI understands that the Union's video systems are mission critical — and that means the integrator must be able to remotely connect, at a moment's notice, to resolve a problem. Utilizing BeyondTrust (formerly known as Bomgar), a remote-support provider, CTI can dial in through the network and directly connect to Mandell's systems. Fortunately, however, it's quite rare that such a problem occurs. "Honestly, we've been really blessed," Mandell enthuses. "Everything's been working fantastically." 
Long-Term Relationship
Wile makes clear that, whether for the Union's project or for any other, CTI strives to expunge stress from the AV integration process. "Someone like Carl is spending literally millions of dollars," he observes, "and people are expecting him to have all the answers." That, Wile says, is where CTI adds its value. "We make it easy for him to do his job." 
From Mandell's perspective, the key is for an integrator to instill confidence. "You want to know that you can call somebody up on the phone, have a relationship with them and be confident that you're going to get an answer back," he explains. He hastens to add that, when he texts Parker or Brodie, he knows he's going to get an answer, and quickly. "Everybody can go out and buy the same equipment and install the same equipment," Mandell acknowledges. "But who are the people you're working with? Who are the people that are going to be there, once all the stuff is settled, and you need to call them a year-and-a-half [or] two years later?" For the Union, the answer lies in its long-term partnership — indeed, friendship — with CTI. 
And that partnership is already paying business dividends for CTI. Subaru Park is about to undergo a substantial audio upgrade, including not only production audio but also stadium sound reinforcement. Rather than sending the project out for bid, Mandell and the Union have decided that CTI is the best possible partner. "I like to establish a relationship with one company — not bring a bunch of companies in," he explains. And the success of the video project speaks for itself. Therefore, Mandell continues, "As long as they can meet my budget and my goals, and have that relationship, why not give [CTI] repeat business? We already have that relationship." 
Wile quotes a key phrase that's something of a lodestar for CTI: "How can we help?" With that service ethos guiding its course, the integrator is building a legacy one long-term customer at a time.
If you enjoyed this article and want to receive more valuable industry content like this, click here to sign up for our digital newsletters!