Global Expansion Benefits for Commercial AV Integrators Outweigh the Negatives… If They Can Pull it Off
Clients are establishing worldwide impact for their brands. This means their commercial AV integrators must work within a set of global expansion benefits.
Leave a Comment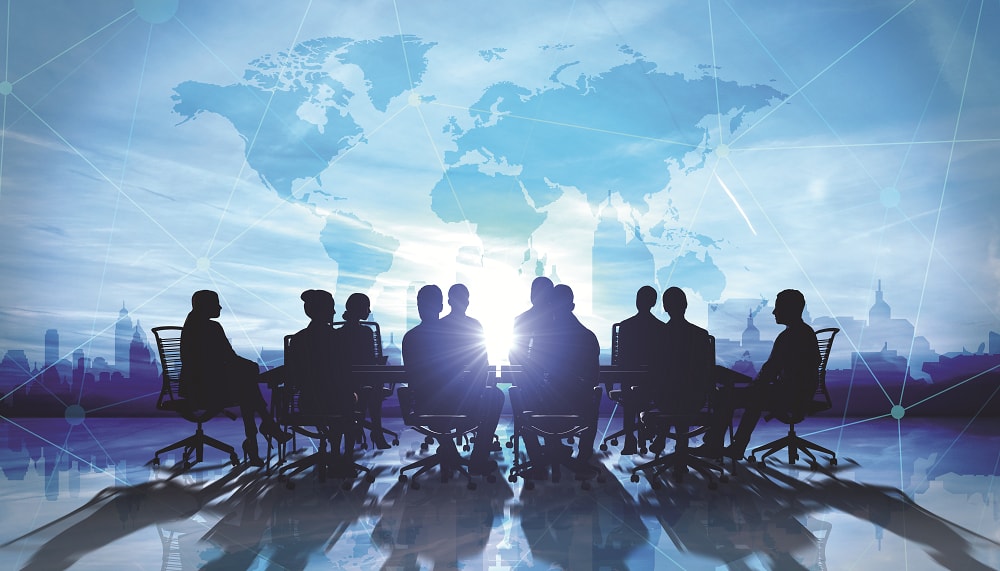 As commercial AV integrators become more successful, they often face a decision that's likely to determine their future.
These days, it seems almost every client business is working on its worldwide strategy. To take advantage of global expansion benefits, the company needs an AV integrator it can trust.
But, if the AV integrator hasn't worked outside the confines of the U.S., they likely haven't considered some of the political, cultural and financial obstacles they may face when they venture onto foreign soil, whether you're talking about exchange rates, the pace of business or government restrictions that can curb the advancement of foreign companies.
"There's a little bit of an underestimation of what's involved in being able to deliver globally," says Byron Tarry, who was named the first executive director of the Global Presence Alliance in December after a lengthy career at Sharp's AV, which AVI-SPL bought in November to establish itself in Canada.
"There's still a significant maturity of understanding what global expansion is and being able to deliver on that model. Sometimes, customers think there's a single global standard that can be pushed out around the world," he says.
Currency, language and workflow add levels of complexity, "and that's before you get to the availability of the technology around the world," adds Tarry.
PSNI became the PSNI Global Alliance last year in a move that was several years in the making, says executive director Chris Miller. When they first tried to incorporate international members in the integrator consortium in 2013, "the economy and the technology may not have been as mature."
Now, since launching the alliance at InfoComm 2017, PSNI has 42 affiliates around the world. That doesn't mean Miller or anyone involved has all the global nuances figured out.
"To me, 'global deployment' is just a very high term for a company that's doing deployments in more than one country," he says. "I believe there will be more global deployments as the economy grows."
PSNI has focused on the top 150 GDP countries in its global expansion and Miller is keeping close tabs on AVIXA's shows in Russia and China in the hopes of adding members in those regions in 2018.
More than 60 percent of PSNI's global affiliates are already doing multi-country business or are trying to help a customer achieve that goal, he says.
"We're trying to find quality companies we can vet and bring into the network who can be our geopolitical eyes and ears in those countries," says Miller.
Having a presence in specific countries can help with issues related to time zone differences, currency exchange rates and politics, he says.
Global Expansion: It's Not Easy…But It's Worth It
Tarry calls global expansion a massive undertaking for commercial av integrators, noting that even AVI-SPL, which has long been the largest company among a short list of the biggest commercial av integrators, still only has offices in five countries, meaning there's a long way to go before the market is fully matured—or even anywhere close.
"It starts with two or three customers, then the conversation turns to having a sustainable model and that's often a very different path," says Tarry. "It's not easy to scale on a regional basis, let alone a global basis."
Among the considerations are quality assurance and standardization, he says. Organizational structures, corporate cultures and relationships with vendors are other issues that can crop up as U.S.-based companies look to expand their base around the world.
"It starts with two or three customers, then the conversation turns to having a sustainable model and that's often a very different path." — Byron Tarry
As daunting as going global can be for some commercial av integrators, they know the demand for it is increasing and they need to be ready to respond or risk losing customers.
"We're seeing a very strong directive on the strategic side, to be able to offer a national or international footprint for their client base," says NSCA executive director Chuck Wilson.
AVIXA senior director of market intelligence Sean Wargo agrees, noting, "As you try to serve your clientele, there's an increasing number of them that leads to the need to go global. Companies will follow their clients, creating opportunities to think more globally."
The past three or four years has shown what Wargo calls "ubiquitous GDP growth around the globe," which has made it easier in some ways for commercial av integrators to establish themselves overseas, but that doesn't mean it's a simple process.
"There are so many logistics that go into bringing a firm into a new sector and maybe it has to do with the partnerships that are fleshing out. Those can open up whole new areas for commercial av integrators, but it still takes all the business rigor it always did," he says.
Attending trade shows is just one way commercial av integrators can form partnerships with companies in other parts of the world. Wargo believes it's easier to do business outside the U.S. than it's ever been.
Miller is under no illusions that PSNI has figured out the secret formula to success around the world.
"We do a lot of surveys and benchmarking, but I don't think we'll be writing Global Technology for Dummies," he says with a laugh. "A lot of commercial av integrators don't have a baseline for this until they get there."
Manufacturers are an important piece of the equation, says Miller.
"It's one thing to get alignment with customers and the destination country, but the overlay is the manufacturer," he says.
"They have unique distribution models and connections, and many of them are learning how to participate in these types of projects. That's as much of a logistical challenge as the geopolitical issues."
Crunching the Numbers
The AVIXA 2017 Industry Outlook and Trends Analysis (IOTA) global outlook predicts global AV revenues will increase 4.7 percent annually through 2022, starting with a total industry opportunity of $183 billion in 2016 and generating an additional $52 billion in value over the remainder of the forecast period.
"Some challenges did exist in Europe, as economic doldrums dominated, but growth in the rest of the world has more than made up for any regional declines, thereby sustaining overall industry growth," according to the IOTA report.
More findings from the report:
The AV industry in Europe is expected to exhibit a compound annual growth rate (CAGR) of 4 percent 2016 through 2022, adding $10 billion.
The Asia-Pacific region generated $63 billion in revenue in 2016 and will exhibit a solid CAGR of 5 percent through 2022.
The Americas professional AV industry generated $65 billion in 2016. Except for the market's moderate 2015 contraction, it is anticipated that growth will proceed unabated, reaching $83 billion by 2022, an increase of 4 percent year-over-year on average.
In 2016, MEA (Middle East and Africa) generated $8 billion, and accounted for a mere 4 percent of worldwide industry value.
Streaming media, storage, and distribution platforms (SMSD) generated $47.2 billion in 2016and singlehandedly accounted for a quarter of the professional AV industry's revenues.
The display segment accounts for 8 percent of the industry's revenues, but is growing at a 14 percent CAGR, will be worth $30 billion by 2022, and will account for 13 percent of industry spend by the conclusion of the forecast period.
Video projection is the lone segment to lose value over the remainder of the forecast period.
In 2016, video projection generated nearly $22 billion, and constituted 12 percent of total pro-AV spend. By 2022, the segment will be worth $11 billion and will have lost 50 percent of its value.
"All the crosswinds of technology are creating these opportunities," says Wargo.
He points to geographic and cultural proximity as a factor in deciding where to launch a global expansion strategy, while regulatory similarity is another aspect that can ease the global growth, says Wargo.
"There's so much tailwind for these kinds of opportunities and so many solutions and types of technology coming together right now," he says. "You'd be surprised if there wasn't an opportunity somewhere."
That goes from massive architecture continuing to be built in Dubai, to live events options in Russia and across Asia, among other areas.
Global Expansion Benefits and Challenges
Kevin Collins, president and COO of 2016 CI Integrator of the Year Diversified, said the company first dipped its toe into international waters in 1996, when Samsung wanted to open a $6 million executive briefing center with a media production studio in South Korea.
Diversified then did international work once every couple of years, before picking up the pace to once a year or so and eventually doing about 30 projects around the world in 2017. Collins projects Diversified will do about $100 million in global work in 2018, representing about 10 percent of its business.
"I can't say people saw it as our future [in 1996], but people grabbed onto the opportunity with both hands," he says.
"It sort of opened our eyes. Whenever we've been involved in one of these projects, it's been about serving our global partners. We're not trying to force our way into these markets."
And, while many commercial av integrators might say China is among the most difficult countries for foreign companies to work in because of governmental restrictions that lean more toward companies that are run by Chinese people, Diversified had some success there about five years ago, when it built a night school campus for Stanford University in Beijing.
"You need partnerships to be successful on a worldwide basis. In some cases, you may be part of the design team and in other cases, you may reach out to your partners to take the lead on the project." — Scott Birdsall, Diversified
"China is the most challenging example as far as we're concerned," says Collins.
"The way the laws are written, you have to be majority-owned by Chinese to be able to do business there."
Safety concerns, exchange rates and governmental oversight are among the top concerns working in China, he says.
Today, Diversified has an Asian-Pacific office in South Korea.
Scott Birdsall, regional VPat Diversified and a founding member of the Global AV Partnership with Unified AV Systems and Digitavia, says the proliferation of global expansion benefits has been driven largely by end users looking for consistency in their systems, no matter where they are.
"Global clients are now pushing global solutions and projects," says Birdsall. "In some cases, it might be one project that's spread over several pieces and in others, it might be a large project that's done all at once.
"You need partnerships to be successful on a worldwide basis. In some cases, you may be part of the design team and in other cases, you may reach out to your partners to take the lead on the project. There are different types of partners for different types of solutions," he says.
Diversified, he says, has some advantage in its ability to deliver global solutions because of its expertise in deploying digital signage, security, IT and AV solutions.
"As you grow and do [international work] more often, you have people who work and live there full-time," says Collins.
"How long it takes depends on how much of a spine you have and how much cash you can afford to spend. You probably won't see any real return in the first year."
Japan is another country where legal considerations can sometimes serve as a roadblock, but Diversified has found success working with financial companies that have grown into India and China.
Birdsall says Europe, Mexico and Canada are among the easiest foreign areas for Diversified to work, in part because English is the "language of business" n those places and companies there are used to working with U.S.-based companies.
"Every integrator has been through a situation where you solved the problem for your customer but it costs a lot more than you thought," he adds.
Diversified did a small project in Kazakhstan and Collins found the process "onerous," saying all workers had to surrender their passports upon arrival and could only get them back from the police. That won't dissuade them from trying to break into new international markets.
"I don't think there's anywhere we wouldn't look at," says Collins. "South America has a lot of potential but we haven't gone there as much. Brazil comes with many hurdles, but there are other countries on the continent that are easier to do work."
Government and politics "can have an effect on whether companies want to invest in a particular region," says Tarry.
Importing products for AV solutions into Brazil can be "extremely difficult to work around," he says, and the U.S. visa policy under President Donald Trump has made it increasingly difficult for some of the GPA's 27 members to attend events in the U.S.
The alliance has a dossier related to working in difficult areas it gives to its members, says Tarry, with guidance related to lead time, documentation and other considerations.
Countries Which Offer Commercial AV Integrators More Benefits
Often, U.S. companies should expect to double their expected deployment timelines to be successful in some overseas installations.
"We're on the bell curve moving from the innovators to the early adopters right now," says Tarry. "As we get into the early majority and even the late majority, more companies will start to understand and figure some of these things out."
China presents a challenge because of its frequent unwillingness to allow for imports, says Tarry, while Africa is less mature when it comes to technology as a whole, meaning the likelihood of finding a reliable partner for large deployments is more difficult.
Europe, Canada and Mexico represent the easiest path for commercial av integrators who are looking to branch out, he says.
The GPA is making some inroads in Nigeria, which has a large oil and gas presence, and one of the alliance's partners has developed an expertise in working with clients in South Africa, he says. Chile is another "emerging economy" that could help the alliance gain traction across South America.
Miller finds the ever-shifting political landscape as among the biggest challenges in global expansion benefits. While Brexit was expected to bring some level of instability to Great Britain, that never materialized. He looks at China, Brazil and Dubai as "political hot spots," but knows that may not always be the case.
"There's always going to be instability somewhere," says Miller.