IHSE USA Jumps into Gaming Action at First NAB Esports Experience with Draco ultra DP 240 Gaming Extender
Draco ultra DP 240 gaming extender designed to deliver high refresh rates today's competitive gamers demand for esports – shown at NAB Esports Experience.
Leave a Comment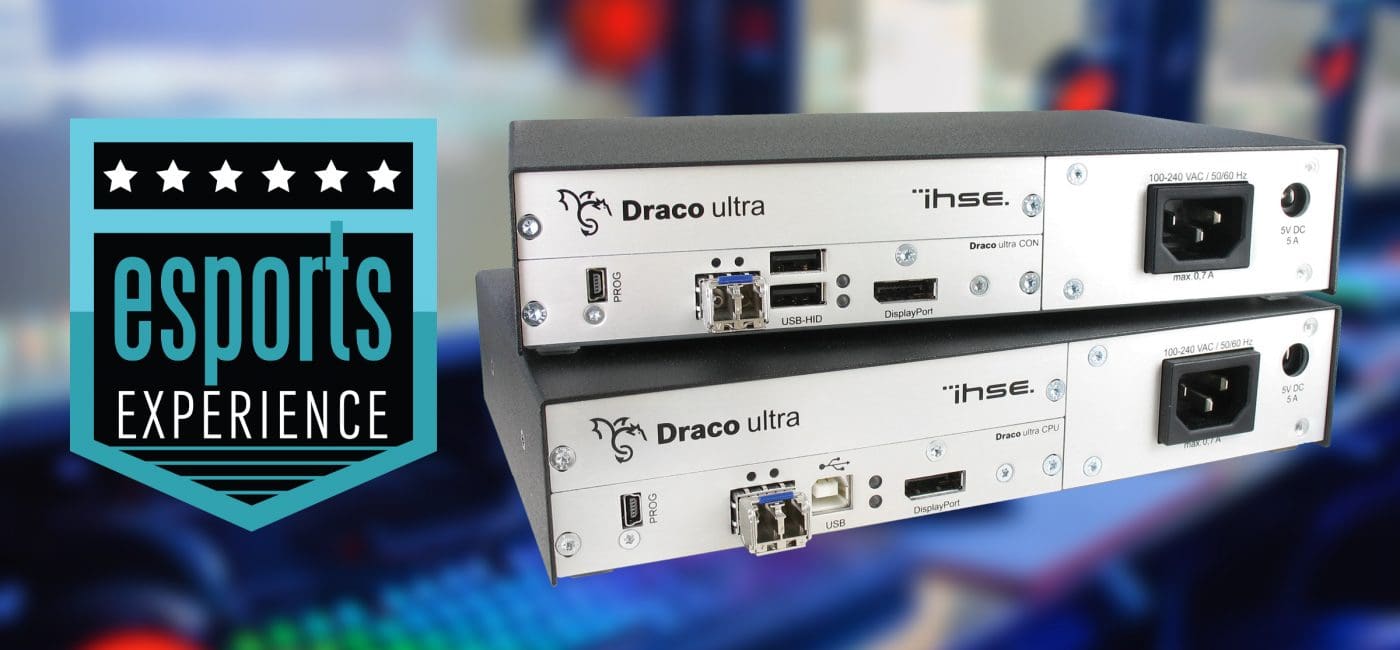 IHSE USA is sponsoring the inaugural NAB Esports Experience — a premium entertainment environment filled with high-end gaming PCs and consoles and featuring the most popular esports titles in the industry at NAB 2019 through April 11 in Las Vegas.
In addition to getting in on gaming, NAB attendees will be able to learn more about KVM's role in esports. 
Industry leaders will present success stories of how designers, gaming developers and live-event planners are achieving results with IHSE's esports solutions — including the new Draco ultra DP 240 gaming extender.
"The NAB Esports Experience brings together the best parts of the fast-growing gaming segment into one immersive activation, with the spotlight on powerful new enabling technologies like our Draco ultra DP 240 extenders," said Dan Holland, marketing manager for IHSE USA, LLC.
The Draco ultra DP 240 extender is designed to deliver the higher refresh rates — up to 240Hz at full 1080p resolutions — that competitive gamers demand, said Holland.
IHSE USA is also hosting a panel discussion, "Before the Games Begin: A Behind-the-Screens Look at Building Amazing Esports Infrastructure," at 1 p.m. on Tuesday, April 9 in Booth N1522.
The NAB Esports Experience audience will gain insights about how broadcast technology can be used for esporting events, and they will also hear firsthand why broadcast equipment manufacturers are increasing their involvement in esports engagement.
What the Session Will Include
The session will include discussions of cutting-edge installations as well as control-room and in-venue production designs that move esports operations to advanced levels.
Industry leaders from top gaming companies will present success stories of how designers, gaming developers, and live event planners achieve amazing results for the latest esports fan experiences.
Gaming pros typically require a lot of screens, both onstage and elsewhere, in a venue that can offer sufficient support for high-end, distributed video and direct computer access, together with minimal latency or mouse lag.
Also, the backstage areas tend to be larger because the players and teams need to practice in those spaces. With Draco ultra DP 240, gamers have a single point of control for accessing and managing all of these sources from any location in a gaming venue.
They're able to see sharp visuals during fast-action game play with smoother mouse action compared to a typical 60Hz display.