Lana Del Rey's 'LA to the Moon Tour' Used a L-ACOUSTICS K1 System to Isolate Pop Star's Sultry Voice
Lana Del Rey's voice was the star of her 'LA to the Moon tour' — so the FOH engineer chose L-Acoustics K1 elements to keep her in the limelight.
Leave a Comment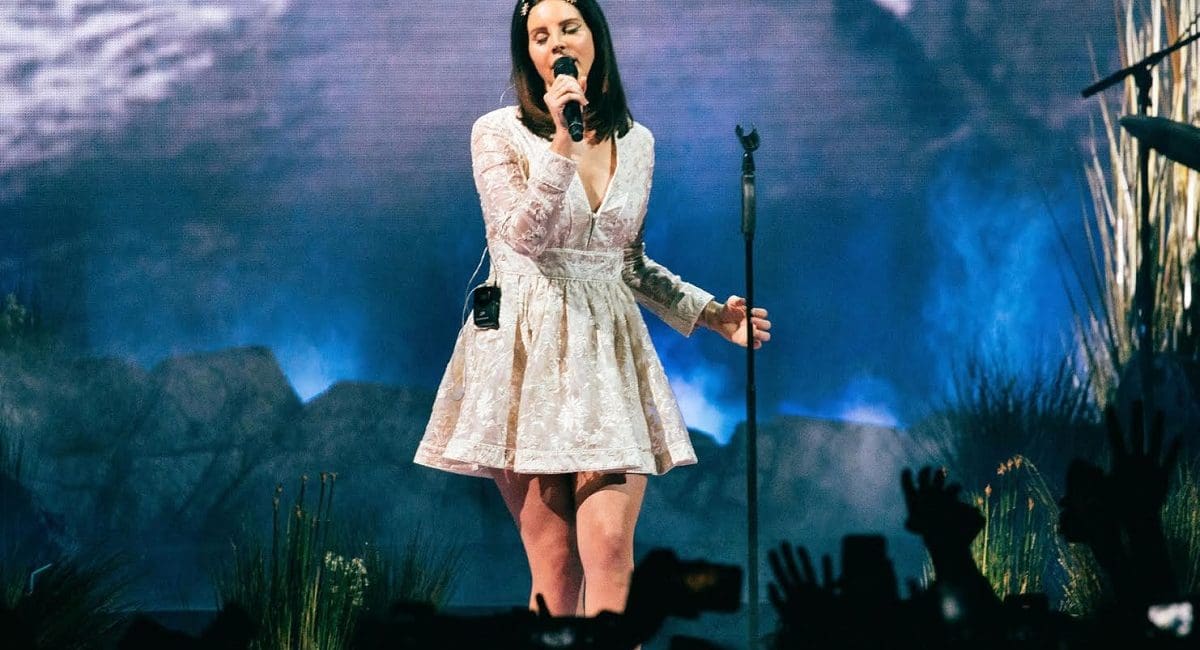 As singer-songwriter Lana Del Rey played her LA to the Moon tour, her first in four years, FOH engineer Kevin Madigan was tasked with bringing her dreamy, intimate pop to audiences in hockey arenas and other acoustically-challenging venues. He went with an L-Acoustics K1 system to complement her sound.
Having worked with David Crosby, Graham Nash and Steven Stills, Madigan has a well-honed ear for vocal-based song craft.
"It really is a show that's very vocal-based. So, keeping that in mind, I met with L-Acoustics' Dave Brooks [Application Engineer, Touring Liaison] and we came up with a system design that allowed us to maintain the feel of intimacy in a large arena show. To achieve that, we take a lot of care and spend a good deal of time every day listening and measuring so that the sound is consistent all the way to the highest seats in the arena."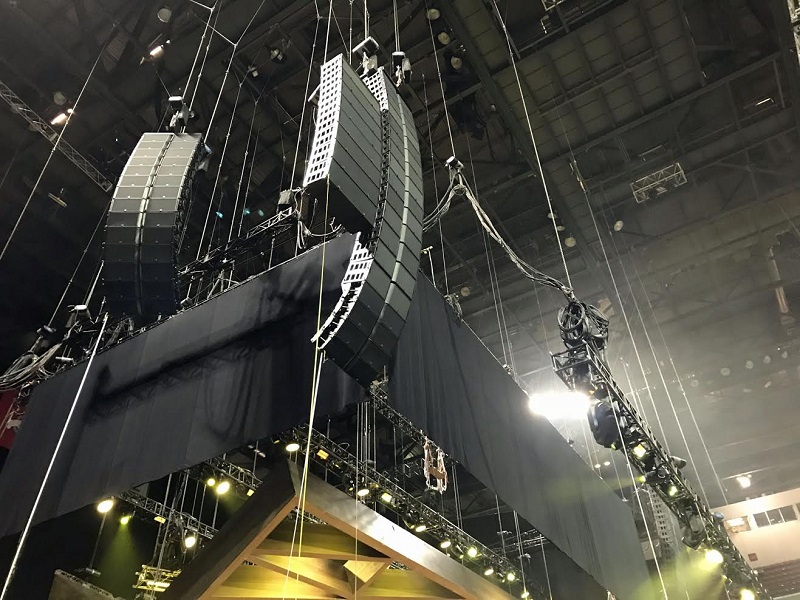 L-ACOUSTICS K1 System Provides Consistency
Madigan says the design didn't differ much between LA to the Moon tour shows, save for slight alignment and sub timing changes day-to-day.
"We're using K1 for the main hangs, with K2 for down-fills and out-fills, and there are some K1-SB in there as well," he says.
The day-to-day system consists of 14 K1 over four K2 as the main L/R, with eight K1-SB flown outside of the main hangs. In addition, 18 SB28 subs are ground-stacked in groups of three across the stage in a cardioid configuration."
That may sound like a large number of subs for a show with this intimate sound, but Madigan explains the flown K1-SB allows them even sub coverage throughout an arena.
Flying the K1-SB alongside the main L-Acoustics K1 hangs actually creates a cancellation node on the stage that goes up to about 200 Hz. "So the LF intensity on the stage is much, much less, which makes things so much more comfortable for the artist."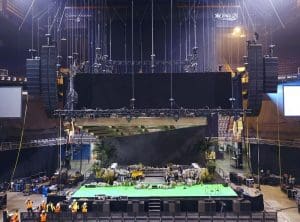 Lana Del Rey's Voice Deserves to Stick Out
The cancellation element is a huge big deal for an artist who Madigan says is "really striving to do her best every night."
"Crosby, Stills & Nash is kind of the ultimate training ground for mixing important vocals in music. And it stands you in good stead for about anything else. There are really quite a number of musical styles represented in Lana's music and the audience is completely different."
Read Next: Claypaky Lighting Stands Up to Brightest Features of Katy Perry Tour
The pace of the LA to the Moon tour—nearly two dozen dates in six weeks—can take a toll on a singer, and both artist and crew have been very happy with the system and its design.
"We count on L-Acoustics because, at the end of the day, it's all music and the common factor is usually that vocal. L-Acoustics systems in general, and this design specifically, have been a major factor in the success of getting that vocal out there and representing it well on each and every show."