LG Introduces Touch Solutions, Digital Signage, Flexible Video at DSE 2018
With new touch solutions, digital signage and flexible video introduced at DSE 2018, LG aims to 'raise the bar for high-performing workplace.'
Leave a Comment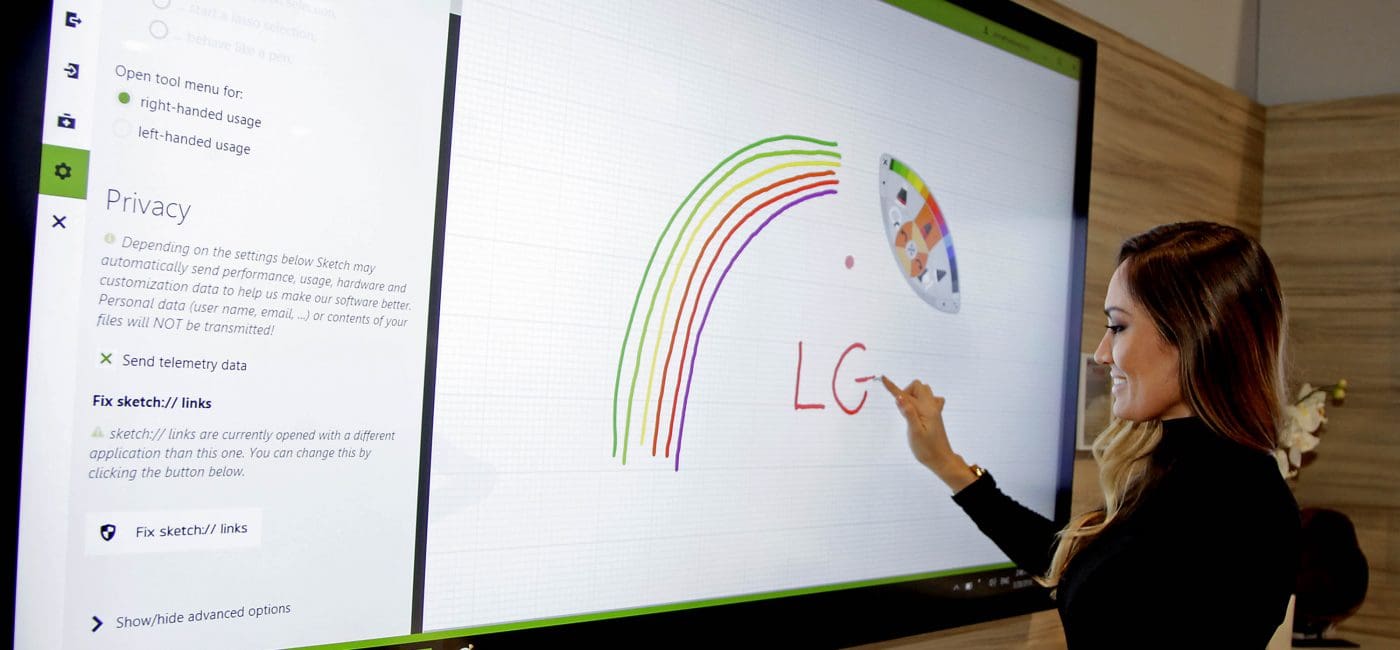 Led by new touchscreen display technologies and collaborations with corporate partners, LG Electronics USA Business Solutions unveiled what officials call "powerful, collaborative tools for the corporate market" at the Digital Signage Expo (DSE 2018).
LG's corporate technology solutions portfolio now includes the new Ultra HD interactive digital board and meeting room solutions as well as menu boards and wayfinding signage displays.
"New LG technologies spotlight the 'business' in B2B as corporate customers seek new tools to improve efficiency and collaborations across various platforms," said Dan Smith, VP of LG Electronics USA Business Solutions.
"Bolstered by alliances with leading partners like Cisco, Crestron Connected and Hoylu, LG touchscreen and 4K Ultra HD display technologies are raising the bar for today's high-performing workplaces."
LG Touch Solutions:
New to LG's portfolio in 2018 are advanced IPS Interactive Digital Boards (IDB) – the 86-inch 86TR3D and 75-inch 75TC3D 4K UHD models and 55-inch 55TA3E Full HD model. All deliver "vivid images, text and video to provide a great user experience in meeting rooms, classrooms and other collaborative spaces with easy and reliable touch performance," according to the LG press release.
LG's IPS (In-Plane Switching) technology "delivers unparalleled viewing angles critically important in corporate environments," according to the announcement.
Model 86TR3D features touch-enabled interfaces with precise writing performance that can recognize up to 20 points of simultaneous touch without the need for a separate pen or stylus. The 75TC3D UHD display comes with System-on-Chip (SoC) and LG webOS, making it possible to collaborate without the need for a PC. The TC3D series recognizes up to 40 points of touch.
The 55TA3E Interactive Digital Board with built-in IR overlay, which will be available soon, has built-in Wifi, built-in speakers and 10-point multi-touch. All IDB solutions are compatible with the LG IDB app.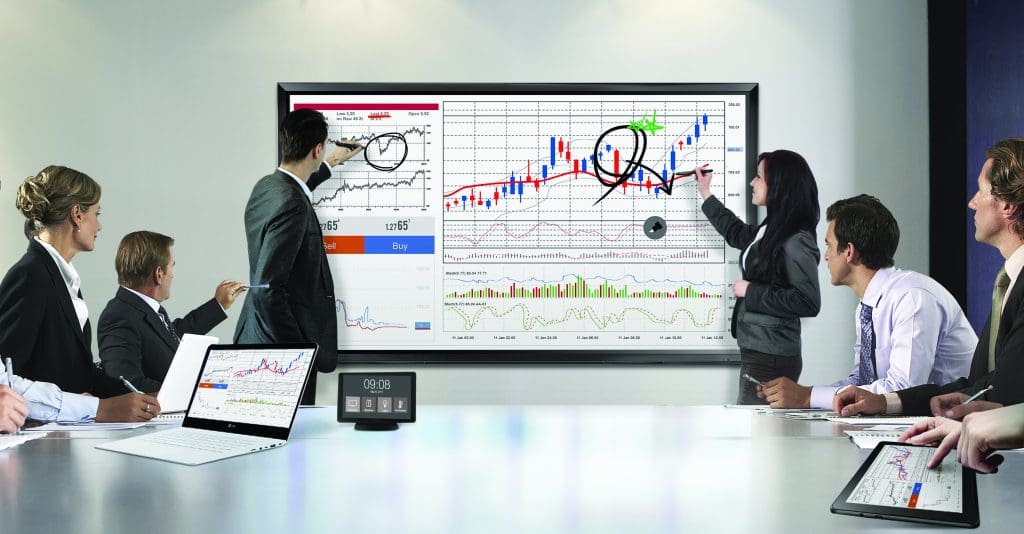 LG Corporate Digital Signage:
LG featured the LG SM5KD digital signage  at DSE 2018, providing the webOS smart signage platform and a built-in speaker designed for corporate meetings rooms, lobbies and conference rooms.
The Quad Core System-on-Chip can execute multiple tasks at the same time and provides smooth content playback without an external media player. The SM5KD with SoftAP software can also operate as a wireless access point for mobile devices.
New Small-Format Solutions:
Led by LG's new 43-inch 4K UHD monitor, the new small-format lineup is the latest to join LG's new cloud computing solutions for converting to a cloud system for the corporate environment.
Flexible Video Solutions:
LG's 2018 lineup of advanced display and videoconference solutions combine the company's picture quality with technologies from Cisco, Crestron Connected, and Hoylu.
LG displays blended with the Cisco Room Kit series, demonstrated at DSE 2018, offer solutions for videoconferencing and presentations. LG and Crestron Connected have expanded their collaboration on a broad portfolio of digital signage monitors – ranging from 4K Ultra HD and In-Glass LG OLED models to video walls and multiple-screen signage displays.
The LG and Hoylu hardware-software bundle offers single-screen and live collaboration across multiple devices using Hoylu's Anytime Collaboration technology. The Hoylu Suite solution offers flexibility and creativity for enterprise customers seeking an engaging interactive experience on LG displays.
Also of interest to corporate customers – on display in the U.S. for the first time at DSE 2018 – is LG's new 0.6 mm even bezel video wall display, ideal for corporate lobbies and training centers. The ultra-narrow-bezel 55-inch LG 55SVH7E displays can be combined to create one powerful and impactful video wall with a 1.2 mm bezel-to-bezel width.