LG Displays Help Complete $35M Digital Modernization Project at Hawaii Resort
Nearly 500 digital signage displays from LG Business Solutions helps guests of the Waikiki Beachcomber resort in Hawaii enjoy their stay.
Leave a Comment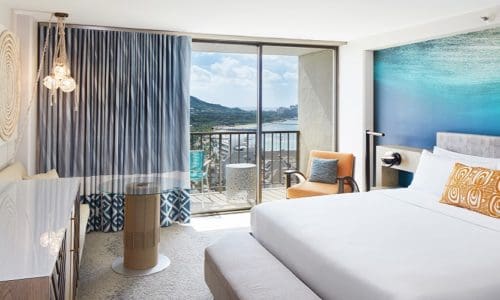 Nearly 500 digital signage displays and touchscreen kiosks from LG Business Solutions now helps guests of the Waikiki Beachcomber resort in Hawaii enjoy their stay and plan their vacation.
The Honolulu hotel and resort underwent a $35 million modernization project under the Outrigger resort brand, which included a large-scale digital project to help elevate the guest experience with a video wall in the lounge, a network of smart in-room TV's from LG, a touchscreen kiosk that can help guests discover new experiences on the island and mobile apps for finding information and interacting with hotel staff.
The guest rooms
In each of the nearly 500 guest rooms is a 55-inch smart hotel TV, specifically LG's UT770H series, that is designed specifically for hotels that features LG"s NanoCell technology for displaying vibrant colors and sharp images with more than 8 million pixels for Ultra HD resolution.
The thin-bezel displays allow them to be mounted on the wall – with some even framed – to give guests more space in their room.
The displays come with digital rights technology management solution Pro:Idiom for protecting video content as it travels from the hotel's head-end system to the in-room displays.
The displays run on LG's webOS operating system, giving them added capabilities like displaying custom content and information, enabling in-room purchases from the TV and the ability to cast streaming media from mobile devices, according to LG.
The hotel also adopted technology from LG's partner SONIFI on in-room entertainment including a paperless hotel compendium, video channels with hotel information, and fielding guest requests. In addition, Outrigger is rolling out Staycast across their properties, which allows guests to watch their personal content on the in-room displays.
Read Next: How Digital Signage Fits into Upcoming Building Trends
When a guest arrives in a Beachcomber room, they see on their LG smart TV a personalized welcome message and instructions for wirelessly enabling their mobile devices to watch their own streaming services. Having connected to the hotel's Wi-Fi, no other login is required. They simply use their streaming apps' casting — or mirroring — feature to send the content to an in-room Chromecast receiver and play it on the LG TV.
Lounge and concierge desk
At the hotel's new activities lounge and concierge desk is a video wall made up of four large-screen LG digital signage displays and a digital kiosk. When guests enter the lounge, the displays help them discover activities on the island.
Guests walk up to the kiosk and answer a series of six questions, after which the system displays a custom video of what their vacation could look like.
Other hotels
Now, Outrigger Hospitality Group is planning similar digital projects at their other properties, including the Outrigger Reef Waikiki Beach Resort, which is next in line. The company plans to bring the same LG smart hotel displays to the hotel.
At that hotel, the company plans to use LG's smart TVs as digital signage displays because the property is more spread out.
"We select high-end TVs so we can get a longer life from the technology," said Henry Schwartz, vice president and CIO of the hospitality company. "Content is only going to get better, so if we only select TVs that suit today's media, we're going to have problems a couple years from now. We also want highly reliable technology, so we buy displays built specifically for the hospitality industry."
If you enjoyed this article and want to receive more valuable industry content like this, click here to sign up for our digital newsletters!