Listen Technologies Shows Listen EVERYWHERE, More at ISE 2019
At ISE 2019, assistive listening provider Listen Technologies shows Listen EVERYWHERE, ListenTALK and universal ListenIR.
Leave a Comment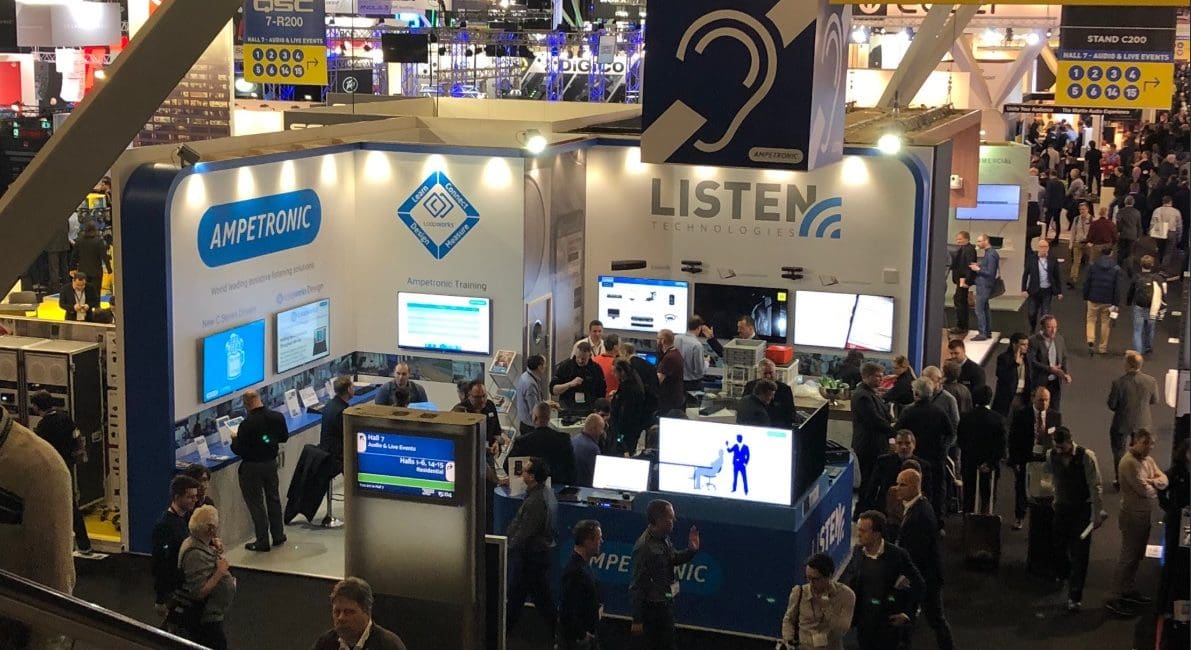 For Listen Technologies, ISE 2019 is proving to be an opportunity to show its offerings that are either recently launched, such as Listen EVERWHERE, or simply need an awareness boost, such as ListenTALK and universal ListenIR.
ISE attendees that visit stand 7-C192 are getting a chance to see the Listen Technologies solutions in person.
"We always look forward to participating in Integrated Systems Europe and are proud to have showcased so many Listen Technologies products to our partners and peers at this event over the years," says Russ Gentner, CEO of Listen Technologies.
"Listen Technologies is excited to be sharing its newest customizable listening solutions, including the Listen EVERYWHERE audio over Wi-Fi system and ListenTALK one-way receivers, with this esteemed group of innovators and thought leaders at ISE 2019."
More about Listen EVERYWHERE (via press release):
Listen EVERYWHERE replaces Audio Everywhere and features upgraded hardware, a streamlined finish and a new server with professional audio outputs. The system is easy to add to a venue's existing wireless network and enables patrons and guests to stream audio from TVs and other venue sources directly to their smart phones or tablets via a free downloadable app. Venues can customize the app to promote their brands and further enhance the user experience.

The affordable, low-latency solution is ideal for environments where ambient noise and distance can make it difficult to hear audio clearly. Visitors to Listen Technologies' booth will be able to download the Listen EVERYWHERE app and stream audio from any one of four channels, including two video channels, one audio recording channel and one channel featuring audio from a live mic, to experience the industry's most robust Wi-Fi streaming personal listening solution.
More about ListenTALK (via press release):
Listen Technologies demonstrated ListenTALK, its mobile two-way communication system, at ISE 2018 and is proud to return to ISE 2019 with two new listen-only receivers for use in situations when two-way collaboration is not necessary and a one-way system would be sufficient. The ListenTALK LKR-11 and LKR-12 offer affordable receiver-only options that are ideal for college tours, corporate tours, factory tours, assistive listening, educational applications and much more. New ListenTALK accessories further extend the system's flexibility and enhance the user experience. Visitors to Listen Technologies' booth are encouraged to try the ListenTALK system and learn more about its successful application in education at Frijsenborg Boarding School.
More about ListenIR (via press release):
Listen Technologies' infrared (IR) product offers reliable coverage and the most cost-effective and easy way to install a solution for assistive listening, language translation and other wireless audio applications. With radio frequency (RF)-like sound, twice the power and massive coverage, ListenIR transmits clear, focused audio privately to the intended audience. ListenIR is ideal for classrooms, courtrooms, boardrooms and more. Visitors to the Listen Technologies booth are invited to experience the unmatched privacy and performance of this system.