Lone Star Communications Fights Aging With Customer Experience & Recurring Revenue
As management ages and recurring revenue grows more important, Lone Star Communications finds new skills to lead in health care, education markets.
Leave a Comment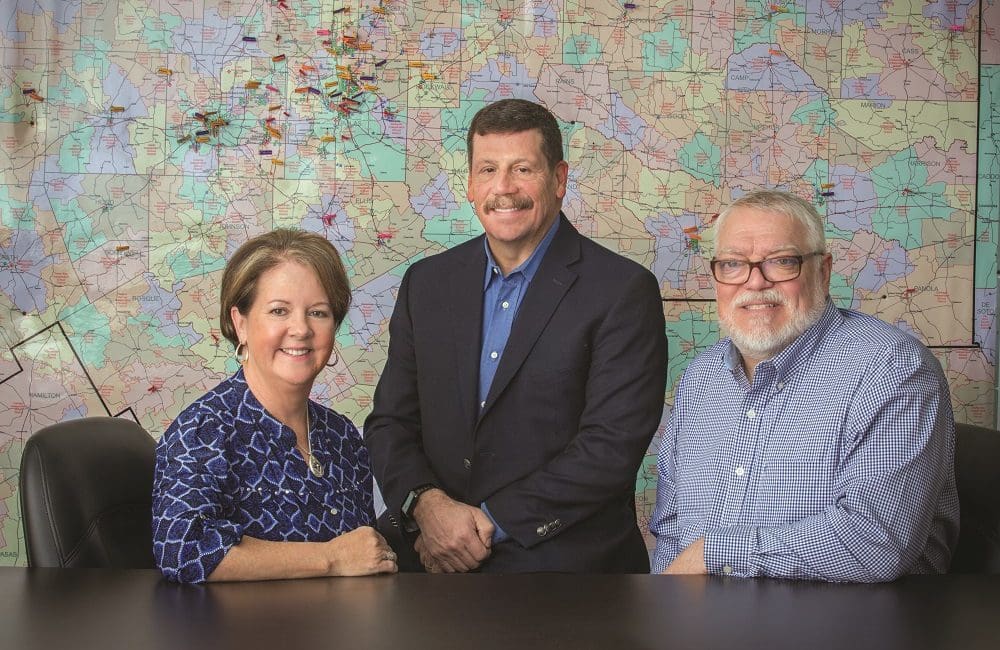 Who would've guessed 30-plus years ago when Raymond Bailey was in the U.S. Air Force for six years, then flying bush planes in Alaska and providing aerial fire support for the U.S. Department of the Interior, that he'd build a successful business in the AV industry like Lone Star Communications that would last more than 25 years?
As he was spending a couple of years working for Alaska Aeronautical Airlines, doing intra-state flights to and from Anchorage, Bailey reconnected with a friend from the Air Force and that friend turned him on to giving a shot to a career as an engineer for Audio Communications in Anchorage. 
He spent about three years there, eventually buying the company.
"I could see the potential of the business, but the market in Alaska was so small, I needed a bigger market to achieve the kind of success I really wanted out of a business," says Bailey.
He closed the business and moved to Illinois to work for Rauland as a district manager, covering seven states around Chicago for five years until he decided to move to Texas and open Lone Star Communications.
Through that experience, Bailey learned a lesson he stills carries with him today, more than 25 years after starting Lone Star Communications, an AV integration firm that focuses on the health care and education market in the Dallas and Houston areas, in October 1991.
Although Bailey, 61, spent a while in Alaska, he was no stranger to Texas, having done basic training in San Antonio. His sense that "a lot of people were moving from the north to the south" was spot-on, he says, noting the population of the Dallas area has gone from about 3.8 million in 1990 to 7.1 million today.
Bailey moved to Texas in 1991, hired a secretary/bookkeeper and one salesperson and Lone Star Communications was up and running with a focus on schools and health care facilities.
"I was able to teach salespeople they needed to meet directly with customers and tell them about our systems," says Bailey, noting the company had early success in media retrieval, which sent information from the media systems into the classroom for teachers to share with students. That's morphed into video conferencing today, says Bailey.
Forging Better Customer Experience Through Training
"We became obsessed with quality early, and in 2003, we became ISO certified and remained the only ISO-certified Rauland dealer in the country until just a couple years ago. We are constantly evolving changing procedures and adapting to market change or to improving the customer experience.
Bailey is a strong advocate in the saying "the customer is always right," and he expects all Lone Star employees to embrace that approach.
"Customers want to do business with companies that do what they say and know when to be treated with respect," he says.
That's why the company has a customer services division—including service, customer training and quality control—that is focused on making sure the experience after the sale is as good as before.
"From day one, Lone Star has been focused on quality. Everything we do relating to a project is centered around the customer experience."—Ray Bailey, president
Account managers, says Bailey, are charged with making Lone Star "the easiest company in the world to work with."
Senior executive VP Patt Bowles oversees the customer services department. She became acquainted with Lone Star as a customer while she was a media specialist for a local school district for 16 years.
The district was replacing an old media system at one of the schools and Lone Star was the winning bidder.
"What always impressed me [about Lone Star] was they always felt like they were happy to hear from me," says Bowles. "They made me feel so special. What I've learned since I've been here is they treat everyone that way. They're respectful, polite and professional. It's never about the money. It's always about the customer."
That attitude is pervasive in both Lone Star offices, says Bowles, but it's not part of an initiation or anything that's forced upon the employees.
"We don't drill it into people's heads," says Bowles. "We model it and people who work here see it from Day One."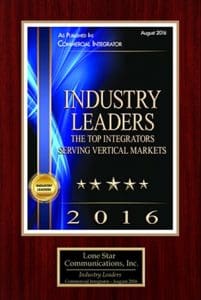 Bowles was on the verge of taking another job before joining Lone Star, even though Bailey had written a job description two years earlier that fit her perfectly but didn't want to try to poach her from her media specialist job. He convinced her to join the company in 2001, when she started as a media trainer.
Senior executive VP of operations Dan Hiett has been with Lone Star for 26 years, joining the company as a contractor when chief operating officer Ron Kruse hired him as a contractor for a life-safety installation.
"When Ray talked in the interview, he mentioned take care of customers and employees," says Hiett. "He's held true to that." Among the times when that's happened is two years ago when Lone Star launched a fabrication department and the manager was impressed with how much support he got to build it.
"Everything he asked for, we were able to give him without having to fight and battle for it," says Hiett.
Steady Growth for a Quarter-Century
"Dallas-Fort Worth and Houston are always in a growth mode with so many people working here," says Bailey. "We work in two huge markets that allow us to become very specialized on two verticals and really just a few systems in those two markets."
Between the Dallas and Houston markets, there are about 4,000 schools and 230 acute care hospitals.
And, although Lone Star Communications now has a presence in the fourth-and fifth-largest markets in the U.S., he still leans on some of the skills he learned while toiling early in his career in the far reaches of Alaska.
"I learned in Alaska that I had to do all your prep in the city," says Bailey. "If you don't, you could easily lose all your profits."
During the Great Recession a decade ago, Lone Star had a $9 million backlog, but "there weren't a lot of new jobs coming in," says Bailey. Lone Star was able to live off the backlog during that period, but it continued to dwindle, which presented a challenge in terms of sustaining its success.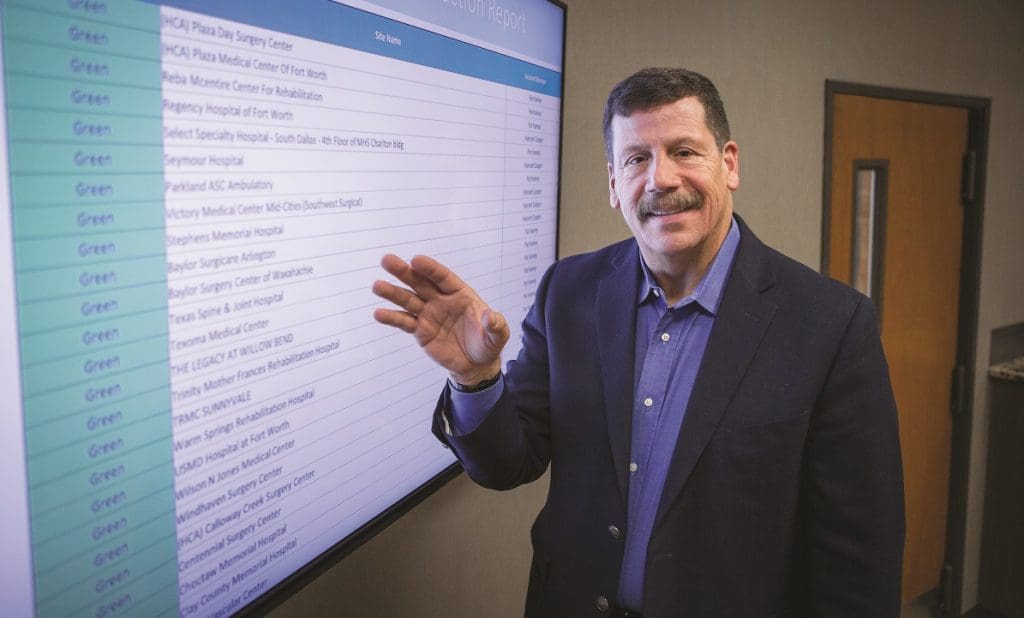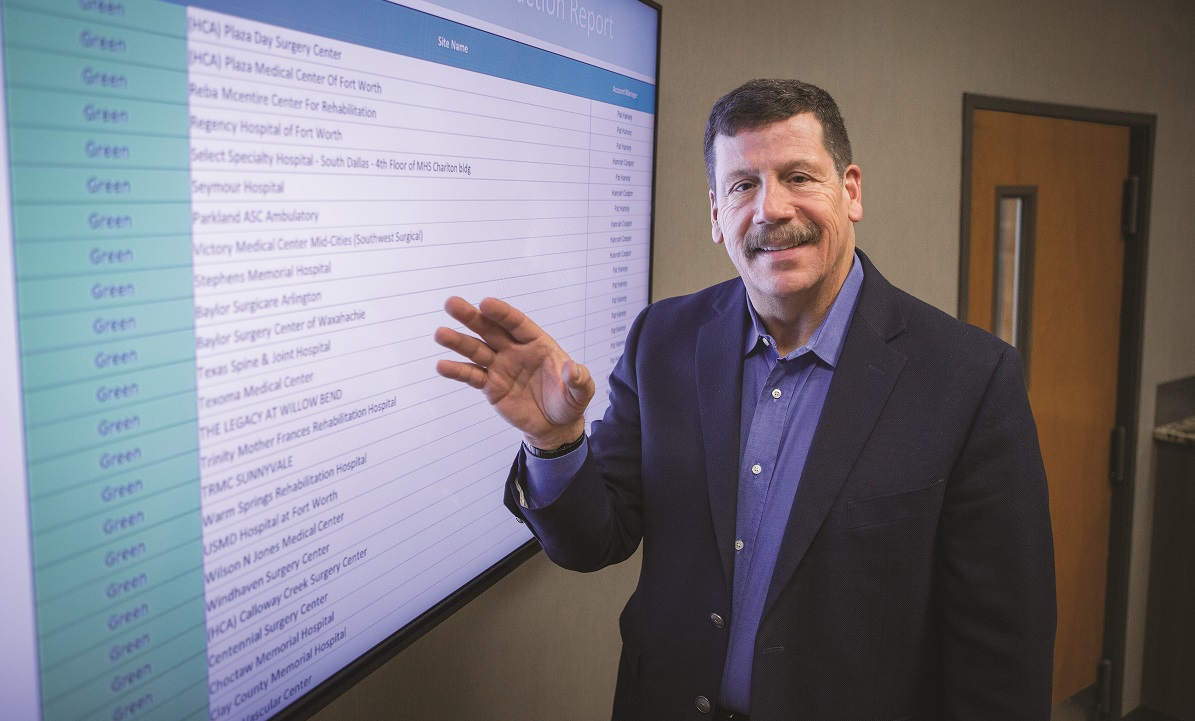 "We looked at every project we had in-house and projected its installed timeline and how many tech and installers we would need on each project and when," says Bailey.
"Using that information, we could project our labor needs out months. It shows us where we had holes in labor and where what future weeks we were oversold." Lone Star had to lay off about half its staff over three cuts.
That experience taught Bailey the importance of tracking labor. It's something Lone Star Communications still does today, generally a couple of times a month.
"Being able to fill that gap allows you to do things you might not otherwise do," he says. "It carried us through that downturn."
Lone Star Communications also has a customer status board hanging in the break room of the Grand Prairie office, with color-coded lights—green, yellow and red—that tell all who look at it the condition of the relationship with that customer.
"The principles of the company haven't changed much," says Hiett, even with major renovations such as a much larger physical plant and a recent update of the warehouse to meet today's needs.
New Politics…New Challenges
Although the recession is in the rearview mirror, Bailey sees lessons that can be learned from it as uncertainty reigns on funding the Affordable Care Act. "It appears to be holding up all the big projects right now," he says.
Another major change for Lone Star Communications is the ongoing implementation of Q360, Soultions360's business process software.
"This is the most complex software integration we have ever undertaken," says Bailey.
"Service isn't just something we do. It's a different mindset." — Ron Kruse, COO, Houston office
"In the end, it will make our procedures flow much more smoothly and effortlessly. But for now, it's a long, hard implantation that requires daily energy to assure it is flowing as we intended.
One of the side benefits of having recently experienced this integration is the procedures are identical to the experience Lone Star's customer in school districts and hospitals go through when they implement a new system, says Bailey.
"When we go into a new hospital, we need to get all affected parties on board and trained for the new systems before they go on line," he says. "There are many decisions that must be made by the separate groups regarding workflow and specific use.
"Seeing the needs assessments Solutions360 did with our employees and how the training was rolled out encouraged us and gave us insight to what our customers feel each time we bring on a new system. We have a different understanding of the customer experience and we hope to improve that experience even more as a result."
Strengthening the Service & Recurring Revenue
Bailey expects Lone Star to expand into new geographical markets in the next few years, likely through acquisition, similar to the way it expanded into Houston by buying Halco Life Safety Systems in 2016.
Longtime Lone Star chief operating officer Ron Kruse heads the Houston office and serves as liaison to the headquarters in Grand Prairie. One step Lone Star Communications has taken to make the two companies one is blending their mottos into one: "Building lifetime customers by providing the right product on time, every time."
Kruse came to Lone Star in February 1992, making him the second-longest tenured employee behind Bailey, whom he met in the mid-1980s when he was working for a Rauland dealer in Chicago whose account Bailey managed.
"We work in two huge markets that allow us to become very specialized on two verticals and really just a few systems in those two markets." —Ray Bailey, president
Bailey shared his business plan with Kruse in the fall of 1991 and Kruse thought of the opportunity to join a startup as a five-year endeavor. Since then, he's moved up the corporate ladder to his current position.
"You could tell [Bailey] had really thought about [his business plan], where he wanted to grow," says Kruse. "It wasn't the gamble it could have been."
That original business plan included a service component, says Kruse, an element that was quite unique at the time Bailey had developed it.
Bailey and Lone Star leadership have emphasized the importance of recurring revenue, with plans to grow it from about 15 percent annually to 35 percent.
In the health care market, those take the form of long-term care and service centers. One sales rep in the Houston office focuses solely on recurring revenue opportunities, while the same model will be adopted in the HQ location in Grand Prairie.
"It's a hard change to make," says Bailey. "It's taken me a while to wrap my head around that." Bailey regrets "not moving quickly enough to the SaaS model of sales," but notes there's a growing demand for it today.
"I think a number of our customers would find this approach to business very beneficial to their business if they could just get their heads wrapped around it," says Bailey.
"They never own the equipment, but they use it as if they did own it and they can constantly change the system by adding features with a small increase in cost each month. This allows them to try different add-ons that they might not be able to afford it they had to buy all of the new equipment up front."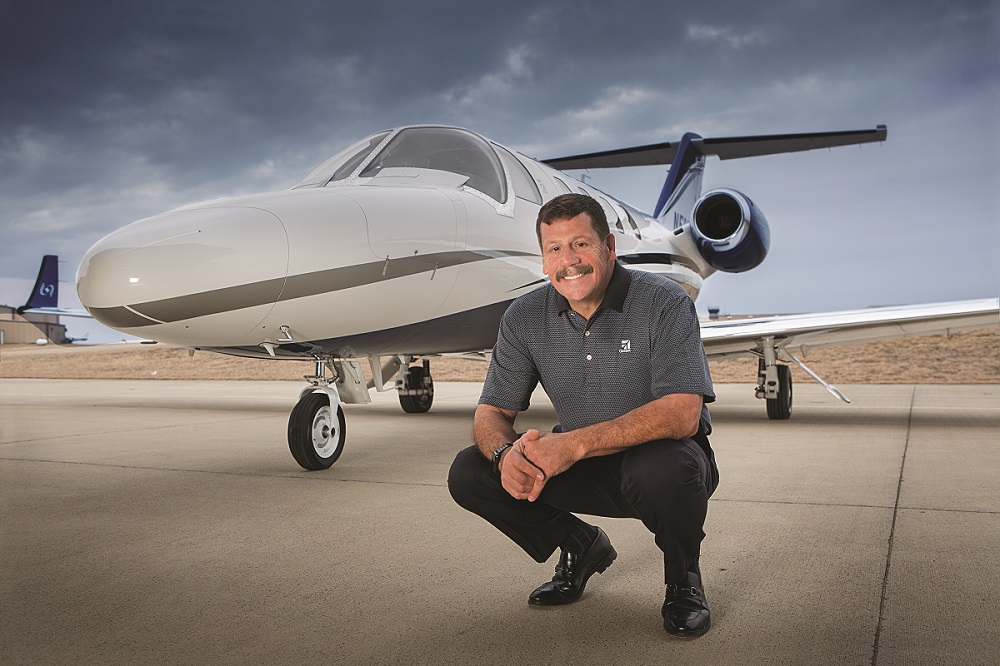 Bailey's philosophy on training for employees has also evolved.
"In the early years, I really didn't spend much on training until the employee showed they were committed to the company and here for a year or more," he says. "Now, we train early and often. We are one of a few companies certified by Rauland to teach their certification classes in-house and for other companies."
Every Lone Star field employee goes through Rauland certification training today. The company also sends its temporary employees to a Rauland certification course taught by our employees before they go to a job site.
"We can often identify a temp that will transition to a permanent position when one becomes available," he says."It also gives us information on who we want to send to other advanced training that might be available to us."
Lone Star Communications sends many of its techs and inside staffers to Dale Carnegie Training and a variety of project management and time management courses.
The company also has tuition reimbursement for courses that allow employees to improve their skills and even to get them ready for a promotion or change to different job within in the company.
Legacy Giving Way to Future
Bailey, past VP of the NSCA's board of directors, is proud that more than half of Lone Star's employees have worked there for more than five years and about 40 percent have a 10-plus-year tenure with the company.
He realizes, though, Lone Star Communications is fast approaching a time of transition for its leadership, as those who've been there for a while are significantly closer to retirement age than the beginning of their careers.
Because of that, Bailey is sending several potential future leaders to Dale Carnegie and other leadership courses. Lone Star Communications had almost two dozen staffers at the NSCA Business & Leadership Conference in Dallas this year.
Bailey's sons Justin, 35, and Ryan, 33, work at Lone Star Communications, as do the children of some of the company's other managers, but there's no guarantee any of them will take the baton from their parents to kick off the next generation of company leadership.
"We're at a point where we need to be looking at the next generation of leaders within Lone Star," says Bailey. "We have already identified some, but we're grooming a number of people of take on the senior level management of the company.
"They made me feel so special [as a customer]. What I've learned since I've been [working] here is they treat everyone that way." —Patt Bowles, senior executive VP
"Though I'm not going anywhere for a number of years, the time is now to prepare for it. It is my next major challenge to assure the company continues as it is and continues to grow after Ileave," says Bailey.
"Whatever happens, we'd like to have the legacy stay the same: the quality and experience of the customer."
Hiett expects Lone Star Communications to continue to have a strong legacy long after he's gone.
"The culture is pretty ingrained and that will be a good guide for the future," he says. "[The next generation of leadership isn't] going to do it the same way we do and that's OK."
Kruse expects the next generation of Lone Star leadership to continue the approach that's helped it succeed for more than 25 years now.
"Do what you say you're going to do," says Kruse. "People stay here because they're proud of the work they do. You're hiring people with that attitude. You can't teach that. What we've done is hire for personality type and then teach them the different parts of the business."