MantelMount TV Units Help School District Convert to Hybrid Model
The Los Gatos Union School District in California used MantleMount's TV mounts to make their classrooms more efficient for both students and teachers.
Leave a Comment
Photos & Slideshow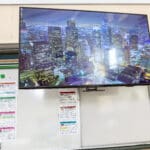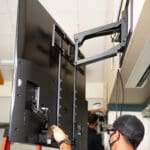 ---
Tim Landeck, Director of Technology, Assessment and Accountability for the Los Gatos Union School District, was a facing a universal dilemma regarding storage space for classrooms in his school district. The Los Gatos Union School District is made up of five schools, Blossom Hill Elementary, Daves Avenue Elementary, Lexington Elementary, Louise Van Meter Elementary, and R. J. Fisher Middle School, which handle 3,200 students combined and serves kindergarten through eighth grade.
Every classroom in the district had whiteboards mounted on the wall, which slid back and forth and had a large storage space behind them. These storage spaces held various classroom supplies and were a vital part of classroom functionality as there were no other storage spaces.
Related: Schools Will Still Need AV After The Pandemic
Landeck decided to put TVs in the classrooms, but quickly realized that for the TVs to be at optimal viewing height, they would have to be mounted in front of the white boards and the storage space behind them, making both inaccessible.
The MantelMount Solution
MantelMount, designer of flat screen TV pulldown mounts, had just the product Landeck needed.
MantelMount TV units allow users to mount TVs high on a wall, simply bring the TV down to eye level, then return the TV back to its original spot. These units would make it easier for teachers to use MantleMount's vertical movement to bring the TVs down to the desired level, use them for the task or lesson required, and easily bring the TVs back up, where they would no longer obstruct the white boards and the storage spaces.
Landeck purchased 80 of MantelMount's MM700, the first pull-down TV mount in their Pro Series which is designed for mounting heavier TVs up to 90 inches. This mount offers 26 inches of vertical travel and up to 60-degree swivel along with durable construction of 3MMsteel, enhanced stabilization, adjustable stops, and auto-straightening.
The MantelMount Impact
Landeck began installing the units in December 2020 and had them all completed by January 2021, which allowed the schools to begin its hybrid learning model. When the MantelMount units were installed, the district began combining remote and in-person learning with some students in class physically and some remote, and the MantelMounts serving both groups wonderfully.
"Our classrooms have been open since January, and the installation of the TVs, along with the MantelMount units, is one of the reasons we were able to support hybrid instruction to students both in the classroom and at home at the same time," says Landeck.
He also mentioned getting extremely positive feedback form the teachers as well.
"Our teachers love the MantelMount units and what it allows them to accomplish in the classroom," he says. "Not only do they like that the mount can travel vertically, but they also find the swivel capability useful as well. And of course, they are very happy that they still have their storage space behind the whiteboards, as well as the whiteboards still being available for use."
Landeck had used MantelMount back in December 2019 when he experimented with 15 units in kindergarten classrooms. The united performed well and when he was tasked with district-wide implementation, he remembered the positive experience he had with the units, making MantelMount the obvious choice.
"These mounts accomplish so many objectives for both the teachers and the kids," says Lee Marc, CEO of MantelMount. "They bring the TVs to the best viewing height for the kids. They save the limited storage space. And because of their fluid dynamics, they're extremely easy for teachers to pull down and push back up."