Music Collaborator Mat Mitchell Says ATC Monitors Help Him Hear All the Good (and Bad) Details
Veteran musician Mat Mitchell – who's worked with Nine Inch Nails, Katy Perry and others – says ATC monitors (ATC SCM45A) help him work more efficiently.
Leave a Comment
A 25-year veteran of the music business, Mat Mitchell has toured the world with Tool, Nine Inch Nails and Katy Perry. Mitchell recently installed ATC Monitors (ATC SCM45A) in his studio, which he says helps him work more efficiently.
Located in North Hollywood, Mitchell's studio features an SSL 6000E/G+ console, along with Apogee Symphony II converters and an array of supporting outboard gear.
Just prior to the recording of All This Time with A Perfect Circle's Matt McJunkins, Freff Friedl, and their side band, The Beta Machine, Mitchell replaced an old pair of Yamaha NS-10 monitors with a new pair of ATC monitors.
"I always had good results because I knew how to work with them, but recently I was listening to some of my mixes in a friend's mastering room. It was easy to hear things that I had to really focus on to hear in my studio, and I thought, 'you guys are having a whole different experience.
Inspired by the thought of having that same experience on a daily basis, Mitchell arranged a demo with Troy Manning at Vintage King Audio, Los Angeles.
Why Mitchell Picked ATC Monitors
ATC, a British company, employs TransAudio Group as its American distribution partner. Before he decided to commit to the SCM45A monitors, Mitchell worked with TransAudio Group so he could thoroughly vet the monitor market.
"We started out with a pair of ATC SCM25As which sounded fantastic, he notes.
"Then I wanted to try some other monitors just to get a sense of what's out there. Sometimes, a particular manufacturer initially made me think—'that sounds great'—but once I listened closer to songs I was familiar with, I could tell that things were missing or exaggerated.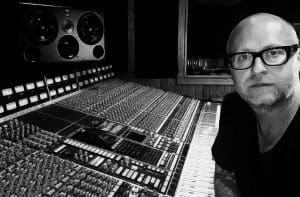 "I heard some of the manufacturers, and then Troy put on the ATC SCM45As. I was like, 'O.K., we're done here.' To my ears, they were very familiar and also very honest."
While he says he enjoyed hearing familiar music on these new speakers, Mitchell also found them to be incredibly pragmatic.
"I detected problems that I had never heard before in some other sons. On my old monitors, they all sounded like great mixes. Now I could discern different levels of great. The differences were obvious."
Using the new speakers for The Beta Machine's debut album, Mitchell sums up the working experience with the ATC SCM45A monitors by saying they make the production process easy.
"I think when it's all said and done, I'm getting to the same place I used to get to, but it's so much easier and faster," he says. "I'm reacting to the mix and making choices much more quickly."