Matrox Unveils X.mio5 Q25 SMPTE ST 2110 Network Interface Controller at NAB 2018
Matrox COTS X.mio5 network interface controller card with multichannel 4K, video processing and HDR clears path to IP broadcast workflows & no CPU usage.
Leave a Comment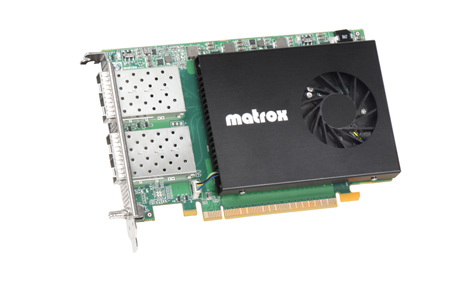 Matrox recently announced Matrox X.mio5 Q25, a SMPTE ST 2110 network interface controller (NIC) card with multi-channel video I/O supporting HD to 4K, with zero CPU utilization.
Equipped with 10GbE and 25Gbe interfaces, X.mio5 Q25 features on-board multi-channel HDR conversions along with motion-adaptive de-interlacing, scaling and compositing engines for high-density 4K video processing.
The Q25 card "enables OEMs to effortlessly build and deploy the world's most advanced IP-based broadcast graphics systems, channel-in-a-box platforms, and capture/playout video servers designed for today's HD and emerging 4K/UHD workflows," according to the Matrox press release.
"Architected as a video-aware COTS SMPTE ST 2110 NIC card, X.mio5 Q25 delivers 24/7 reliability and interoperability required of broadcast equipment, while offering the flexibility and scalability expected of IP infrastructures including standard network stack functionality," according to the Matrox announcement.
With support for four SFP28 transceivers, X.mio5 Q25 allows for PC-based platforms to receive and transmit four 4K/UHDp60, 16 1080p60, 32 HD or any equivalent combination of flows over 25GbE. X.mio25 Q25 also includes on-board video processing to offload CPU and GPU resources.
The network interface controller is supported by the Matrox DSX SDK, ensuring application development and system deployment.
"Matrox X.mio5 Q25 is purpose-built for SMPTE ST 2110, which means it meets and exceeds the industry's most stringent reliability, quality, interoperability, and performance requirements when it comes to IP workflows," said Alberto Cieri, senior director of sales and marketing at Matrox Video.
"Over the last 40-plus years, Matrox has helped customers seamlessly navigate from analog to SDI, SD to HD then UHD, and with X.mio5 Q25, the story remains the same for OEMs looking to transition from SDI to IP—with minimal interruption and maximum impact."
The Q25 card will be available in the second quarter of 2018. Developers may obtain more information by e-mailing video_oem.info@matrox.com.
Click here for more information about the X.mio5 Q25 SMPTE ST 2110 network card.