NETGEAR on Sustainability in AV
Richard Jonker of NETGEAR, event sponsor of LAVNCH & LEARN "Sustainability & AV," expands on the company's sustainability initiatives.
Sponsored Content
Leave a Comment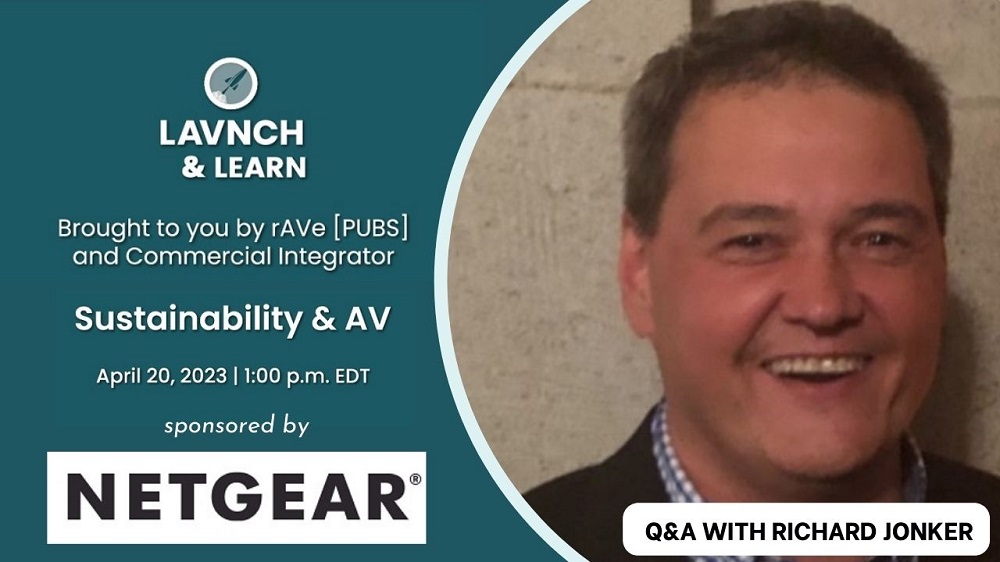 The upcoming LAVNCH & LEARN "Sustainability and AV" event on April 20, in partnership with Commercial Integrator and rAVe [PUBS], is sponsored by Legrand AV, PPDS, NETGEAR, Shure and Sony Professional Display Solutions. Here, each of the companies has agreed to give $2K or more to the Earth-friendly 501(c)(3) charity of their choice.
In this feature, Richard Jonker, vice president of business development, AV over IP,  EMEA & APAC, NETGEAR, sits down to discuss the company's commitment to sustainability and upcoming efforts in becoming a more sustainable organization.
Richard Jonker, vice president of business development, AV over IP,  EMEA & APAC, NETGEAR
CI: Tell us why your company is passionate about sustainability.
Jonker: NETGEAR is committed to providing our customers with high-quality products that are environmentally sound, and to conducting our operations in a responsible manner.
CI: Can you give us an example of concrete efforts your company is making to be more sustainable?
Jonker: As stewards of the environment, we consider and plan for the recycling, reuse, or reclamation of our products and packaging. NETGEAR continues to work proactively to reduce or eliminate hazardous materials in our products, helping to protect the health and safety of our employees, our customers, our manufacturing partners, the environment, and our communities. These commitments continue to be a driving force at NETGEAR and reflect principles deeply ingrained in our values.
The technology we produce and market is focused on replacing legacy pro AV tech with modern, software defined, AV-over-IP infrastructure. Thanks to reduced size and lower energy consumption, the over-all carbon footprint of the AV-over-IP products is lower than previous generations of pro AV connectivity. We promote PoE as a better energy source than decentralized AC/DC power supplies and help integrators design networks and AV-systems with the lowest possible energy consumption. We help to connect every single AV device so that with remote control, these devices can be switched off when not in use.
The AV-over-IP technology is an integral part of a hybrid working strategy that can lower emissions and energy use for today's companies and workforce. By moving on-premises AV /IT software to the cloud, lower carbon emissions cab e achieved thanks to the better design of centralized datacenters.
CI: What sustainability efforts are you planning to implement in the next year?
Jonker: NETGEAR will be publishing an AV Sustainability report this month, explaining AV-over-IP and PoE as innovative technologies to enhance sustainable ProAV system designs. We will continue to do so, with new products also reaching into the broadcast part of the AV market. We will also refresh our Sustainability in AV report with the latest insights.
CI: Can you give a long-term overview of your sustainability plan?
Jonker: In our view, the world of AV and IT will converge for a part; the elements of cloud, IoT, smart buildings will help design a more sustainable AV environment for each organization.
CI: Anything else you'd like to add?
Jonker: We will be releasing the sustainability report in the days ahead, and we encourage everyone to read it.
[Editor's Note: This post will be updated with the direct link to the report once it's live.]
---
This sponsored content was created as part of a partnership with NETGEAR. The contents of this article are entirely independent and solely reflect the opinion of NETGEAR.
If you enjoyed this article and want to receive more valuable industry content like this, click here to sign up for our digital newsletters!