Premier Mounts Wants More Companies to Offer Second Chances to People with Troubled Pasts
Premier Mounts recovery program has yielded about a dozen new employees who might not have otherwise had an opportunity to turn their lives around.
Leave a Comment
Life is all about second chances. Premier Mounts founder Len Dozier takes that philosophy more seriously than most people and he has a track record of success to back him up, thanks to his work with New Wine Church and placement of a dozen employees through the company's recovery program.
 The initiative includes an intense yearlong program that allows people who have struggled with drug and alcohol abuse, spent time in prison, been homeless or dealt with other life-altering issues to earn a chance to turn their misfortune around, including by finding employment.
Dozier is a member of New Wine Church in Fullerton, Calif., and got involved with the recovery program about a decade ago, says Premier Mounts director of marketing Curtis Rose.
The church's yearlong program includes goal-setting and allows participants to apply for jobs after six months as long as they've taken the other steps in the initiative.
"The church program is an intense program," says Rose.
"They set a schedule every day to help them get back on the right track. The people who run program are very aware of when they're capable of taking on a job."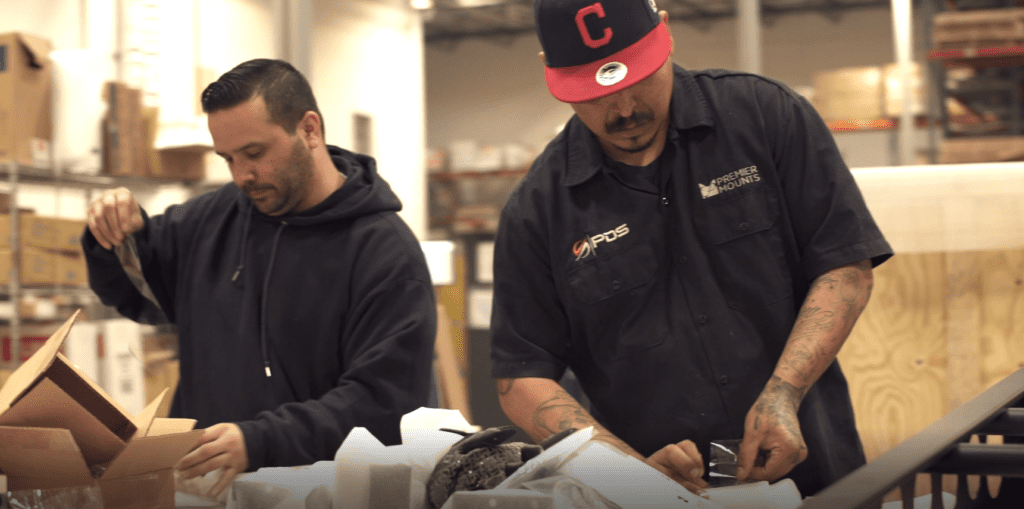 The Premier Mounts recovery program gives the participants "an opportunity they wouldn't otherwise have," says Rose. "It's about giving them that second chance." It's more of a "stepping stone" than a long-term career for most of the people in the program, he says.
"We're giving them an opportunity to get some work on their resume then do something they're passionate about that their heart desires," says Rose. Most of the people in the program who work at Premier Mounts stay there about two or three years, but there's no limit to how long they stick around.
Premier Mounts could soon be hiring more of the New Wine Church program participants into its recovery program to work in the expanded shipping center in Corona, Calif., says Rose. The program participants go through the typical interview process before they're hired but a lot of it is on faith.
"Len's an old-school business guy," says Rose. "He operates a lot in general on a handshake. If someone is in this program and ready to work, he'll shake their hand and get them ready to go."
Inside Premier Mounts Recovery Program
Rose understands the Premier Mounts recovery program isn't something all companies would want to adopt, but he thinks it's a huge benefit for the company as well as the participants.
"There is a risk in bringing these guys on," he says. "They haven't worked. They're getting used to life again outside of prison or on the streets or in a rehab facility. It's super-challenging and now they're interacting with people every day. As long as there's a business need, we try to fill it with these guys.
"We've never had a bad experience. Most of the time, these people who are coming in are super-thankful, ready to work hard, ready to grow themselves and to help grow the company. The common theme I hear from them is, 'it's just good to be part of a family,'" says Rose.
Recovery program participants go through the same orientation and fill out the same paperwork as other new Premier Mounts employees, says Rose. But there are some differences, he says, but not ones that can't be overcome.
For example, one participant who has spent about 30 years in jail had to learn how to use a cell phone since they didn't exist when he was locked up. And while "most of these guys have never heard of AV," says Rose, one of them had a career in rental and staging before he went behind bars.
He became an installation technician after about a year with Premier Mounts.
"Most of these guys have probably never heard of pro AV," says Rose. "Their whole lifestyle was probably not in tune with it at all. They were just concerned with living day to day."
Rose is proud to be associated with the recovery program and talks about it whenever he can.
"It means everything," he says. "This is a core part of our DNA: giving back as a company. We don't do this to brag or boast. We're doing it in the hopes other companies will think about doing it too. These second chances are very rare for these kind of guys to get back on their feet.
"If we can do something and offer someone an opportunity, maybe another company will give someone a second chance too or not overlook someone who has a 30-year history in prison or had been homeless. It's about encouraging other companies to take on that same torch," says Rose.

Premier Mounts makes no secret of its recovery program or the background of the participants.
"Everyone perceives it differently, but it's fair for people to know," says Rose. "We want people to know our culture ahead of time. It's not only about us wanting you, it's about you wanting us."
Rose is impressed by the personal and professional growth he's seen in the program participants.
"They start to learn as they assimilate what they're passionate about, whether it's construction, automobiles or something else," he says. "The ultimate goal is to help them get back on their feet.
"The common thread is how thankful they are. They know they wouldn't have this opportunity otherwise and may be slower on their track to be where they want their life to be," says Rose.
The program also helps Rose and his Premier Mounts colleagues deal more effectively with their own problems, he says.
"If something goes wrong with website, I'm reminded my life really isn't that bad," says Rose. "All my troubles are so momentary compared to what these guys have been through. It really does put things into perspective. It really resonates with people in the organization."
Premier Mounts also gets involved with annual local programs such as Christmas toy drives, water bottles drives in the summer and food pantry donations. These days, company officials are making bandanas to help people in the area defend themselves from the coronavirus pandemic.
"We always go by the mantra 'you give what you get.' We know for us to be successful, we have to help others be successful," says Rose. "That's the bedrock of what we do. It binds people together too. It builds a team bond with us.
"We know if we're able to help others in need, others are going to help us too when we're in need, both at a company level and a personal level," he says.
If you know about an AV or IT company doing something good that should be featured in CI's Connected to the Community series, email executive editor Craig MacCormack at craig.maccormack@emeraldx.com.
If you enjoyed this article and want to receive more valuable industry content like this, click here to sign up for our digital newsletters!