QSC Introduces Software-Based Dante for the Q-SYS Ecosystem
Scalable Q-SYS software licenses co-developed with Audinate provide native Dante integration without the need for additional hardware.
Leave a Comment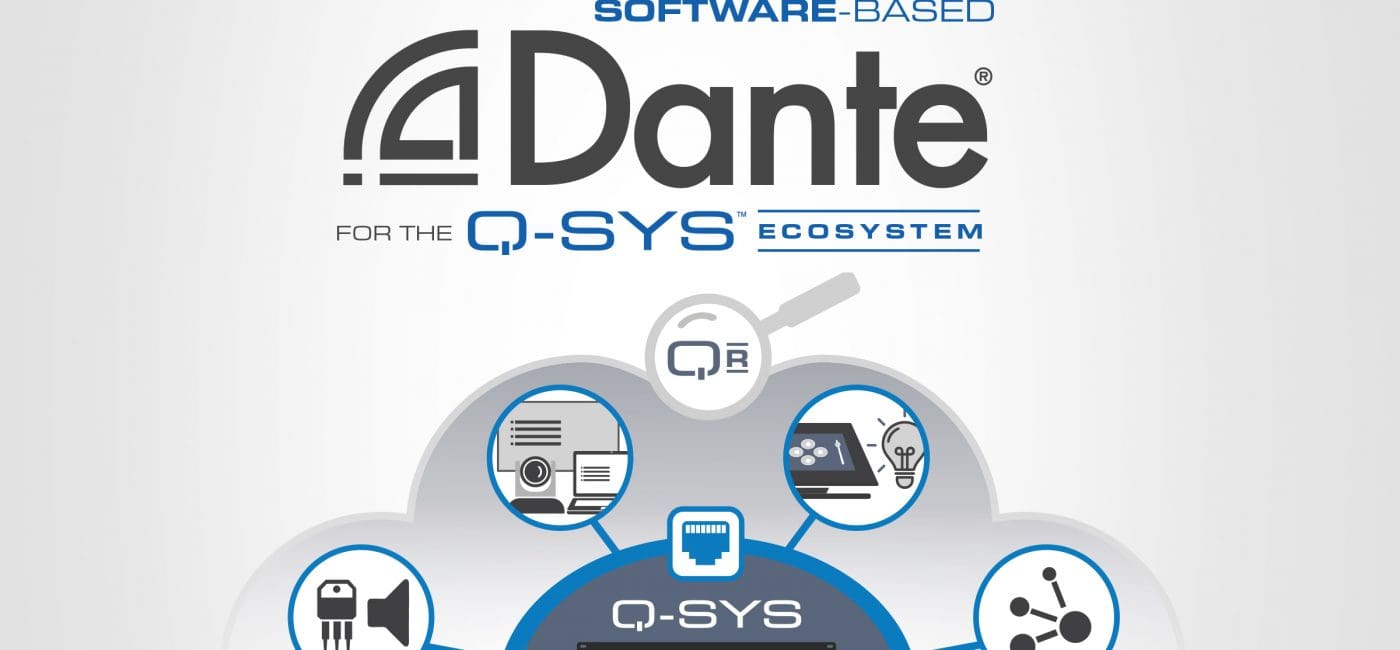 QSC today announced the creation of software-based Dante for the Q-SYS ecosystem and plans to showcase the capabilities of the partnership at InfoComm 2019 [booth 3811].
As part of its strategic technology partnership with Audinate, Q-SYS feature licenses "will enable native Dante networked audio integration without the need for additional hardware I/O or external configuration software," according to the joint announcement.
"It eliminates the constraints by using a Dante plug-in of sorts that allows for licensed activation," says Trent Wagner, Q-SYS Audio product manager at QSC, in an interview with CI about the product. "The single software workflow creates a better user experience."
Through the software-based Dante license, integrators can add Dante audio natively as an extension of the Q-SYS integrated audio, video and control workflow.
They can also access device discovery, synchronization, control and management for Dante within the Q-SYS Designer Software environment or within an external instance of Dante Controller.
Following the release of software-based Dante feature licenses, all new Q-SYS Core processors will ship with a small set of Dante audio channels enabled at no additional cost.
QSC will offer tiered feature licenses to enable Q-SYS system users to scale Dante integration capabilities based on their specific installation needs and Q-SYS Core processor capabilities.
Because Q-SYS operates over standard IT network infrastructure, Dante audio data works with Q-SYS audio, video and control data, eliminating the need for bridging or combining schemes to manage both Q-SYS and Dante connected peripherals.
"The Q-SYS ecosystem has always taken an open and agnostic approach to audio and our partnership with Audinate is an extension of this philosophy as we offer a truly unique, software-based implementation of Dante to our customers," said Wagner in the joint announcement.
"By offering a highly scalable approach to integrating Dante audio with the Q-SYS ecosystem, QSC meets the I/O integration needs of more installations," he said.
How Software-Based Dante Will Help Q-SYS Users

When it's available next year, the software-based Dante license will allow users to expand their networks without adding or changing hardware, says Wagner. The update comes through a firmware upgrade, he says.
"There's a lot of pent-up demand for this," says Wagner, noting it'll be the best fit in meeting rooms, stadiums, convention centers and performing arts venues but can be used in other vertical markets too.
"The AV industry is shifting from bespoke, purpose-built AV equipment to software-based solutions running on standard computing platforms," said Joshua Rush, senior VP of marketing and products at Audinate, in the joint announcement.
"It was natural to partner with QSC, one of the leaders of this software-based strategy, to jointly develop the first software-based Dante solution. We are excited about the new, flexible ways that Dante can be deployed as software that weren't previously possible," he said.
For more information on software-based Dante for Q-SYS, visit the QSC or Audinate booths at InfoComm 2019 [booth 6845] for a live demonstration.