Samsung Named Official Display Partner of Los Angeles Rams, SoFi Stadium
Leave a Comment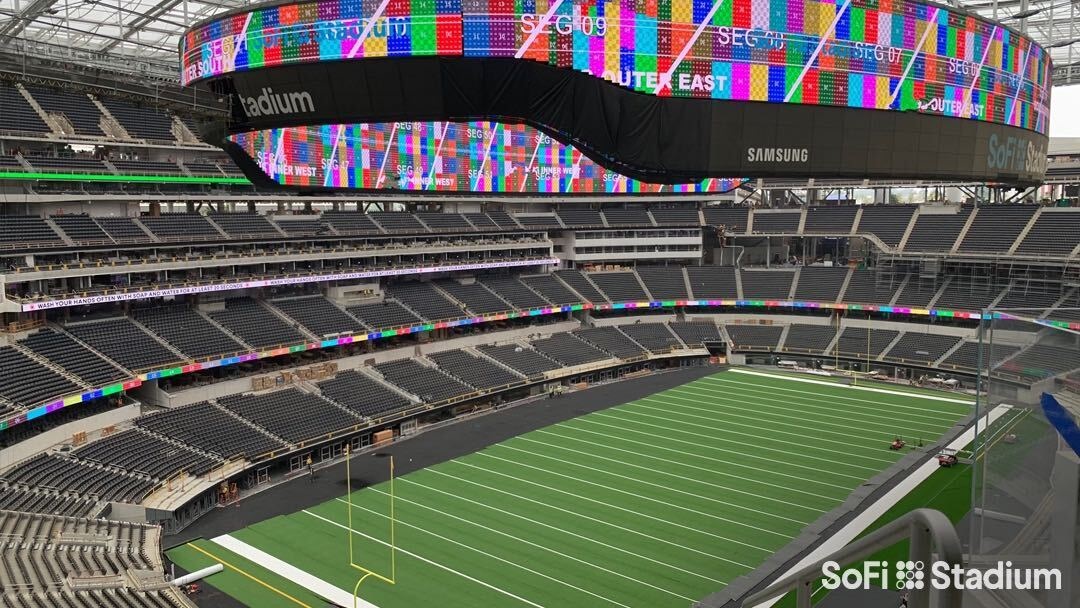 In addition to providing a 70,000-sqaure-foot, double-sided video board at SoFi Stadium, Samsung has now been named the official television, display and mobile partner of the Los Angeles Rams and Hollywood Park.
The technology giant is now the official technology partner of the 298-acre sports and entertainment complex that includes SoFi Stadium, home of both the Rams and Los Angeles Chargers.
"In a time when being at SoFi Stadium in person is unfortunately not possible, there is no better way to experience Rams football than on a Super Big Samsung QLED TV," said Grace Dolan, vice president of Home Entertainment Integrated Marketing at Samsung Electronics America. "With Samsung QLED becoming the official television of the Los Angeles Rams, it only further emphasizes our ongoing efforts to enhance the fan experience by bringing it home for Rams fans. With striking 4K picture quality, ultra-wide viewing angles and spectacular, vivid colors, Samsung QLED TVs bring all Rams football action right into your living room."
The partnership between Samsung and the Rams includes:
Naming Samsung the official television provider for the Rams Studio with QLED TVs featured in the new in-house studio to enhance fan content and into operations at the team's training facility
Naming Samsung the presenting partner of the Rams video series Coach Speak
A Samsung QLED-branded tarp to be featured at all home games at SoFi Stadium
Rams marketing and promotions will appear in the team's home market on Samsung and Rams channels and through Samsung retail partners
The partnership is announced about nearly halfway through the NFL's regular season and comes as the brand new $5 billion stadium has already been home to several games. The Oculus, the 120-yard double-sided LED screen, has been a sight to behold so far.
According to Samsung, the 2.2 million-pound display features the most LEDs ever used in a sports or entertainment venue as well as the first and only 4K end-to-end video production in a stadium.
The video board has the largest LED content playback system every deployed and has nearly 80 million pixels spaced 9 millimeters from center to center, Samsung says.
Also included in the display is a built-in JBL audio system containing more than 260 of the stadium's total 4,500 loudspeakers, and it accounts for nearly half of the 1.3 million watts of Crown Audio amplification in the stadium.
If you enjoyed this article and want to receive more valuable industry content like this, click here to sign up for our digital newsletters!