San Diego State University Snapdragon Stadium Scores with EAW AC6 Loudspeakers
EAW's AC6 loudspeaker provided seamless integration into the existing architecture, without sacrificing output levels or coverage.
Leave a Comment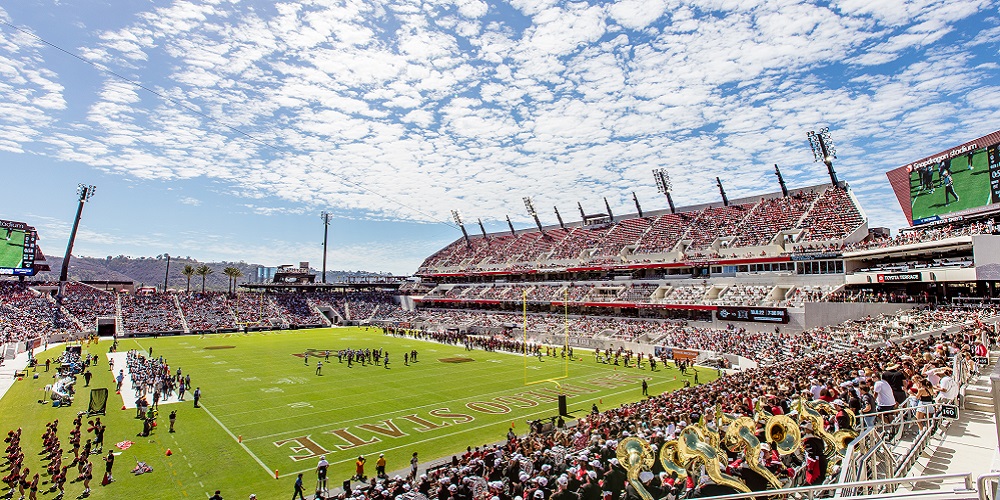 Photos & Slideshow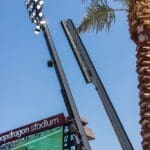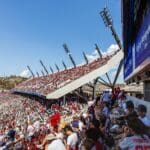 ---
San Diego State University recently completed its brand new, $310 million, 35,000-seat college football venue: Snapdragon Stadium. Crystal-clear sound was, of course, of the utmost importance throughout the project. The aim was to achieve a new level of stadium design, complete with the latest technology. For this, audio- and video-design firm, WJHW, called on Clair Global Integration to install a wide range of future-proofed products. Most notably, Snapdragon Stadium now features over 100 AC6 ADAPTive column loudspeakers from Eastern Acoustic Works (EAW).
"EAW supported the design team during the various phases of the project including early demonstrations, proof of concept and modeling for the AC6 loudspeakers, and exporting data for consultants' integration into the full system design," says Mark Graham, associate principal, WJHW. "The brand also remained involved throughout the construction process with onsite pretesting, as well as being an integral member of the commissioning and testing team during tuning and calibration of the installed system."
Choosing the AC6
In selecting the PA system, Graham and the WJHW team found EAW's AC6's ADAPTive features to be flexible and customizable. At the same time, they deliver pristine sound to every seat.
"The ADAPTive technology of the AC6 loudspeakers allowed us to select mounting locations that better integrated into the stadiums' architectural and structural elements while maintaining the output levels and coverage patterns needed at the spectator seating," adds Graham. "From every seat in the stadium, EAW has allowed us to create a truly wonderful listening experience. We are thrilled with how it turned out."
In addition to the AC6 ADAPTive system, the team installed various other EAW speakers. These included the MK8196, CIS300, CIS400, LS832i, JF80z, MKD864, MK2366i, QX300 and QX500.
According to Graham, "EAW's product line encompasses the breadth of products needed for Snapdragon Stadium. From ceiling speakers and small, medium and large format loudspeakers in a weather-rated enclosure, as well as passive small format column speakers, and of course, the new AC6 high-output ADAPTive column loudspeaker. Additionally, apart from the ceiling speakers, all of these loudspeakers are offered in custom colors. [This allowed] us to match adjacent architectural finishes for a truly integrated aesthetic."
In addition to WJHW, the crew at EAW worked very closely with Clair Global Integration while building and installing the PA system. "We would like to commend everyone at EAW for very clear communication and transparency," says Ted Leamy, general manager, Clair Global Integrations. "During times of supply chain uncertainty, these facts [became] key to delivering the stadium on time and on budget. In addition, I would also like to applaud EAW on its customer support and service. They have a clear process in place for dealing with customer inquiries; and were always readily available to help us with any questions we had along the way."
Features of the AC6
EAW's AC6 is an ADAPTive column loudspeaker fit for portable and installed applications whenever high-performance music amplification is required. Each AC6 comprises six, six-inch woofers and 30 one-inch dome tweeters mounted to a CSA waveguide.
Also Read: L-Acoustics A Series Loudspeakers Bring High-Energy Impact at Red Bull Arena
ADAPTive technology allows perfectly customized vertical coverage to any venue across the entire 20KHz to 65Hz operating range. This results in even coverage throughout the space. A modular design approach provides redundancy and full serviceability from the front of the unit. In other words, the AC6 is the easiest-to-service column loudspeaker available, says EAW.
In addition to San Diego Aztec football, Snapdragon Stadium will also serve as home to the National Women's Soccer League's Wave and the San Diego Legion of Major League Rugby.
Click on "View Slideshow" for images of the stadium. All images courtesy of Natalia Robert.
If you enjoyed this article and want to receive more valuable industry content like this, click here to sign up for our digital newsletters!