Spinitar Meeting Room Overhaul Helps Customers and Employees
New AV at Spinitar HQ means no more fighting for meeting space or crowding around desks. Refresh also shows customers what's possible in their offices.
Leave a Comment
It's not a good situation when a company that dedicates itself to helping its clients achieve their AV technology needs is forcing its own employees to fight over one conference room that's equipped with the tech tools they need to do their jobs well.
Spinitar principals Jeff Irvin and Jay Rogina found themselves in that very situation in their Los Angeles-area offices earlier this year, so they decided to do something about it. The project entailed updating a board room and conference room to give employees more options for their meetings.
As an added bonus, the project has further helped Spinitar sales staffers show potential customers the benefits of adding more AV tech to their offices since Spinitar's employees "get to use this technology every day," says chief technologist Dave Novak.
"Obviously, this was near and dear to our hearts," he says. "We had a couple of conference rooms that didn't do much. Everyone was fighting for one conference room or having meetings at their desks. It was not working. Those [updated] rooms are now booked 10 to 12 hours a day."
The quest to update the conference rooms started with new cubicle furniture from Allsteel and Corporate Business Interiors for all employees in the office, says Novak. As that new furniture came in, the push to enhance the conference rooms with new and more technology grew louder, he says.
The final result is "a more modern, work-friendly environment" and "a space employees…enjoy."
"I am so proud of the new space we've created," Irvin said it the case study Spinitar published about its own office refresh. "We have taken collaboration to the next level with our new high-performance work and meeting spaces, making it easier than ever to communicate with our customers and partners around the world."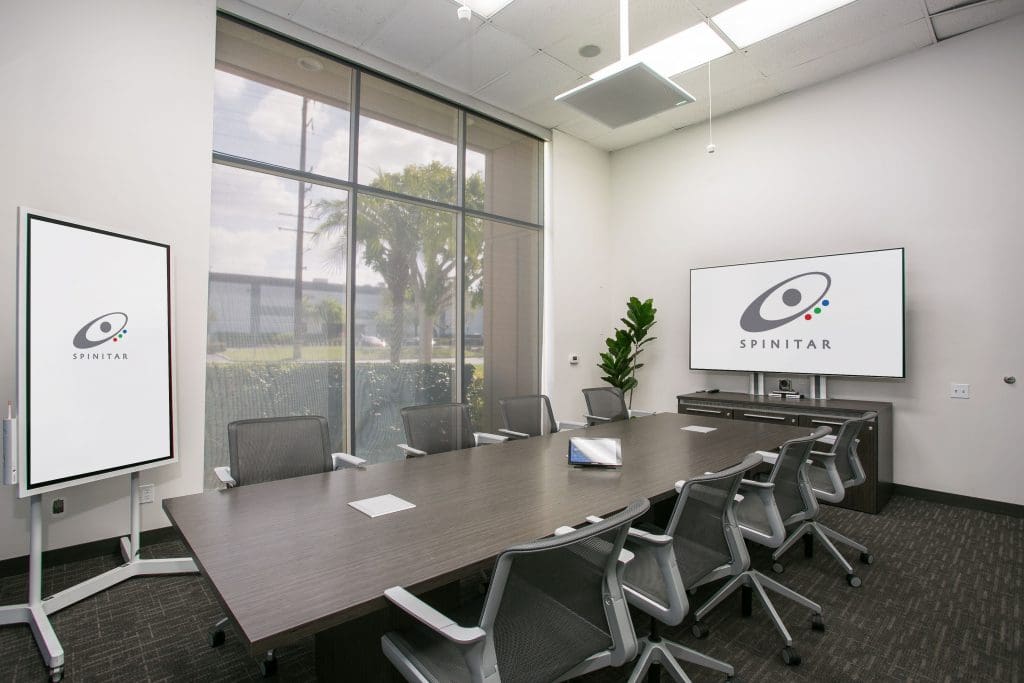 Going Overtime at Spinitar
Spinitar staffers needed to work later than normal during weeknights and even on some weekends to meet the deadlines for the conference room updates, says Novak. the company needed to put in overtime for the project to be a success.
Crestron NVX serves as "the main backbone of everything," he says. The system allows Spinitar to set up videoconferencing among the meeting rooms when necessary and automated switching and routing capabilities.
The teched-out boardroom uses Polycom technology and is used mainly for Skype and Teams calls, says Novak. The room also has Crestron RL that allows Spinitar staff to demo a couple of different types of technology, along with a Zoom system. All applications use a Polycom Eagle Eye camera system. The room also features Shure MXA910 mics, Biamp ceiling mics and Crestron scheduling.
Spinitar also uses the main conference rooms to illustrate how technology can help its current or potential customers.
"We tour customers through there and let them see and touch and feel the technology," says Novak. "It gives everyone a level of comfort, whether they're walking through our showrooms or our offices.
"Once they can see it, touch it, feel it, watch it work and know that we're using it every day, I think it gives them a level of comfort that it's going to be easy for them to use as well," he says.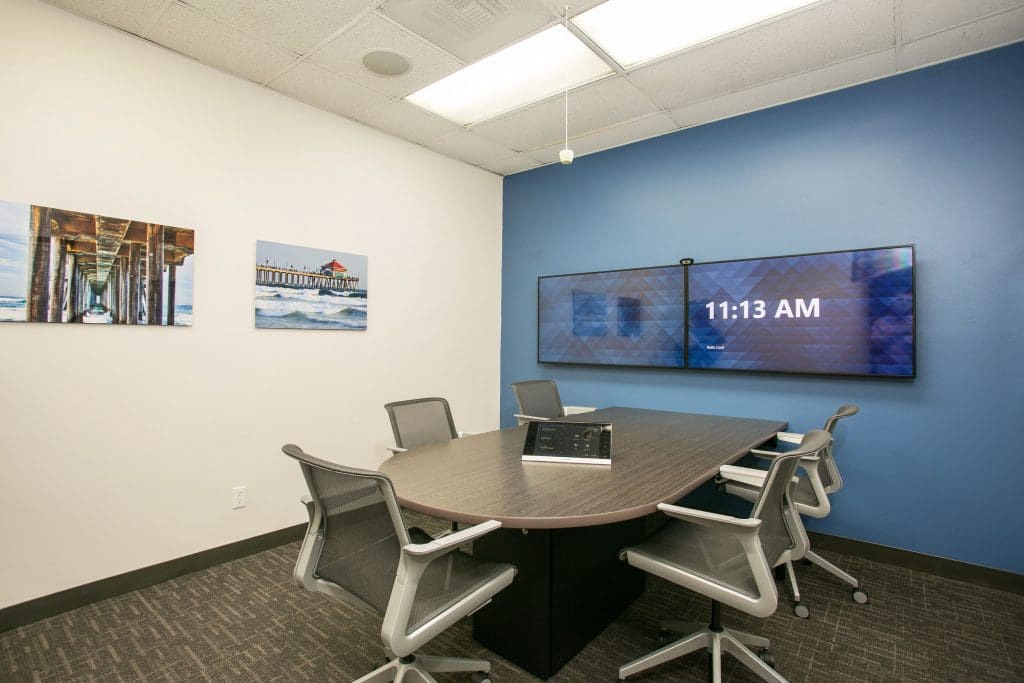 Under the Microscope
There were a couple of things that made updating the AV tech in their own office a bit more daunting than for an outside customer, says Novak: repeated change order requests and curious onlookers who were eagerly anticipating the project's completion.
"The big challenge in this project was completing it when everyone was so busy with our projects with our own clients," he says. "It was a lot of nights and weekends, everyone giving up their own personal time to get this done for us."
Installers had about a week to complete their work in the boardroom and about three days in each of the smaller conference rooms, says Novak. The rooms were ready on time, but there were some tweaks over the next several weeks to complete the job, he says.
"The wish list kept growing from everyone," says Novak with a laugh. "We kept getting more approvals to add more technology."
The Friday before the boardroom overhaul went live, installers noticed someone had taken a piece of equipment for testing and didn't return it. That meant the system didn't work as intended when Irvin and Rogina tried to use it the following Monday, but the mystery was soon solved, says Novak.
"We get to live and touch this technology every day in our conference room," he says. "When we're talking to a client, there's less of 'oh, I think it'll do that.' We know exactly what it'll do because our hands are on it every day.
"We're using it constantly. That gives us an extra level of knowledge about the product we're selling. That knowledge base helps with all these projects we do," says Novak.