Craft Brewery Spaces Need Integrators, But Can AV Tap This Market?
Do craft brewery spaces have a need for the technology AV integrators provide? We get to the bottom of the craft beer technology keg.
Leave a Comment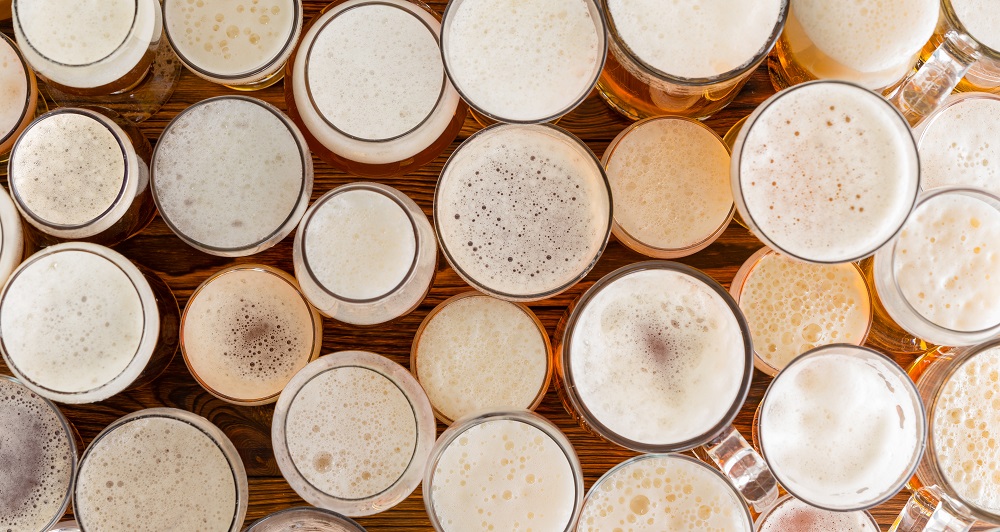 They're in practically every town, and if they're run well, they garner localized legions of fans who just want more, more, more. Craft brewery spaces are a considerable force in the national economy, but sometimes, they're also a tad archaic from a technological standpoint. 
Can you imagine any bar these days that doesn't have at least a television? Yet, at many small and medium craft brewery taprooms, owners forgo TVs for fear of distracting from what's most important to them: their beer. 
This begs several questions: if small and medium craft breweries are such a powerful economic force, how are they getting away with a lack of modern technology? Do patrons or taproom operators sense its absence? And do integrators have any business in indie brewhouses? We dove deep into the keg to find answers (figuratively, of course). 
Craft Breweries are an Economic Force
If you've ever been to just about any restaurant, you've likely noticed how much the service industry relies on alcohol to pad its pockets. It's a product-driven market. There's always been a demand for drinking spaces, just like there's always been a demand for booze. But craft brewing is a sect of the alcohol business which shows unique opportunities for both experience-based and product-based growth. 
The Brewers Association's 2018 Economic Impact Report indicates small and independent craft brewers contributed $79.1 billion to the U.S. economy. That's ignoring the impact larger, more familiar "craft" brands such as Sam Adams, Yuengling, and Sierra Nevada have on the market share. 
This artisanal, not-so-micro-industry isn't showing signs of decline, either: the 2018 figure above marks a 4% increase from 2017, highlighting craft beer's steady performance across the nation, according to the report. 
Craft beer spaces aren't just popular for their eponymous product. They also provide experience-based entertainment, with many staging live music, trivia, and other people-focused events in a modernized callback to the days before TVs and mobile devices distracted from simple, convivial togetherness (and, well, drinking!). 
Tech Already Used in Craft Brewery Spaces
Many small- and medium-sized independent brewery spaces intentionally forgo screens, and there are a multitude of reasons for this, highlighted below. But to grasp what craft beer technology is already in use in these spaces, we must split them up into size categories, since income and general size tend to determine budgets for tech investment. 
The Small Brewer
There are a number of ways to categorize the relative size of breweries, but for our purposes, a small brewery is a space of about 500 to 1,500 square feet with a hyper-local market reach. These spaces won't likely have a large budget – but as we found out, this doesn't mean they are closed off from spending on tech solutions. More on that below. 
Still, the pinnacle of many Small Brewers' technology might just be their credit card payment systems or some basic speakers and a music streaming subscription. Very few businesses of this size tend to invest much in screens.   
"The intent of many taprooms and owners is to foster an environment where people interact with one another and that also improves the way people enjoy craft beer," says Maureen Fabry, co-founder of CraftRoots Brewing, a "Small Brewer" in Milford, Massachusetts.  
"If you're listening to music and enjoying the beer, having a conversation with someone improves the whole experience. We don't want whatever sports are on TV to interrupt that." 
This isn't to say that integrators should skip over these breweries as potential clients.
Even though Small Brewers are riskier ventures than, say, the well-established Sierra Nevada Brewing Company, they are still prime candidates for savvy integrators seeking to build long-term relationships.  
For example: CraftRoots offers regular live music, but because they're not presently able to invest in an in-house PA system, they require all acts to bring their own. Fabry says this works for them, but other businesses aren't so lucky. 
"We're very fortunate that the space we have is very acoustically compatible and reflects sound back in a very warm way, but I've been to many taprooms that have a different, very problematic sound," says Fabry.  
CraftRoots is in a small industrial park, not far from residential zones. If noise ever became a problem to the neighbors, it could seriously threaten the business's good standing in the community.
That's not something Fabry says she's willing to risk. 
"So far, our community has accepted us, and our local-first message has resonated. We're very focused on our community and interacting with it." 
The Medium Brewer
A space of around 1,500 to 3,000 square feet and some market reach outside of just their town or county. The ideal Medium Brewer clients have learned from prior mistakes and are motivated to "do things right the second time" now that their business has grown.  
We predict this segment providing the most opportunity for integrators seeking to form long-term partnerships with scaling businesses. 
Some of them, like Night Shift Brewing Company in Everett, Mass., are already opting to employ more craft beer technology solutions than they did a few years ago.  
Night Shift even hired an integrator to outfit their second location (a restaurant-brewery hybrid) with a fully-controllable Bose Sound System, large televisions (being a restaurant hybrid in a new Boston location, they break the above-mentioned TV "rules" a tad), programmable Lutron lights, and more. 
"Having a professional understand how a speaker sounds, the effects of the amount of people in a space, where it's not something I have time to be able to learn… It's not the cheapest, but you get better results," says co-founder Mike O'Mara.  
"We listened to our staff's complaints about the systems in our original location and brought those concerns to the installer. The result is a sound, light, and screen system that our staff can easily control, which is crucial for them." 
The Large Brewer
A space larger than 3,000 feet; or, physical size aside, a company whose market has grown – in many cases, very significantly – outside of their hometown, state, or even region.  
While these are the companies most likely to invest in craft beer technology, the trouble for integrators is that many of them already have. 
Consider Allagash Brewing Company out of Portland, Maine. Size-wise, they straddle the line between "Medium" and "Large" (by our standards, anyway).
And because of their growth over the past few years, their budgets have allowed for considerable investments in conferencing systems, improved audio, touch screens on the brewing equipment, a Spotify account and corresponding speakers for back-of-house staff's enjoyment, Crestron Air Content Delivery and control, headphone & mic systems for tours during busy (read: loud) times in the factory, and more. 
But even so, their use of technology doesn't necessarily draw attention to itself, says IT systems manager Travis Emery.
They still see it as a pragmatic tool to be used only if necessary, as evidenced by their TV-on-a-cart system for boardroom presentations; simple Epson projector for "movie nights" at the taproom; and – as is the case at Small Brewer CraftRoots – the fact that musical performers have to bring their own PA.  
"The technology we use is very purpose-driven. In situations where we are trying to bring people closer to the beer or issues which affect the community, we're happy to deploy screens and technology. But we don't have a big audio visual distraction for those who come in to drink beer." 
What They DON'T Need
Before you get too thirsty for beer clients, it's important you recognize what many of them won't need.  
In terms of video, they're lightweights
As we've already established, video isn't incredibly important to most craft brewers of all sizes. That doesn't mean a Medium or Large Brewer wouldn't be open to a content-focused screen displaying creatively-presented information about the brewer's background, ingredients sourcing, etc. But if you're thinking of pitching some grandiose video wall like you'd see in a casino, sports bar, or museum… go back to the drawing board. 
Home-brewed solutions > digital menu boards
Like the above point, few brewers will be interested in digital menu boards over simple chalk or markers. Their offerings change far too often – sometimes weekly, or even daily – so the need to train taproom staff on switching out items digitally would be a hindrance to operations.  
Don't pitch anything that doesn't revolve around beer, people, & bringing those two things together
Remember: craft brewers put customers first, not technology. Take it from Small Brewer Maureen Fabry: 
"We're doing our thing, we make beer we think is unique, we use locally grown grain, malts and hops, and we're not selling cans and putting them in package stores. That sounds insulated, but we don't get too focused on competition." 
That attitude might change as CraftRoots grows, but it illustrates the independent spirit many in this business hold dear. Serve this market's need to express itself and its dedication to its communities by respecting its need for business-based decision making.  
What Technology Craft Brewers Could Use
Contrary to that independent, DIY-or-die spirit, there does appear to be some leeway for integrators who have clever, useful systems to pitch. 
These craftspeople are, after all, businesspeople, too. They often tire of the mundane tasks which hinder interacting with customers and crafting the beers. 
Customer education & engagement
Even though she rejects the notion of busying her establishment with screen after screen, Fabry does admit a need for more customer engagement.  
"I wish it would happen more often that consumers would be more engaged – we do a lot of barstool evangelism about what is in our beer, and I absolutely think more interaction would be a huge benefit to us." 
How does she think this could happen? Read her words closely and think about what you would tell her: 
"To have a way to create a visual that speaks to our process and shares the faces of the farmer we buy from in Western Massachusetts... With price point being a major factor, of course. If that visual could be changed to switch it up now and then, that would be great. We'll be in business three years in March, and I think it is good to make steps forward to engage with customers in our space." 
Travis Emery at Allagash says he wishes he had a way to measure customer engagement during the "barstool evangelizing." Perhaps the proverbial lightbulb will flash at his description: 
"I would love to be able to gather different people's sensory experience as they not only taste the beer, but experience our environment here, and then gather what it is that they think is positive and negative and compare it. It would be great to determine how people experience our space from an objective standpoint, and I'm sure technology could accomplish that." 
Balancing crowd sound against everything else
All three brewers in this story told us they've had a complicated relationship with sound. In some craft brewery spaces, it's because they can't afford to let sound leak out to the buildings surrounding them; in others, it's because the space reflects poor-quality sound. 
Sound masking and conditioning is therefore a contender. These clients-in-the-making need dependable audio systems and spaces to work in tandem. But they also need to be easily-controlled by bar staff who feel the night's cover band is coming in a little too hot.   
"Live music volume is a challenge; it's a constant back-and-forth for our managers to speak with the band if adjustments need to be made," says Night Shift's O'Mara. 
"Our shift notes after a weekend often say things like 'sound levels were good, let's invite [that night's band] back,' or 'they needed some adjustment, talk to them.' It comes back to sound control: if we had it in Everett, we'd benefit from it." 
Working with Systems Design & Integration, Inc out of Needham MA (SDI) for a system at their restaurant-taproom hybrid, they chose a Savant-based system which can program max volumes for different times of day, eliminating a certain amount of user error. 
"One of the most frustrating things for me is when I can't hear the person next to me because the music is so loud," O'Mara says. 
Integration with other key building systems & local code
One issue O'Mara says his brewery ran into revolves around local code. In Mass., if a fire alarm goes off, all audio/concert audio needs to automatically shut off. He didn't know this when they opened their first location. So he had SDI form a solution. 
"We took learning from what we did wrong in Everett to what we did upfront with an integrator in Boston. There, if the fire alarm goes off, all audio shuts down. They knew exactly what we needed to make that happen… I would never have had the time to jury-rig a system like that myself." 
Overall scalability
Given this competitive, growing environment, it should go without saying that whatever systems integrators install, they should be scalable.  
"I'm the only brewer, I make every batch, clean every keg. It's hard to step back and consider automation or any other type of technology and how it can help," says Fabry. "One of the most compelling things about tech is that it seems like on a daily basis, someone has an idea for using a piece of technology in a new way." 
Pitching Your Ideas: Advice to Integrators
Perhaps more than most markets integrators serve, craft brewery technology is only a concern if the return on investment is made perfectly clear. 
"I need to see value on the front end. If there's a problem, I need to understand the problem, it needs to speak to me, and if it is not a problem that I recognize or am already looking for, it's hard for me to engage in entertaining the possibility of deploying a system," says Emery. 
O'Mara, having already formed a successful partnership with an integrator, recommends firms seeking work in this space mirror the approach SDI took. 
"It's a little subjective, but being open with communication is critical. I appreciated that SDI always came back with high-tier and low-tier options, pros and cons of both, without us asking for that in our budgeting conversations." 
Critically, though, it's important to realize that these are typically business people who have plenty of proverbial fingers in plenty of proverbial pies. In short, they're overwhelmed, so make your case easy to comprehend. 
"It wasn't 16 different options; it was two simple, open ones. The conversation was less so about the tech and more about the right tech for the right situation."