United Way of Central Alabama Deploys Advanced Audiovisual Technologies for Privacy, Clarity and Ease of Use
ClearOne, AtlasIED help enhance the audiovisual systems in the conference rooms of United Way of Central Alabama.
Leave a Comment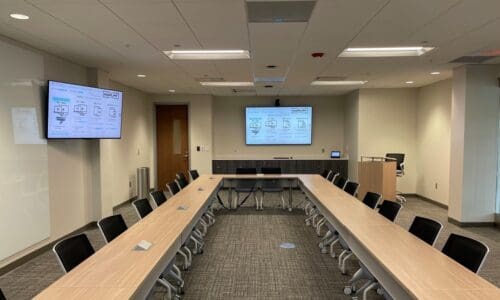 Organized in 1923, United Way of Central Alabama (UWCA) has a rich history in helping neighborhoods and communities in the region. As one of the few United Way chapters in the nation that provides direct services to its community, UWCA raises over $97 million in contributions and federal grants and contracts annually to support more than 200 programs and initiatives focused on ensuring quality education, financial stability, health and access to vital emergency services.
While the United Way may not typically be associated with technology, UWCA was one of the first non-profit organizations to deploy an advanced Cisco Unity phone system nearly 20 years ago to support 2-1-1  call distribution of the entire State of Alabama.
This free and confidential phone service serves as the initial contact point for Alabamans to locate a multitude of available community services. As one of the largest United Ways chapters in the country, UWCA continually leverages technology to improve its overall operational efficiency.
With donor contributions enabling UWCA to make a positive impact on the community, the organization mobilizes a broad network of community partners, corporate entities and other nonprofit agencies to deliver essential information to the community during crisis, provide services for veterans, promote educational success, improve community health and teach financial empowerment.
These services, in conjunction with critical call centers, warranted advanced audiovisual (AV) technologies for UWCA's new 40,000 square-foot expansion project.
A Simple Solution for Privacy and Productivity
For the new facility, UWCA deployed an all-in-one AtlasIED Bluebridge multi-zone audio solution that provides both high-quality sound masking and background music. As a mixed-use application, the system features zones that can be configured based on the need of the space, allowing UWCA to deliver background music in common areas, while also supporting sound masking in their two call centers.
An AtlasIED Bluebridge multi-zone audio solution provides both sound masking and background music that can be configured based on the need of the space.
UWCA's 2-1-1 call center provides easy access to health and human services for the surrounding community, while also often serving as the first place members of the community can turn to when looking for services to help with everyday needs. They also have a crisis center to serve the needs of people experiencing personal crisis or mental health issues, including serving as a suicide prevention hotline.
"The main goal of using sound making in our call centers is for privacy, but it also helps drown out an background chatter to make it easier for staff to hear and concentrate on their callers without disruption," says Doug Goodwin, UWCA's vice president of information systems of more than 20 years, who is an early adopter when it comes to technology.
While it may seem counterintuitive, the privacy and reduced distraction afforded by sound masking is achieved via devices that emit inconspicuous sound at the same frequency of human speech. This increases the ambient noise level and limits the distance that conversations can be heard and understood, ultimately making conversation less intelligible and less noticeable to others in the space and boosting staff productivity. It is a technology that has taken off significantly over the past decade on account of the need for privacy in many enterprise businesses. The AtlasIED system also includes front panel displays that enable intuitive programming and automation, which meets UWCA's need for simplicity and ease of use.
An Easy Turnkey Solution with Audio Quality
Simplicity and ease of use were also a consideration in selecting the AV system for the conference rooms at the new UWCA facility, as were audio clarity and functionality. For each of the five conference rooms, UWCA deployed a turnkey ClearOne AV solution using the CONVERGE® Pro 2 professional audio digital signal processing (DSP) platform with the patented beamforming microphone array Ceiling Tile (BMA CT) and high-definition UNITE® pan-tilt-zoom (PTZ) cameras.
Read: ClearOne Defeats Shure's Preliminary Injunction Motion on Beamforming Mic Array
The ClearOne AV system selected for UWCA allows users to easily connect their PC, iOS, or Android device.
"We really wanted a turnkey solution rather than a mix of different vendors' components, and we wanted to ensure ease of use," says Goodwin. "Some AV solutions are complex and require a lot of training to use. I informed Continuity that we wanted a system that allows staff to just go into a conference room, turn on the computer and have it working. We have a ton of meetings, and it's important for everyone to be able to use the system."
The CONVERGE Pro 2 DSP mixers used in each conference room provide multiple inputs and outputs for microphones, speakers, and control interfaces to meet a variety of needs while providing scalability. The microphone inputs include acoustic echo cancellation (AEC) technology and a built-in DARE™ algorithm for dynamic feedback elimination and high-quality audio. The mixer also includes a built-in voice over IP (VoIP) interface, which was a significant feature for UWCA.
"We like the CONVERGE Pro 2 because we can easily tailor the system to meet our customers' needs," says Carl Sosnin of Continuity Consulting, the full-service technology solutions provider and ClearOne partner responsible for the design and implementation of technology for the new facility, including AV, security, lighting and IT systems. "We tend to use these in rooms with more audio devices, such as board rooms, large presentation spaces, and the like. They're also ideal for spaces requiring specific VoIP telephone capabilities. UWCA uses a Cisco phone system with IP-based dialers for conference calls, which is another reason why we chose to use the CONVERGE Pro 2 mixers exclusively."
UWCA holds many meetings with local partners at their facility and required advanced AV systems with clearer sound and audio, which was especially important with increased virtual meetings during the pandemic.
The CONVERGE Por 2 is also optimized to work with ClearOne's BMA CTs that use Acoustic Intelligence™ technology to lock to a signal source for uncompromised audio quality, even when a speaker is moving throughout the space. The UWCA conference rooms use ClearOne's BMA CTs with built-in AEC technology, noise cancellation, and beam selection, which eliminate the need for per-beam processing in the DSP mixer – requiring fewer DSP mixer resources. The BMA CTs are easy to configure and deploy, while also blending in perfectly with the drop ceiling for a clean, seamless look.
Read: ClearOne Launches Aura For Home Office Conferencing
"Over the past 10 to 15 years, we've experimented with various AV solutions in our meeting rooms to identify the best solution," says Goodwin. "We landed on ClearOne primarily because their beamforming microphones offer a more balanced sound throughout the room without any dead spots. Other solutions we've tried in the past picked up too much background noise and chatter, and that was the number one complaint we had from users."
Also connected to the CONVERGE Pro 2 platform are ClearOne's UNITE® 150 PTZ HD cameras with full high-definition 1080p video and 12X optical zoom to capture all participants in the room. Compatible with common conference applications like Webex, GoToMeeting, Zoom, Skype and Microsoft Teams, the cameras leverage the platform's built-in USB for PC-based conferencing.
A Cost-Effective Means for Collaboration
With an organizational vision of building a great community by bringing people together to help others, UWCA will be able to leverage their advanced AV technologies to collaborate more efficiently and effectively with local partners, which is more critical than ever during the Covid-19 pandemic with an increase in virtual communication. They also use the system to support digital signage throughout the facility.
The AV system also supports digital signage throughout UWCA's new facility.
"We have a lot of collaboration with community partners, and often we even host meetings on their behalf," says Goodwin. "We also have outlying offices, and we will use the AV system to collaborate with everyone virtually and hold town hall events. We also plan to use the system for training, and due to the pandemic, I anticipate that we will also use the system to accommodate virtual communication with the outside world, such as interviews with the media."
While the AV system will help UWCA fulfill their mission, as a non-profit organization funded via grants and donor funds, UWCA also needed to pay close attention to cost—both initial system costs and long-term operational costs.
"We have a long-standing relationship with the United Way here in Birmingham and wanted to ensure that we were providing the most strategic and cost-effective AV solution," says Sosnin "The ClearOne solution we deployed is extremely high-quality at a reasonable price—every component is well-built, dependable and easy to use. And in our experience, ClearOne tends to be one of the lease problematic AV solutions that we install."
Having experienced problems in the past when mix-matching components, and the expense of always trying to improve the conference room environment, UWCA also knew that ease of use and overall reliability would ultimately help keep expenses down.
"United Way of Central Alabama has had 17 consecutive four-star ratings from Charity Navigator, and we pride ourselves on being good stewards of our funding and having the lowest possible administrative overhead," says Goodwin. "In addition to ease of use, we simply needed an AV solution that is stable and robust, and it's better to spend the money up front on a turnkey solution like ClearOne that does everything we need with superb audio quality than the added expense of constantly trying to adjust and fix something that's not working the way we need it to work when collaborating with our partners."