Arista Video Projection Mapping Turnkey System Delivers All-in-One Convenience
The new Arista Video Projection Mapping Turnkey System provides integrators with a streamlined approach to mapping system solutions.
Leave a Comment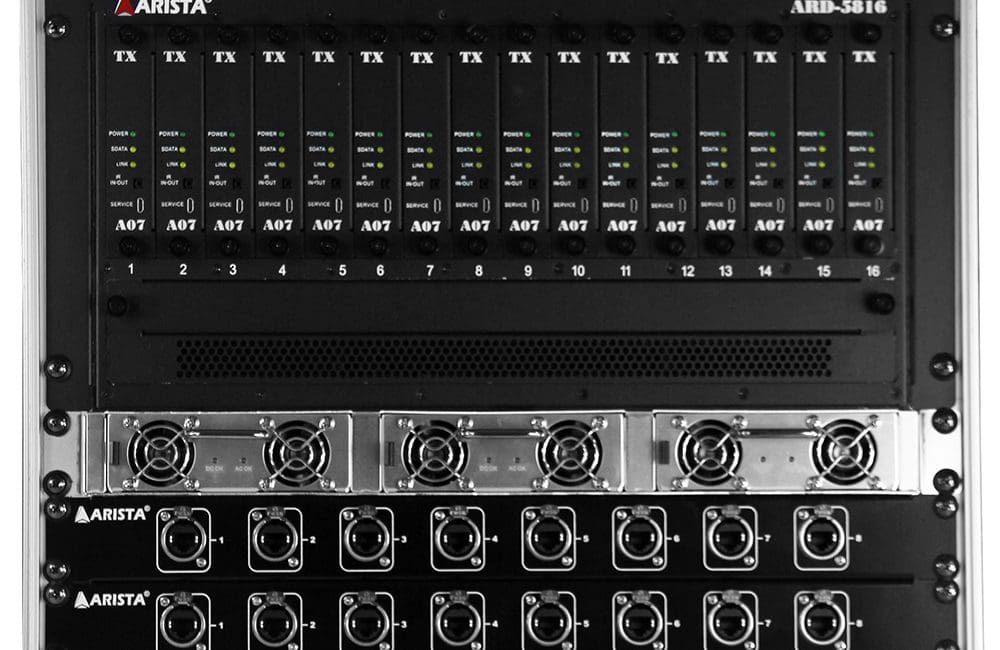 Providing the market with a compact approach, the new Arista Video Projection Mapping Turnkey System offers integrators an all-in-one solution to use with a variety of mapping applications.
The manufacturer's latest product consists of two major components:
Video-processing computer
Fully integrated transmitter/receiver that is capable of working with as many as 16 HDBaseT transmitters
"Arista's Video Projection Mapping Turnkey System comes with a redundant power supply to power the ARD-5816," says Paul She, president of Arista Corporation.
"Redundancy is equipped in every crucial section throughout the entire projection mapping encompassing a redundant power supply and redundant storage in the video processing computer, a redundant power supply for the aRD-5816 that houses up to 16 HDBaseT transmitter blades, and each blade can be hot swapped in the event of blade failure. This is a unique projection mapping solution that I'm confident will make the entire process easier and more efficient."
Arista Video Mapping System Preassembled to Provide Turnkey Functionality
Explaining its new video mapping system facilitates easy-to-implement mapping projects, the company says the Arista Video Mapping system features a 4U rack-mount QuadMosaic computer that incorporates an intel processor with upgrade options.
The system employs a 128GB DDR4-2400 memory system that offers an upgrade path to 512GB for more intense applications. Arista also says the solution incorporates five swappable 2TB SATA HDDs in a RAID 5 configuration with one hot spare SATA HDD.
Arista states the RAID 5 configuration provides a total of 6TB of storage and data protection in the event of a drive failure.
The other major component within the Arista Video Projection Mapping Turnkey System is the company's ARD-5816-A07-TX HDBaseT cluster that houses up to 16 HDBaseT transmitter blades.
Each HDBaseT transmitter blade is located on the front of the unit and is hot swappable. There are also a total of 16 I/O blades located at the rear of the component, and each I/O blade is also hot swappable.
According to Arista, there are three types of cables to enable the connection to these blades: DP, HDBaseT and 10/100 LAN.
The ARD-5816 HDBaseT also features a 10/100 LAN port, a 24-port gigabit Ethernet switch and an additional 8-port etherCON patch cable option that can be used with HDBaseT-enabled projectors.
Arista says the remaining eight Ethernet ports on the gigabit switch can be connected to either the etherCON patch panel to provide front-accessible Ethernet connections to control up to 16 projectors. This connectivity method also supports projector control via the same HDBaseT cable that is connected to each of the HDBaseT-enabled projectors.
Streamlining the entire setup process, the company adds the Arista Video Projection Mapping Turnkey System simply requires integrators to connect the EtherCON or category cables to the projectors to get the system up and running.
Read Next: Arista Corporation ADM-2121BP Utilizes HDBaseT to Deliver KVM Functions