'Tree-mendous' Christie LCD Panels at Institute of Wood Technology are a Dynamic Presentation Tool
Narrow bezel technology helps 17 55-inch Christie LCD panels fuse into the contemporary architecture of Institute of Wood Technology presentation space.
Leave a Comment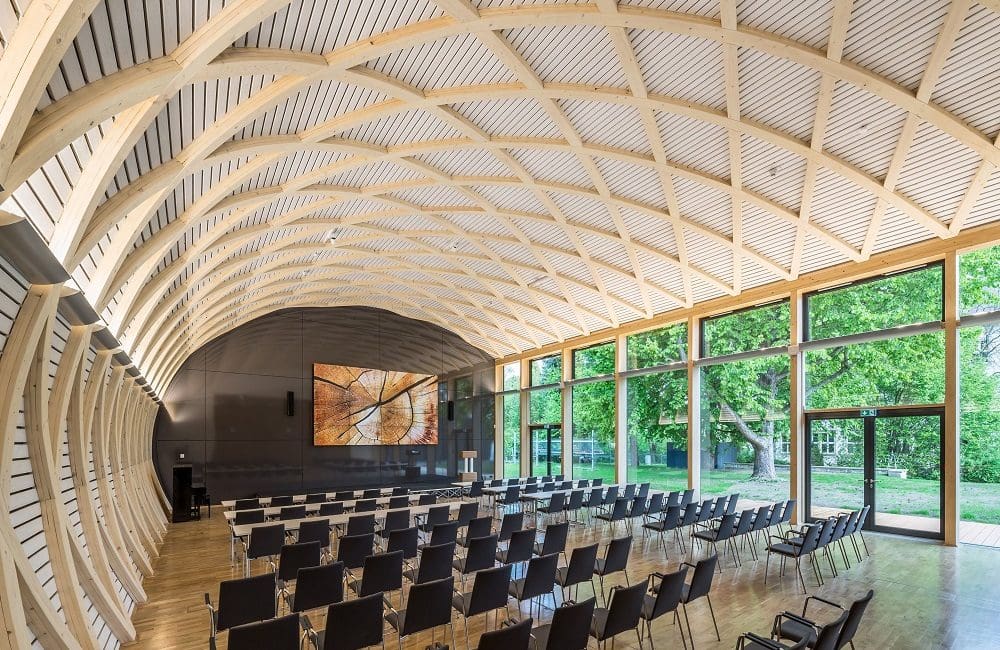 When your objective is to study the attributes of one of the world's most versatile and renewable natural resources, operating a research facility that's visually connected to nature seems only logical. The Institute of Wood Technology in Dresden, Germany, features panoramic windows, contemporary architecture, stunning wood finishes, and a diamond-patterned wooden vaulted spruce ceiling.
On the surface, the Institute of Wood Technology seems like the last place that would want to install big banks of high-end video displays. But the it serves as more than a spot to study how to best process wood from raw substance to finished product.
The institute is also an education hub where researchers can share their findings and outside organizations can hold seminars, conferences and other events; consequently, a video display would provide a dynamic presentation tool.
The Institute of Wood Technology's choice: 55-inch FHD552-X Christie LCD panels.
"Our goal was to create a place that can be used for all types of event, from symposia, through to the in-house exhibition, right up to corporate events or private functions," says Thomas Hupfer, head of IT and DS coordinator.
What Christie LCD Panels Had to Accomplish
With the 13-meter-wide room in regular use throughout the week, a permanent low maintenance display was required in order to facilitate events in the versatile space.
Brightness was also essential to maintain bright, crisp images as light streams through the exposed bank of windows.
The color calibration technology that's built into Christie displays would ensure clear visibility even during the brightest, sunniest afternoons, from any row in the meeting space.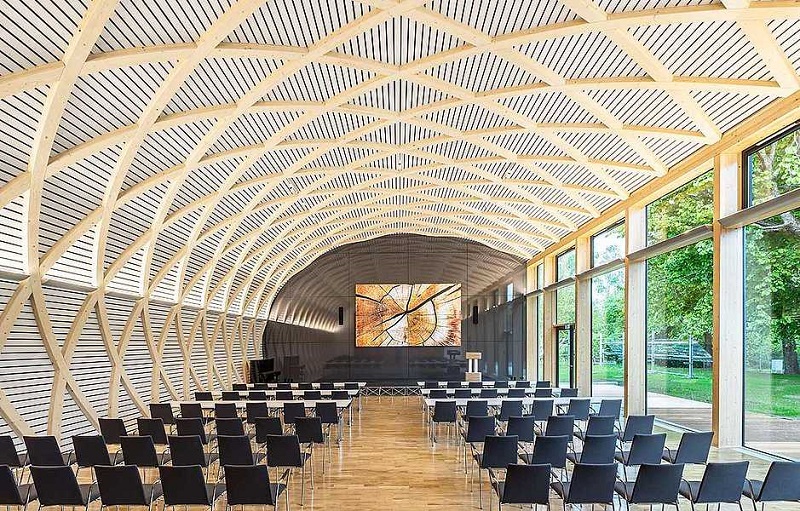 The narrow bezel of the 17 displays (3.7 mm combined) installed by Christie partner Matec GmbH, along with their full HD resolution, high pixel density, and LED backlighting met the needs of the institute.
Taking center stage at the front of the room is a 4×4 video wall comprised of 16 55-inch Christie FHD552-X LCD panels.
How the Institute of Wood Technology Chose Christie
"We looked at a lot of display installations in and around Dresden before the project began and decided the 55-inch displays from the Christie Ultra Series were simply best suited for our purposes," adds Hupfer.
"One decisive feature, for example, was that the narrow bezels of the Ultra displays don't interfere with the overall image."
Read Next: Game of Thrones and Christie Boxer Projectors Set the Scene for Annual Meeting of 3,800 BNP Paribas Bankers
An additional 55-inch display from Christie is mounted outside of the meeting space to present messages and announcement of upcoming events.
Based on comments from Hupfer, who says a major event with several hundred people takes place at the institute about every four weeks, it's safe to say that the Christie displays will be put through the paces, and ready to stand up the challenges of the unique meeting space.
If you enjoyed this article and want to receive more valuable industry content like this, click here to sign up for our digital newsletters!