Game of Thrones and Christie Boxer Projectors Set the Scene for Annual Meeting of 3,800 BNP Paribas Bankers
BNP Paribas throws lavish event for employees featuring big-screen Christie Boxer video mapping inspired by Game of Thrones.
Leave a Comment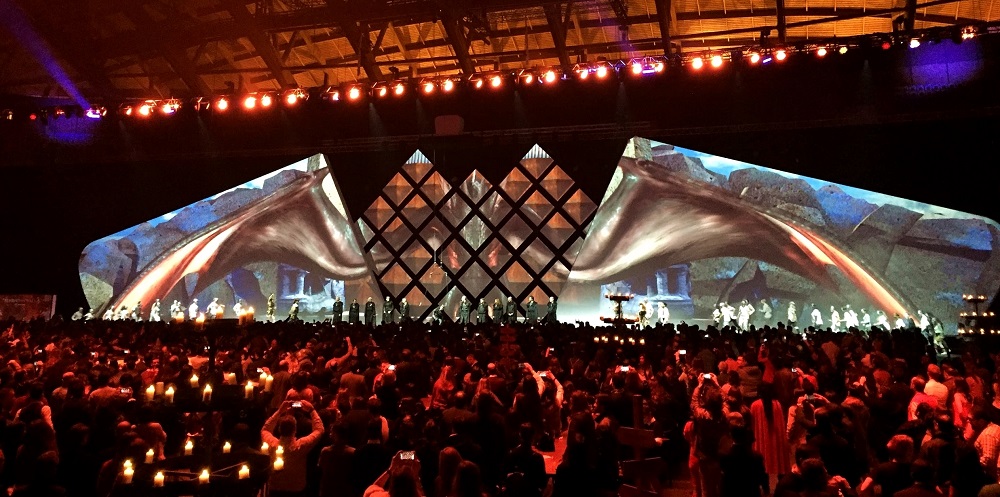 When you work for the eighth largest bank in the world, crunching numbers is serious business. In a show of gratitude for all the hard work its employees do, the Portuguese branch of BNP Paribas threw a lavish affair at Portugal's largest indoor venue.
BNP Paribas took the annul party for 3,800 employees at the Altice Arena to a whole new level by hiring events and stage design specialists to create a Christie Boxer projection-mapped show inspired by the popular TV series, Game of Thrones.
Dragon-Shaped Visuals
Event creator Europalco and stage designer Grandpa's Lab developed high impact visuals to display on a variety of unique screen surfaces.
The video content created for the annual meeting by Grandpa's Lab and partner Expanding Roots for the attending bankers centers around three dragons – Dragon, Viserion, and Rhaegal—from Game of Thrones.
The team employed Christie Pandoras Box media servers, Christie Widget Designer, and six Boxer 4K30 projectors to bring the dragons to life.
The images are projected onto a spectacular screen on a truss covered with white Lycra.
Designed by Europalco, the screen measures a whopping 210 feet wide by almost 40 feet high, and in keeping with the Game of Thrones theme resembles a dragon's body.
Importance of Projection Mapping to the Project
Here's where projection mapping came was crucial in order to match the images precisely on the irregular screen surface—especially the center portion which represents a dragon's uneven, scale-ridden torso.
"Adjusting the images to the scales was a real nightmare," recalls Pedro Magalhaes, CEO of Europalco.
"We were able to resolve the problem thanks to the Pandoras Box warp plug-in.
"The images were projected to perfection, at all times filing the different parts of the screen and maintaining the lighting strictly inside the edges.
"The operation and programming of the whole show was so simple because of the Christie media servers and Widget Designer."
The Widget Designer allows the team at Grandpa's Lab to map the images on the unusual screen surface and to create complex timelines for the show.
It allowed all of the Christie Boxer projectors to be connected with one interface.
180,000 Lumens Can't Go Wrong
Meanwhile, the six Christie Boxer projectors ensured that the images were bright and sharp.
Together, they produced 180,000 lumens, providing guests with a spectacular visual experience.
"The 3D effect of the dragons convinced you that they came out of the screen and flew over our heads," relates one BNP Paribas employee.
Listen: Christie CEO Retiring After 40 Years; Most Popular AV Categories: Episode 46 of AV+
"We were delighted with the performance of the Boxer 4K30 for the event," says Magalhaes.
"It is so powerful that at certain moments we had to turn off some of the Christie Boxer projectors because we actually had too much light."