Digital Signage & Video Wall Technology Opportunities in 2021
We look at the past and future of digital signage and video wall technology to understand the state of these systems today.
Leave a Comment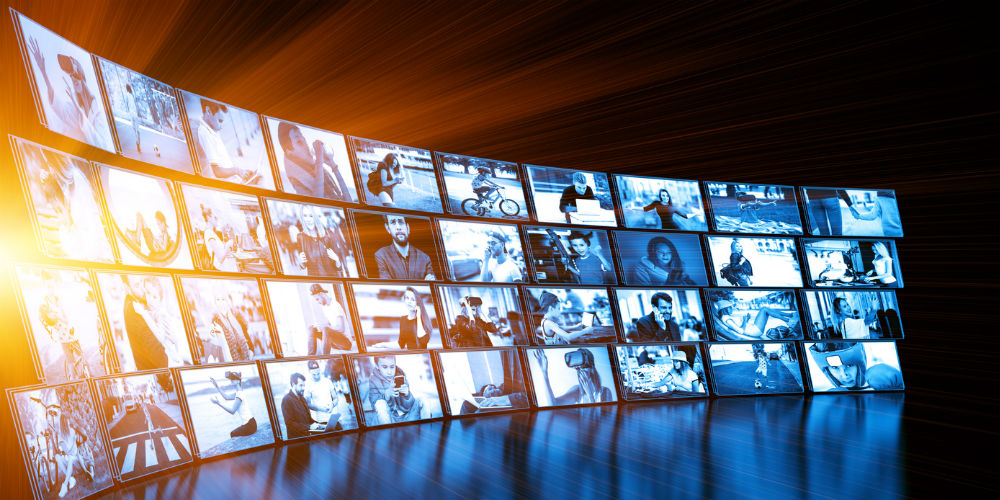 The state of digital signage and video wall technology doesn't typically change radically from year to year. Implementation of these solutions has steadily grown, while higher resolutions and further monitoring and management capabilities have been introduced. 
As with almost everything in 2020, the past year of digital signage and video walls has not been typical. Digital signage especially has been used as a way to accommodate measures to mitigate the spread of COVID-19. 
That's not happening only in hospitals, but in corporate environments, stadiums, and almost everywhere in which even a small amount of people gather. 
This year, in order to discuss the state of digital signage and video walls, we need to expand our purview. We need to look back at the past year to see how they were utilized while the world changed. 
Then, we need to look ahead to the coming years to see how that utilization will change implementation for good.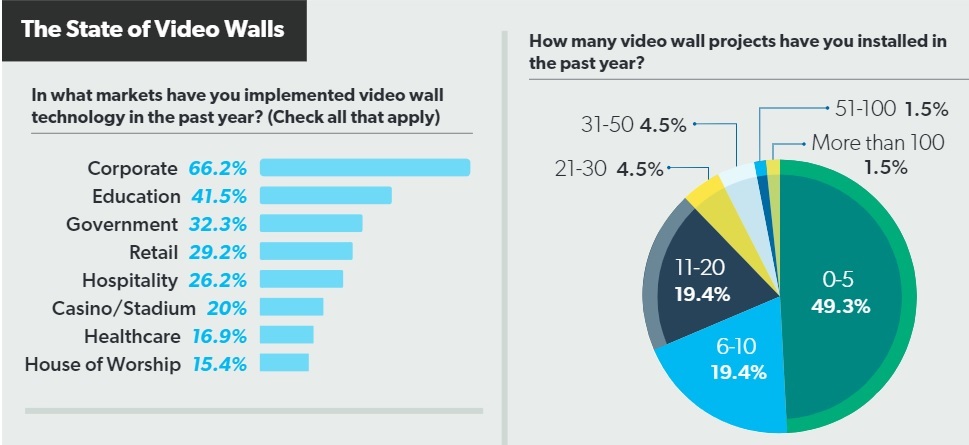 Digital Signage & Video Walls in 2020
"At the beginning of the pandemic there was a bit of shock and everyone stopped to reassess their projects, budgets, cash flows, and everything," says Len Dudis, CIO of Grupo Vidanta and vice chairman of the Digital Signage Federation. 
"I think we saw a pause in a lot of industries but very quickly we saw an increase in a different kind of demand. A lot of that demand did center around digital signage. The reason for that was we saw new requirements like temperature checks, social distancing, and masks," he says. 
"That was a lot of information that companies needed to get out to the public very quickly," says Dudis. 
Those requirements changed rapidly and consistently throughout the pandemic. New regulations were introduced. Former regulations were discarded, then as waves of cases dropped and grew, were brought back into the fold. 
"Digital signage really came to the forefront as an effective medium for the highly variable communication that needed to happen," says Dudis.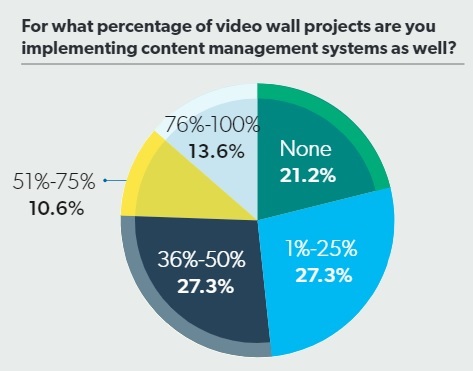 Digital signage was used throughout 2020 in order to give people that information where and when they needed it.
As commercial environments opened, it was necessary to alert people to temperature check areas, to remind people of social distancing best practices, and to inform people that masks were required at all times. 
In spaces that were more regulated, such as construction sites and manufacturing floors, digital signage was used to push forth new protocols, PPE requirements, shift changes, and more.
In retail environments, digital signage might tell shoppers that certain aisles were one–way or remind them to maintain social distancing even when in line at the register. 
Information that was released in the morning could be incorporated into a digital signage system by that afternoon, and with new information coming in so rapidly, and disinformation being spread throughout the pandemic, digital signage was one of the ways to keep people safe.  
Dudis says there was a trend towards larger-format displays. 
"I think that makes sense," he says. "You're seeing people spread out by social distancing, and that requires a larger distance to communicate with digital signage." 
Wayfinding also found its way to the forefront of digital signage installations throughout COVID. 
"Wayfinding has been out there. Companies have been promoting it. You could walk in and find out where certain people sat, where different offices and meeting rooms were," says Steve Grace, president, senior consultant, and founding partner of AV consulting firm AVH Technology Partners. 
"General wayfinding was never really huge, at least with our corporate clients," he says. 
By inserting wayfinding and adding heat mapping capabilities, organizations were able to track those in the building and ensure separation and social distancing. For employees coming into the site, they knew exactly where to go.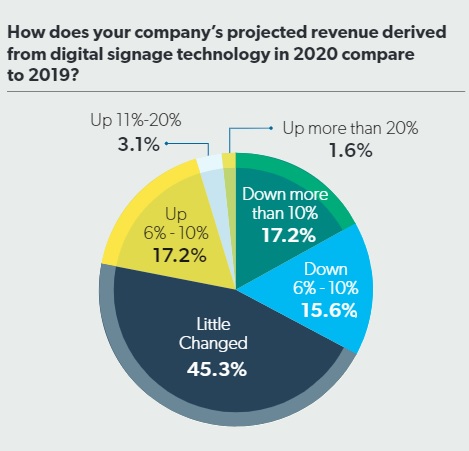 "Wayfinding combined with sensors and things that can do heat mapping are now very popular," says Grace.
"Everybody is looking at them. With the delay of ongoing projects during COVID we haven't executed many of them, but we are advising clients on the early stages of these different platforms that our out there and the capabilities of them. 
"The technology didn't really change, but the implementation, usage, and necessity of digital signage really did change starting at the onset of COVID," says Chris Mascatello, executive VP of technology solutions and head of places division for ANC. 
"We saw a huge demand for our portable products especially, which would normally be out for concert tours and other mass gathering events," he says. 
Those portable products were being used for pop-up testing locations, food donation drives, and as the summer progressed and cases began to level, drive-in movie theater, concert, and even stand-up comedy events. 
The Future of Digital Signage & Video Walls
"A lot of businesses took this time to rethink their strategies and communication plans and put things like digital signage and the next generation of communication on their budgets and agendas," says Dudis. 
Looking ahead at how digital signage and video wall implementations will change cannot be done with a singular, holistic view. Different markets will utilize digital signage in different ways, as different markets were affected by the pandemic in different ways. 
In order to understand how digital signage systems will evolve in the coming years we must drill down into the common spaces in which that evolution will occur.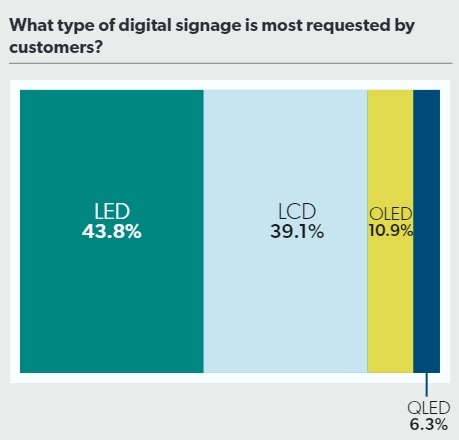 The Office
The oncoming hybrid office, new normal, insert-your-buzz-phrase-here has been discussed ad nauseum for the past several months as organizations begin to reopen and plan for the future. 
When Salesforce announced "work from anywhere," a strategy that will allow all employees to choose to work fully remote, flex/hybrid, or office-based indefinitely, that discussion only grew louder. 
Many are wondering if this move to the hybrid office will be as widespread as the zeitgeist would lead us all to believe. 
It seems many believe that a fair amount of corporate organizations will be employing some sort of hybrid approach and are forecasting for less employees in the office day to day even after COVID. 
"We have about seven Fortune 500 companies that we work with very regularly," says Grace. "Throughout this whole pandemic we've had meetings about the buildings being planned and designed for next year and the year after. We've noticed a big difference between those guys… and smaller clients." 
Smaller clients are happy to have people work from home and downgrade office space and the cost of renting as a result. Larger organizations have a system that works and don't want to throw a wrench into it. 
There are elements of the home work environment that are unknown. These larger companies have been around for many years, have seen unprecedented times before, and don't wish to change their entire business model. 
"There are advantages and disadvantages of working from home. The disadvantages and the end result from them are unknown. So they're more cautious. They're planning more strategically," says Grace. 
"We have a couple of big building projects going on. They'll come out in two years. The floor plans look the same as everything you've ever done. Ratio-wise nothing's really changed. They are planning on that headcount though," he says. 
"Before where 12%-14% of the population of these big companies was allowed to work from home at some capacity each week, they are now anticipating 40% of the people will be in that situation," says Grace. "They are space planning for a 60% occupancy level where before it was an 86% occupancy level." 
This does change the way these organizations are planning to organize those that come into the office. With so much variance in which employees are in the office on any given day, assigned desks make little sense.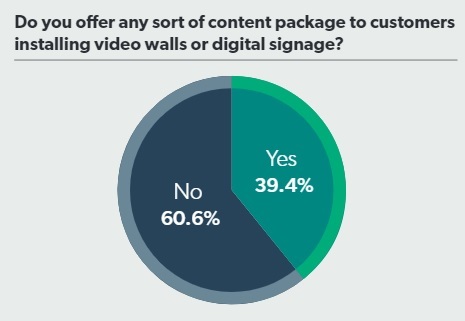 Digital signage offers an opportunity to better organize space so that employees that come in a few times each week can still get their work done efficiently in the office. 
"You walk up to a kiosk, click on a workstation that's green, it gives it to you, and you know you have that space to work from," says Grace.
"Digital signage has a really bright future in a lot of different ways. Definitely the hoteling and hot desking is a major driver. That's a big change from before." 
Video walls in corporate lobbies are no less sophisticated than before, but over the past year and looking ahead are more often tied into the overall digital signage strategy. 
"That communication medium that was always there at the entrance greeting the client coming in have shifted," says Dudis. "Those have become more of an internal communication for employees coming into the office." 
Video walls are also increasingly entering the boardroom for a number of reasons, including brightness levels and flexibility of these systems. Not to mention the same system from several years ago is a fraction of the cost today. 
"To drop $350,000 into a display for a conference room was not very common back then," says Grace. "That technology is into the $120,000 range to do something similar, and we're doing them regularly. Most boardrooms where the seating is more than fifteen people we're putting in that technology. 
"Another big reason for LED in boardrooms is that you can create this pixel space, and your content can be anywhere on that in Windows," he says. "If you put two 98-inch displays that's very common. 
"One side is something, the other side is something else, and no image is centered. When you do the same pixel space in LED you can have the presentation centered. It's a better view for the table," says Grace. 
That flexibility of making the image centered when needed can't be done with two monitors side-by-side. That flexibility can drive different things for customers, and in particular that ability to center images is a real priority for corporate boardrooms. 
Retail Spaces
Certainly online shopping has seen a major boon in the COVID era, and unlike restaurants, concert venues, and vacation destinations, customers may not be as keen to return to the mall ever once COVID is done with. 
"This is a change that was underway pre-COVID," says Mascatello. "We were already seeing increased demand from major brands to bring digital media into the store because of the amount of online shopping that was already occurring. I think you're going to continue to see that. People are going to need a reason to not just buy on the computer.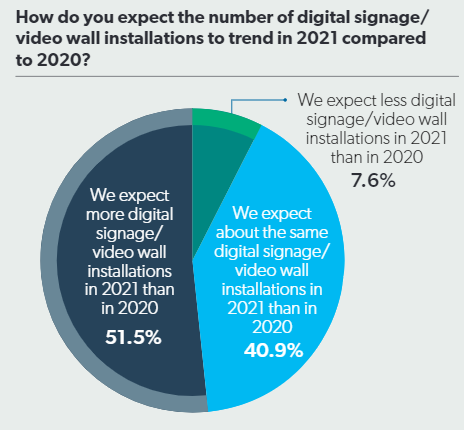 "That being said, there's going to be a necessity when it comes to a lot of retail items," he says.
"You're still going to have the need to touch and feel clothing, or see how colors look when it's not a web page. The retail outposts may not be as large as what they once were, and I think there is going to be a very dynamic interplay between their we catalogue and their store front." 
The marriage of brick and mortar retail environments to their online counterparts is something that will be embraced, not shied away from, moving forward. 
"The term omnichannel retail is critical," says Dudis. "It's exactly what we're seeing right now. People want to go into a store, and they do that, but a lot of times they'll turn to the online experience for the purchase itself. Almost like showrooming. 
"With digital signage there are ways to display something in a store without an excess of inventory. Someone can take a snapshot of a sign and say they'll order it later," he says.  
If we can make that easy, if there were a QR code or something else communicating to the phone, they can bring up the store's app or put something in their cart via that method. Retailers are becoming more comfortable with that shift to online as well. Sometimes it's truly online in the presence of the store," says Dudis. 
Restaurants
Restaurants have possibly been the market that was hit the hardest throughout the pandemic. With capacity restrictions and the high premiums of delivery services, restaurants may take some time to recover before they start investing in new technology. 
"For the restaurant experience you'll see some increase in digital signage but not much," says Mascatello. "We're looking at a few years here where they try to get their feet underneath them financially and see what the shift in the dining environment is." 
That sentiment pervades across the industry. 
"Restaurants that are reopening might decide that they need a digital display to show their menu or communicate things to their customers," says Dudis. "We might see a little up front, and then I do think we're going to see an upward trend as things reopen and cash starts flowing through the business again. 
"One of the things we saw that I thought was really interesting was the resurgence of the QR code," he says. "I've been talking for years about how we need to make that jump from the digital display to the display that's in everyone's hands – their phones. Somehow we need to connect those things," he says.  
"There isn't a restaurant I go to now that I don't see a QR code to bring up the menu on your own device. We're seeing that on digital displays too," says Dudis. "Now it's common practice to take the message from the sign and get it in your pocket." 
Hospitality and Large Venue
Hospitality environments and large venue areas like stadiums and casinos are areas that many have clamored to get back to once the pandemic is over. Those environments are just as eager to get people through the doors. 
"I think hospitality and entertainment in particular are going to be pretty aggressive and active trying to get people back," says Dudis. "A lot of hospitality environments are still hurting from the lack of cash flow over the last year. 
"I don't know that we're going to see this boom of demand for new displays that we've never seen before, but I do see some immediate need," he says. 
"I think you're going to see an increased reliance on gesture-based and non-touch interfaces. I think that's something that will pop up over the next three years," says Mascatello. "We're now in a much more conservative environment in terms of surface touching and shared communal spaces in the era of Purell. 
"I think people are going to hesitant to use multitouch public devices. We need to communicate with the digital signage, so we're going to double down and see a lot of research and development investment going back into infrared and motion," he says. 
Stadiums are especially ripe for further digital signage and video wall implementation, and given the lifecycle of stadiums the next few years are critical in making that upgrade. 
"We are already seeing stadiums switching from fixed signage to a digital model. The newer stadiums are able to do it wholesale, but we are getting on the crest of 20-25 years of age on most of these stadiums from the mid-1990s building boom," says Mascatello.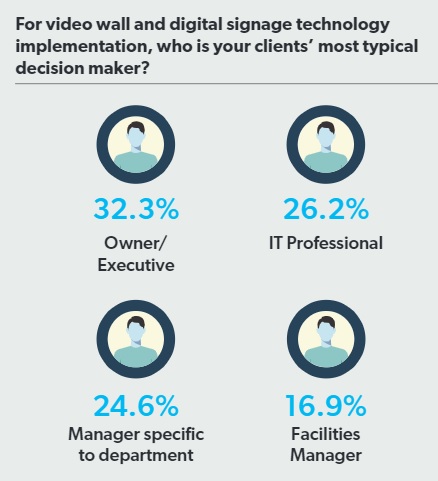 "So they're all in their second tier of major renovations. You look at places like the Wells Fargo Center in Philadelphia or Bankers Life Fieldhouse in Indiana, those venues are doing major renovations. As part of that almost no fixed signage remains," he says. 
"The question we have to face, and ANC has been front and center with it, is 'are people coming back at 100% of what they were from an attendance standpoint?'" says Mascatello. 
"Are we going to be in a situation where we're going to have more spaced–out seating? How do you fill that space? 
"Are we going to see the use of on-camera digital media assets like we had in the NBA bubble? I think there may be this new seating bowl mentality where there's a lot more on-camera digital signage and the seats are higher up to make up for revenues," he says. 
The rise in digital signage and video walls is even expanding to public spaces. 
"As a general rule in terms of people going out I'm seeing more demand from the concept-side for exterior, big building experiences in cities and larger townships," says Mascatello. "Things like LED screens on real estate venues, parks and public squares becoming gathering points with digital signage and digital media. 
"I think we're going to make that leap and see an acceleration into more digital media in the public space than we might have seen without COVID," he says. 
Driving Customers Forward
In many ways it will be integrators themselves that will decide how digital signage and video walls are utilized in the coming years. Integration firms have long been aware of the capabilities of digital signage systems, but for various reasons customers have been hesitant to adopt much outside of advertising and informational content capabilities. 
"I don't think it's something that an integrator should wait for," says Dudis. "Now is a decent time to start having conversations. Education of the customer is going to be critical. People are seeing for themselves throughout these last couple of months the changes happening in digital signage. 
"We're going to see a number of companies that have never had digital displays before," he says. "It's really important that we start to educate on the capabilities of digital displays and the benefits they can offer. Integrators play a critical role in that education. 
"Reach out and show what we're seeing in the industry. It's a new world for a lot of companies and they need that education," says Dudis. 
Educating customers starts with enabling your sales team to provide that education. 
"It does rely on the sales department to do that," says Dudis. "From the sales standpoint it's making sure that they're educated on the technologies, but also understanding the economic environments of the companies they're working with. 
"Not everyone is going to have the cash at this very moment to go out and do a big project. So it might be cultivating the education now that might turn into a sale down the road when the cash starts flowing again," he says. 
Digital signage systems are now touching the network. Projects that don't involve some capacity for remote monitoring and management of systems will become increasing rare and may even fade into extinction over the next few years. 
This offers integrators an opportunity to stay onboard not only for the lifecycle of the project but well beyond. 
Listen: A New Video Wall Opportunity: Episode 144 of AV+
"That's been ANC's business model from day one when we were a rotational signage company in the sports world. We've built our digital integration around that same concept," says Mascatello.
"We help almost all of our clients with content to some degree. We also have the ability to take on the scheduling and day-to-day programming of those displays. 
"You want to make sure there's brand unity across streaming, web, live engagement, and digital media. But there's definitely a role to play for the integrator to help guide that process and streamline communication between the various parties," he says. 
Certainly, the future of digital signage and video wall technology is bright. The past year has brought new responsibilities to these systems, and integrators are poised to drive reliance on digital signage further than ever before. 
Best of all, digital signage is a staple of the integration industry. For integrators looking to get a seat at the table to help drive digital transformation for their customers, digital signage could be an entry point that leads to a louder voice, and less headaches down the line when customers ask for systems that should have been specified earlier.