Hold Your Breath During the Most Tense Poolside TV Installation We've Ever Seen
Installers from Architechnology Designs tiptoe around water, plants & more to install a 75-inch Sunbrite TV in this daring poolside TV installation.
Leave a Comment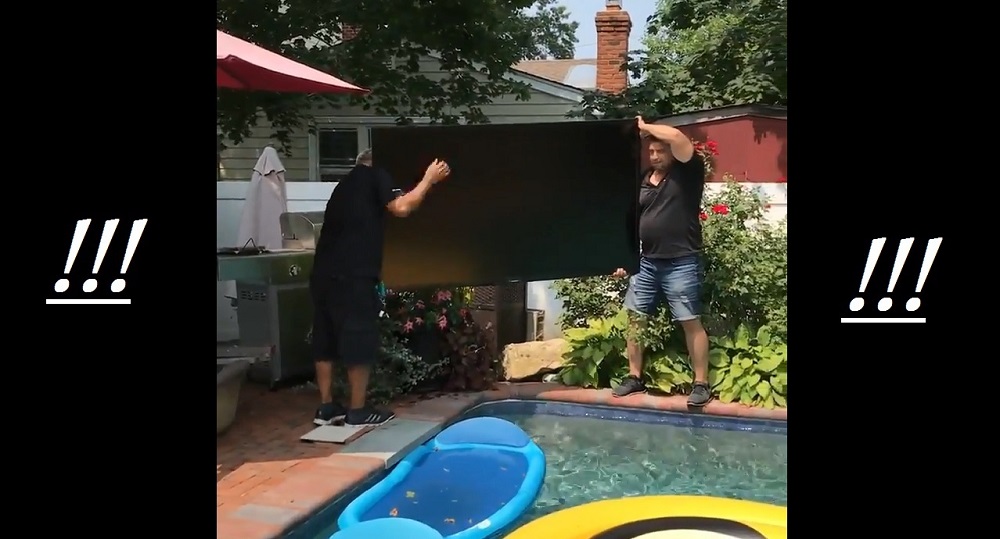 Our friends and coworkers over at CE Pro, the residential-focused integration site, caught this video in the wild and we just had to share. It's a daring poolside TV installation of a 75-inch Sunbrite TV.
"I was anxious the entire time I was watching this," said Robert Keeler, VP sales for Stewart Filmscreen, in a comment posted on Linkedin, where the video first appeared.
"Wow that's crazy," wrote Art Powers, owner of Planter Speakers.
"Let's be honest with ourselves, we were all kind of hoping they'd fall in the pool," another reviewer wrote. That seems a bit cruel to us.
The video comes courtesy of Ernie Wohlleben, owner of Architechnology Designs, a home-technology integrator in Southampton, N.Y. and features technicians Elgui Arrue (right), Alex Lazo (right) and Keith Ksenopoulous (mount location).
We reached out to the company for details about the daring job.
"Our client was referred to us by SunBriteTV," says Architechnology creative director Justine Davis-Brown. "At first he wanted a 65-inch TV, then Ernie talked him into getting a 75-inch Sunbrite TV that's more suitable for the size of the yard."
The integrator and client discussed several potential TV-mounting locations, including a wall near the pool, a fire-pit area, and finally a waterfall at the far end of the pool.
"The concern was that the corner rock waterfall fountain would provide even more obstacles to climb to, and not be stable enough to secure the TV," Davis-Brown says. "But we aim to please."
Read Next: 7 Horrifying Examples of Where AV Wiring Went Wrong
"This was a tricky TV installation because there were no other options for placement," Davis-Brown explains.
"The client had a direct concept for watching his 75-inch SunBriteTV while swimming in the pool or entertaining in the backyard. We like to go out of our way to give the clients their vision."
The poolside TV is complemented by Episode Landscape speakers from SnapAV, which also makes the SunBriteTV.