Almo Professional A/V Promotes Peerless-AV Outdoor Digital Signage with Installation Credit Program
From restaurants and hospitality, to education and transportation, to entertainment and beyond, outdoor AV offers a variety of benefits to companies and customers.
Content from our Sponsor
Leave a Comment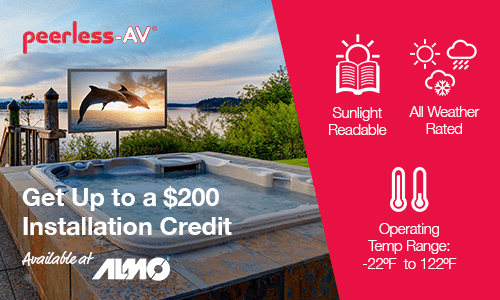 For companies, outdoor digital displays offer large cost-savings, with the ability to update content as-needed from a remote location versus replacing static signage to reflect new promotions and information. In addition, outdoor digital displays are able to provide crucial data for companies through the use of accompanying elements like cameras that can track psychographic and demographic customer information, helping companies make the best choices as it relates to content that will best resonate with their audiences and in turn lead to increased sales.
For customers, outdoor digital displays provide a more custom, interactive experience that leads to stronger engagement. For example, outdoor digital signage can be used for wayfinding to help customers find the best route to their selected destination or for streamlining processes where customers can make purchasing decisions such as menu ordering in a QSR or product ordering in a retail store. As most customers are technologically-advanced, utilizing outdoor digital signage also appeals to a wider customer base, by projecting a more modern image for a company.
While these are just a few examples of the benefits of outdoor digital signage, it is clear that when it comes to this form of communication, all parties involved reap the benefits.
Almo Professional A/V is now making it even more enticing for companies to implement outdoor digital signage with its new Installation Credit Program with partner, Peerless-AV. Through this program, resellers will receive credit for the purchase of any Peerless-AV UltraView™ UHD Outdoor TV.
As an all-season solution, Peerless-AV's UltraView™ UHD Outdoor TV is ideal for a range of professional AV environments. The outdoor TV is all weather rated, maintenance-free and has an operating temperature range of -22°F to 122°F. With 4K resolution and an IPS panel, the UltraView™ meets the full UHD specifications, providing exceptional color and video quality from any viewing angle. The TV is also equipped with a High TNI panel, which allows for direct sunlight readability without the risk of isotropic blackout. The input compartment and DC power ports provide safe storage and power for small video equipment.
With Almo's Installation Credit Program, which runs through December 31, companies can boost their profits by sharing where the displays are being installed along with some other basic information on one simple form. Almo will issue the credit directly to a company's reseller account. It's so simple and easy! The unit doesn't even have to be physically installed yet to claim the credit!
The program is running from October 1 – December 31, 2019 and offers credits on the following Peerless-AV solutions:
QUALIFYING DISPLAYS
QUALIFYING MOUNTS
EPT650 – $10
EPA762PU – $15
ESA763PU – $20
QUALIFYING OUTDOOR ACCESSORIES (WATERPROOF SOUNDBAR)
For more information, please visit: https://forms.almoproav.com/peerless.

If you enjoyed this article and want to receive more valuable industry content like this, click here to sign up for our digital newsletters!