Carolina Basketball Museum Provides Solace for Tar Heels Fans During March Madness Final Four Week
Advent renovates the story behind the University of North Carolina men's basketball program using a FLEXTour 2.8mm LED video display.
Leave a Comment
You can't think about the history of men's college basketball without including the University of North Carolina, from the school being Michael Jordan's alma mater to the one that's developed a fierce rivalry with its Tobacco Road neighbors at Duke University.
And, while neither UNC nor Duke will be playing this weekend during the 2019 NCAA Men's Final Four in Minneapolis, that doesn't make the Tar Heels' history of hardwood dominance any less impressive.
Maybe fans who were planning to head to the Final Four can instead head to the UNC campus and check out the Carolina Basketball Museum, which opened in 2008, then head to next year's March Madness semifinals at Mercedes-Benz Stadium in Atlanta.
Highlighting Carolina's numerous NCAA and ACC Championships, along with the players, coaches and staff members that made it all possible, the interactive museum recently underwent a renovation on the heels of its seventh national championship in 2017.
Museum officials wanted to update the main video display as part of the branding refresh, and they did so using a 2.8mm FLEXTour LED video solution from PixelFLEX.
Working with the experiential brand specialists at Advent, museum officials wanted to update the main video display as part of the branding refresh, and they did so using a 2.8mm FLEXTour LED video solution from PixelFLEX.
"We had previously worked with the University of North Carolina on an update for the Smith Center locker room that went really well, so they asked us to come back and take a look at the Carolina Basketball Museum," said Advent design principal Davy Fisher.
"It was a great project because they were fresh off the excitement of their latest national championship and they wanted us to update the storytelling, freshen up the branding, and reframe the experience through the use of more current technology," he said.
Inside the Carolina Basketball Museum
FLEXTour is designed specifically for the demands of live entertainment productions with high-definition resolution and curvable design. With its rigging capabilities that allow for traditional and off-set configurations, each 500mm x 1000mm tile is front-serviceable and its integrated climbing ladder allows for access to high displays.
FLEXTour, which incorporates the NovaStar A8s receiving card, is flicker-free, according to PixelFLEX officials.
"The old space was a little bit off-brand with different blues and varying signage headers over elements that were needing to be related to each other," said Fisher of the previous version of the Carolina Basketball Museum.
"Our main goal was to make it a cleaner branding experience and simplify the story, so a good portion of the project was replacing and upgrading all of the digital surfaces and get it on-brand, through color and language consistency," he said.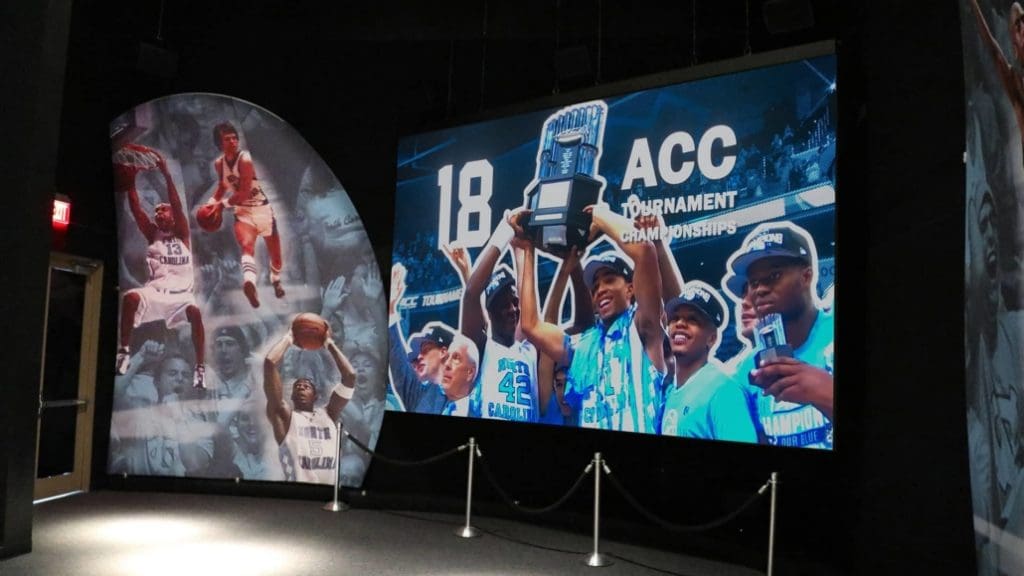 New Era for Carolina Basketball Museum
Advent replaced the LCD projection system that was used for one of the museum's main displays.
"[The LCD projection system] had an image projection-mapped onto it never really worked the way they wanted it to," said John Downie, VP of digital experience at Advent. "It's a rather large space and the display is the first element you see when you walk in. They found it hard to update and it required a lot of post-production to format correctly.
"When fans now walk through the doors of the Carolina Basketball Museum there is an immediate feeling that you are about to have a great experience," says Advent design principal Davy Fisher.
"Knowing this was an issue, we decided to give them an LED video solution that was easy-to-update in a 16:9 ratio, so they could easily drop in high-resolution, wide-screen footage without any post-production needed," he said.
Advent connected the video panels to a header bar that hangs from the ceiling using aircraft cable. Measuring 16-feet wide by 9-feet tall, the system delivers content driven by the proprietary Advent content management system.
The web-based CMS "allows the client to quickly update content through the simple upload of a media file, while also giving them options for various modes of operation," said Downie. "During the build-out process, the first reaction upon turning it on was absolute amazement."
The Carolina Basketball Museum reopened its doors for the start of the 2017-18 season.
"When fans now walk through the doors of the Carolina Basketball Museum there is an immediate feeling that you are about to have a great experience," said Fisher. "With a feature that needs to be so bright and so vibrant, the FLEXTour LED video is a significant upgrade. Being the first thing you see when you walk into the space, it presents as a wonderful showcase for the UNC athletes and the quality of their program."