Why CCCP Chooses SNA Displays for LED Video Wall Projects
Scott Tomashek of CCCP appreciates SNA Displays for the relationships, quick response, and ability to work with his team to customize installations for CCCP customers.
Sponsored Content
Leave a Comment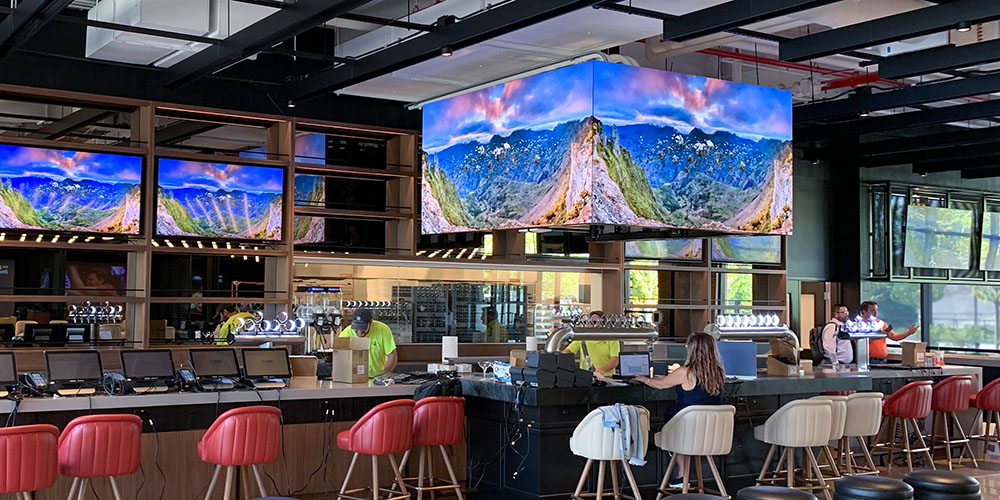 Scott Tomashek, senior vice president of AV strategy for Camera Corner Connecting Point (CCCP), part of ACP CreativIT, has been working with SNA Displays for some time. Well-versed in LED installations, Tomashek and his team have found that SNA Displays stands out due to the quality of their products, response time, service, and the relationships with employees of SNA Displays.
CCCP had a relationship with a number of SNA Displays employees from previous experiences together. As a result CCCP looked heavily toward SNA Displays when choosing the right solution. "Because we had that personal relationship it caused us to look at the brand and what they had to offer. We liked what they had," says Tomashek.
After being able to use SNA Displays equipment on a number of projects, Tomashek and the team at CCCP were impressed and decided to continue to utilize SNA Displays moving forward.
"We understood the quality of the product. Obviously that's an important factor. They're really choosy about the components that go into the product. That helps," says Tomashek. "There are so many different LED manufacturers out there and so many different brands, having a company that will stand behind the product lets us know we're getting a good, quality product.
"It's an inclusive package from the rack hardware to the display," he says. "They're also helpful getting us in touch with other manufacturers that work well with the SNA product. They're working together to make sure there's compatibility between their products."
The service and personal relationships that CCCP have built with SNA Displays has also been a great benefit. The team will often reach out to SNA Displays with general project details and needs, and SNA Displays is quick to give a quote so that CCCP can continue with the project.
"They're usually really fast at turning around that first general quote that helps us get the point of understanding for how to bid it to the customer, tell the customer what the expectations are, and what they're going to get for their investment," says Tomashek.
"They have a good warranty program and they ship all the spares," he says. "If a panel has a pixel that goes bad or gets hit by a ball there are spares on site so we can pull the bad panel, replace it right away, and they're not waiting while that tile is getting repaired. They're up and running."
The ease of installation is also a factor in the continued relationship between CCCP and SNA Displays. While CCCP had the SNA Displays team come out to builds up front to ensure any questions could be answered, there was little need considering the relative simplicity of installation.
"Our team is very well versed in LED displays and they were able to get right to it and get the stuff put in without a whole lot of direction at all, which made it really easy to get everything installed," says Tomashek. "It's still a big display. It's still hard work that the team is doing. But they know what they're doing and they're able to do it efficiently."
Tomashek recalls a recent project with the Forest County Patowatomi Community Center.
"In the turf field where they do powwow events for the community they wanted to bring some more cultural identity into the space. In a previous space they had it set up where there was an open, domed circle in the ceiling painted to look like the sky to bring that outdoor aesthetic," says Tomashek. "We had SNA design a twelve-foot, circular display that had images on the sides and bottom so that they could map anything to that they wanted.
"After they saw it up in the air and hanging there they requested scoreboard functionality to make it a multipurpose video piece, a real center point to that turf field," says Tomashek. "We're doing a modified version of that in the gym as well. So it's very custom. Not a flat TV concept."
Tomashek recommends that other integrators look into SNA Displays based on their range of products and personal touch with each partner when it comes to customizing for end customers.
"Having the resources from SNA to help us do those things is really important," says Tomashek. "SNA is a great team to work with and their range of product from very fine pixel pitch to larger sizes has allowed us to really find the right product for the job."
If you enjoyed this article and want to receive more valuable industry content like this, click here to sign up for our digital newsletters!