LINQ Hotel + Experience Represents Casino of the Future & Stars Unilumin LED
Las Vegas' newest high-tech attraction features more than 160 displays and several thousand square feet of Unilumin LEDs.
Leave a Comment
The Linq Hotel + Experience, which was completed in June 2019, is considered by those who designed and built it—and the guests who've stayed there or visited it during a trip to Las Vegas—to be "the casino of the future," merging augmented digital art with audiovisual experiences. 
DATALAND features over 160 displays and several thousand square feet of Unilumin LED and showcases designs by media artist Refik Anadol. 
This unique digital experience actively collects data by measuring guests' locations and actions, converts this data to flowing, beautiful images, and outputs onto a digital canvas for said guest to interact with. 
These digital canvases display constantly changing and never-repeating art and also serve as digital wayfinding, collaborative AV and kinetic architecture. 
Caesars has been trusting McCann Systems to design and deliver technologically advanced sportsbooks for years now. In this case, Caesars Entertainment's goal was to design a space and experience that catered to a new generation of casino-goers. 
These users demand unique, shareable, immersive experiences. The experiential audiovisual deployment at the LINQ does that and more. 
The LINQ's transformation began last fall with the opening of The Book, the next generation of race and sports book, and continued with the introduction of the all-new integrated Strip-side RE:MATCH bar, both worked on by McCann Systems. 
The new deployment also features a digital art exhibition by Refik Anadol that winds throughout the casino floor, outside towards the Las Vegas Strip and all around the architecture.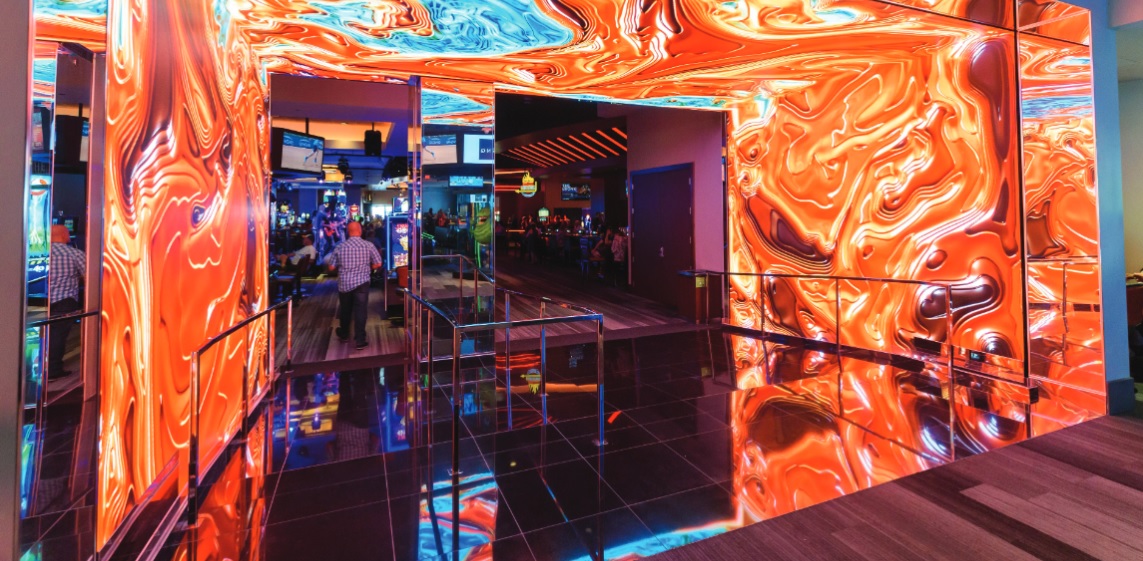 Overcoming challenges
Virtual reality, hologram gaming, esports, interactive multi-stage entertainment, arcade games, the Pulse Arena, rentable Fan Caves and social media integration are all featured in the LINQ. 
McCann worked through these challenges in lockstep with its vendors and Matthew Kenagy, senior director of sports marketing and strategic development for Caesars Entertainment to deliver a turnkey project.  
"We challenged ourselves to ensure Caesars had the best possible experience through not only DATALAND, but the RE:MATCH bar and The Book as well," says McCann Systems director of marketing Matt Wilson. 
Related: Direct-View LED Installation Tips: Doing it Right the First Time
The LINQ features a diversified selection of experiences that are curated for a variety of users, all of which must be treated almost as their own project, wrapped finally into The LINQ Hotel + Experience as you know it today. 
"When faced with a problem that doesn't have a solution in any textbook or catalog, we'd invent a way through it, sometimes literally," says Wilson. "The control system had to be custom–designed from the ground up, and many innovative structural installations are making their debut in this space, but you'd never know it.
McCann would have to react to "wouldn't it be cool if…?" moments that were integrated into a construction timeline that had no flexibility.  
The LINQ started as the Flamingo Capri hotel and opened in 1959. Not only has new technology been developed, new construction methods that cater to these advances are in place today. 
"Space and structure to land this AV did not exist for our team," says Wilson. "We were constantly challenged to make it happen without decreasing the overall experience." 
Of course, a challenge is working on a live casino floor that must minimize interruptions to patrons or eliminate them completely. Sectioning off portions at a time, working at odd hours, working with Caesars security and other teams, keeping an immaculate workspace, and other challenges were encountered the entire project. 
Unilumin
 LED impacts
Caesars Entertainment unveiled a new space on time and on budget that allowed them to remain at the forefront of gaming and innovation. The award-winning space has been received incredibly well by patrons, staff and reviewers. 
Among the world's largest and most interactive environmental art installations, DATALAND: LINQ is a synthetic reality experience woven throughout the LINQ casino interior and exterior.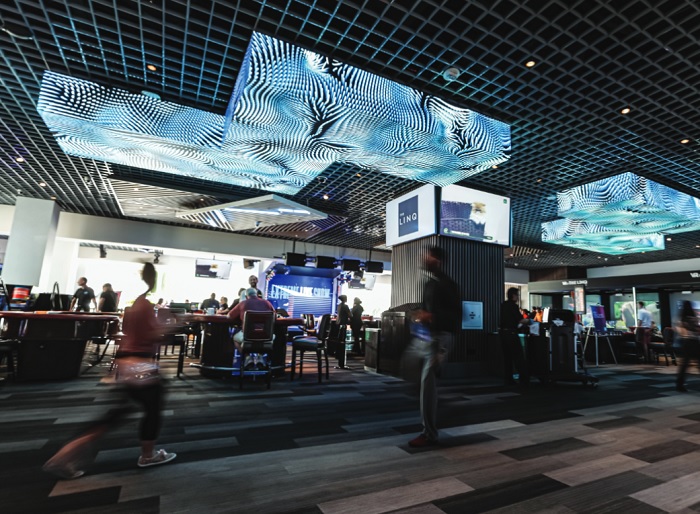 Created by world-renowned artist Refik Anadol, his first-ever in Las Vegas, the dazzling digital art installations are displayed on a variety of digital canvases throughout the casino including two main entrances and three-dimensional LED sculptural elements on the ceiling.  
"The overall installation is reactive and changes in a choreographed manner as guests enter the spaces, allowing visitors to be an active part of the art experience," says Wilson. 
"My personal favorite: when a patron hits a jackpot, it triggers an AV takeover.  
"All displays (even outdoor) and music play special digital content that rains money with matching audio, letting the casino winners celebrate with their fellow patrons. It turns into a very connected experience when it happens organically," he says. 
Equipment Highlights
Biamp audio 
Crestron control systems 
Evertz routing and distribution 
Middle Atlantic racks 
Samsung displays 
If you enjoyed this article and want to receive more valuable industry content like this, click here to sign up for our digital newsletters!