Datapath & Watchfire: A Grand Slam for Houston Astros' Stadium Store
Datapath and Watchfire teamed up to create a stunning 'halo ring' inside the store for Major League Baseball's Houston Astros.
Leave a Comment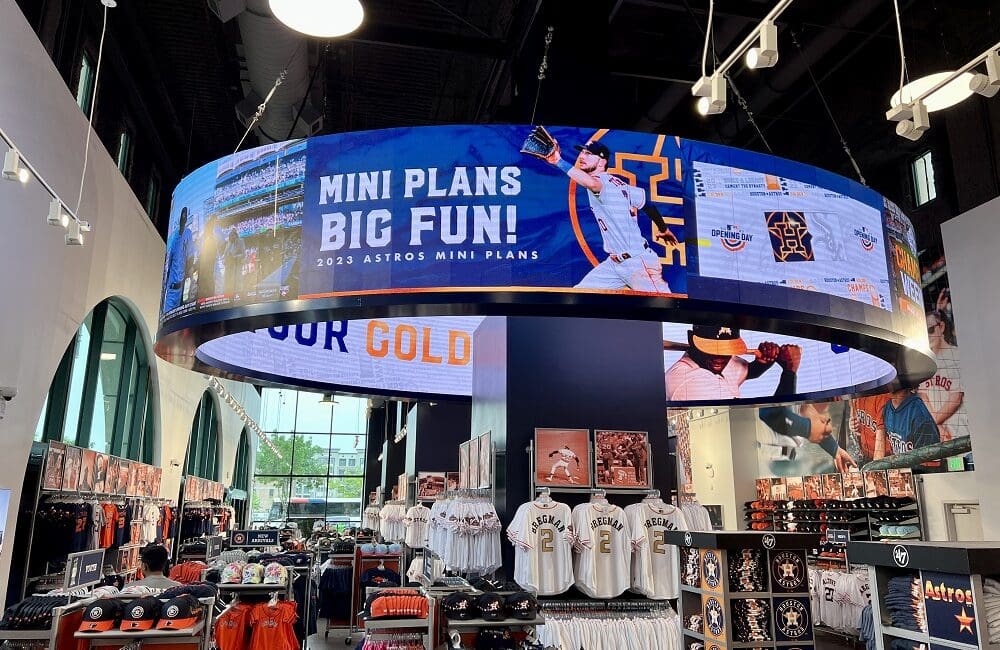 LED display provider, Watchfire, teamed up with Datapath to power a spectacular digital 'halo ring' inside the new team store for Major League Baseball's Houston Astros. Datapath is the prominent provider of video processing technology and control room solutions.
Located on the site of the Texan team's 41,000-capacity Minute Maid Park stadium (known locally as 'The Juice Box'), the new center field Astros Team Store is part of a major upgrade and expansion of its retail footprint. Here, the shop floor space quadrupled in size to approximately 8,000 square feet compared to last season (2022).
Open six days a week, and a central destination for tens of thousands of fans before, during and after games, plus other special events; the owners wanted to utilize the latest advancements in digital display technologies. With this, they wanted to introduce new sales, branding, and marketing opportunities. At the same time, they looked to create a more immersive visitor experience through a variety of informative and entertainment content.
The Halo Ring for Minute Maid Park
As part of their ambitions, the Astros teamed up with Illinois-based Watchfire to manufacture a double-sided LED 'halo ring' for Minute Maid Park. Per a statement, Watchfire is known for some of the world's most iconic installations, such as the 1,320-foot, 49-million-plus LED canopy for Fremont Street Experience in Las Vegas.
With an outer surface of 9,984-pixels wide by 624-pixels high and an inner surface of 9152 by 624, the propsed structure provides 360-degree views from all areas of the shop floor. The Halo Ring also requires four customized zones to display a variety of ever-changing and adaptable content to meet the various needs and requirements of the occasion.
After gaining a deep understanding of the extensive needs and requirements for the Halo Ring — both with the present and the future in mind — Datapath emerged as the partner of choice for Watchfire to achieve the client's high ambitions.
With flexibility and reliability paramount to the project, the team selected the ultra-quiet and more compact Datapath VSNMicro 600 wall controller. According to a statement, this is a go-to solution for a variety of mission-critical environments, including government levels. They then paired it with Datapath's advanced WallControl 10 management software.
The VSNMicro 600 helps receive content from a Brightsign media player, which is then processed and distributed onto the inner and outer walls of the innovative canvas.
With multiple sources required, Datapath used four of the six available PCI slots available on the VSNMicro 600 (allowing for further expansion), installing audio, video, graphics and capture card drivers. These included a highly scalable Image2K graphics card, used to deliver 4K at 60fps with two outputs to the Halo Ring's surface.
Two Datapath VisionSC-HD4 audio video capture cards were also included, providing 8 x HD inputs, with a single VisionSC-UHD2 input card, offering the highest resolution video, detail and color accuracy, adding two HDMI 2.0 capture channels with HDCP2.2 support at 4K/60fps.
Combining seamlessly with Wallboard's enterprise-grade, cloud-based drag-and-drop digital signage CMS, the VSNMicro 600 has been able to achieve the Houston Astro store's four-zone objectives. As a result, it brought extensive opportunities to seamlessly deliver scheduled or ad-hoc content from a variety of different sources, presented in fully customized layout designs. The four zones outlined in the project brief are as follows:
Zone 1 – Full Display Takeover: Utilizing animations or digital signage still graphics to take over the full display.
Zone 2 – Non-Gamedays/Special Events: Utilizing two spaces each on the inner and out ring to display digital signage.
Zone 3 – Non-Gamedays/ Pre Game/Special Events: Utilizing content zones and 16:9 video sources to display digital signage and TV channels.
Zone 4 – Gameday Look: Utilizing content zones and 16:9 video sources, as well as a quad box (up to four video sources within a 16×9 zone) look to display digital signage and TV channels to create an immersive in-game experience.
A Hit Among Fans
Today, fans entering the store experience a hive of digital activity, with content including, but far from limited to, exclusive in-house media such as club information, live interviews and team news, plus live sports feeds, highlight reels, and of course, the latest in-store offers and promotions.
Datapath, together with Watchfire, BrightSign and Wallboard were able to work in partnership to overcome several challenges and obstacles, including changes around design, to ensure completion of this unique project on time. In doing so, they not only met, but exceeded, the client's expectations.
The Datapath team also provided detailed training to Houston Astro's AV/IT management team, covering the specific components installed and ensuring users are confident in their ability to maintain and operate the system.
"The Astros always aim to put on a show for fans and Datapath was an important part of bringing our vision to life," says Kyle Dines, vice president of sports and indoor at Watchfire. "From initial planning conversations to final development, the Datapath team assisted in providing the optimal pieces to guarantee Opening Day 2023 was a complete success."
Eric Wooton, Datapath's senior sales manager for central U.S,, spoke of his pride in seeing the project completed and in action for the first time. "The flexibility of our VSNMicro controllers allows for a multitude of applications, from control rooms to university campuses and I am always excited to see it used in new and exciting ways. To witness this stunning project from the amazing and creative team at Watchfire is a feast for the senses and we are proud of the part Datapath has played in bringing this spectacle to life."
If you enjoyed this article and want to receive more valuable industry content like this, click here to sign up for our digital newsletters!