Engineering a Wow!-Worthy Client Experience
AVI Systems, SNA Displays create an immersive, multi-source DVLED showcase for Emerson Automation Solutions.
Sponsored Content
Leave a Comment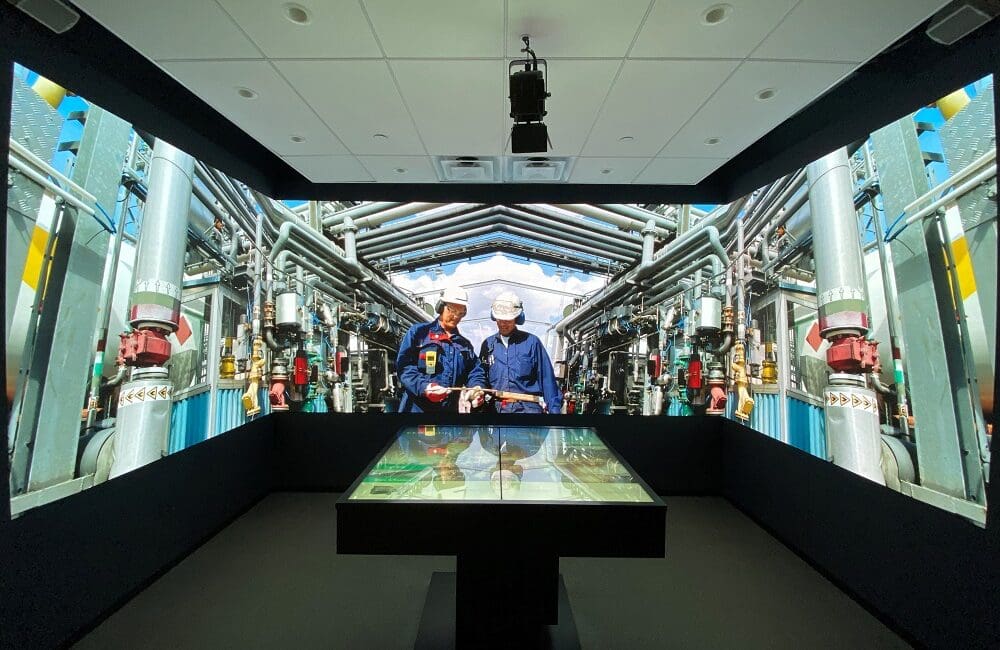 When Emerson Automation Solutions, a leader in technology, software and engineering, sought to enhance its Collaboration Solutions Center (CSC) in Houston, Texas, it opted for a partner with a sterling reputation for delivering outstanding technology outcomes. AVI Systems ranks as the largest global audiovisual services provider, boasting 25 locations in the U.S. and serving 50 countries and 164 cities globally, but the integrator's reputation isn't built on its size but, rather, on its skill. AVI Systems' team, which numbers nearly 800, creates custom audiovisual, UC and digital media solutions that improve how people work, communicate and collaborate.
Careful Vendor Selection
If you ask executive account manager Mark Warren, he'll tell you that kind of brand equity is a privilege but also a responsibility. For example, AVI Systems must select its vendor partners carefully. As Warren puts it, "A failure from one of our manufacturers is a failure on us. So, we try to pick the most reliable and most effective manufacturers out there." This story, which showcases a truly dazzling direct-view LED (DVLED) deployment at Emerson's CSC, is a perfect case in point for why Warren describes digital display leader SNA Displays as "…my go-to direct-view LED group."
He adds, "We know each other well, and the good relationship we brought to the table meant something for Emerson." As you'll see, AVI Systems and SNA Displays' organizational synergies yielded an outstanding result.
AVI Systems and Emerson's own relationship stretches back 25 years or more; in fact, Warren has personally helped to serve the engineering giant for about 15 years. Thus, he had an innate understanding of what Emerson wanted to achieve in updating its CSC, a high-tech, interactive, fully digital showplace for customers and other visitors.
The CSC offers a setting that clients can visit and explain the challenges they're experiencing — their "pain points," as Warren puts it — and learn how Emerson solutions can address them. Here, we'll focus on two spaces: the Immersive Theater and the Solutions Center. The spaces, formerly outfitted with rapidly aging, bezeled LCD videowalls and rear-screen projector monitors, respectively, are now transformed into contemporary environments.
Emerson and any of its prospective clients initially come together in a meeting room, where the company learns about customer pain points. "Emerson will then jot [them] down on a MultiTaction electronic videowall that can be accessed throughout the facility," Warren explains. With that intelligence able to be leveraged everywhere in the CSC, it informs the client experience in successive environments: the Immersive Theater and the Solutions Center.
The Immersive Theater
The Immersive Theater is arguably the most stunning space in the facility, featuring three adjacent videowalls, set at 90-degree angles, to create a highly immersive viewer experience. The front wall is roughly twice as wide as the adjacent walls are deep; taken together, they deliver an eye-popping pixel count of just under 20 million.
Utilizing SNA Displays' BRILLIANT Interior product series, AVI Systems delivered a total viewing area of 31'6" wide and 7'4" high. The tight 1.04mm pixel pitch ensures that visitors can't see any pixels. "It's just an incredible space, and, quite frankly, it's one of the prettiest walls I've seen," Warren enthuses. He adds that the Immersive Theater is where Emerson can discuss viable solution offerings that address the issues the customer is experiencing.
The space includes a fully interactive MultiTaction dual-monitor table, which runs MultiTaction software, Showcase and Canvus, which is distributed by Datapath processors. These tools help Emerson explain the company's solutions, illustrating how offerings are applicable to each individual pain point. Then, related information is displayed on the immersive wall. "Emerson has the ability to have their content evolve as the story does," Warren explains. He adds, "The dual 55-inch MultiTaction monitor table allows content to be manipulated from digital trigger buttons on the table."
Emerson is still dialing in the software to 100% effectiveness, so client visits have not yet reached peak frequency. During "off hours," the DVLED screens showcase a library of video content, as well as Emerson-related branding.
Their supporting infrastructure is sturdy as can be, with a custom rp Visual Solutions (rpV) mounting structure ensuring the videowalls' proper placement. Describing rpV as "top notch," Warren explains, "We worked closely with them, our engineering team and the SNA team to ensure that these mounting solutions are going to work 100%." The Immersive Theater also boasts a Cisco videoconferencing system, high-definition PTZ video cameras and custom fabric wall panels.
The Solutions Center
By the time the customer enters the Solutions Center, Emerson grasps their pain points and what offerings can alleviate them. As such, the Solutions Center represents the culminating step in the journey and provides a setting for final discussions. The space boasts a large, seamless videowall with a slight concave curve; each panel on the custom rpV curved mounting structure is faceted at about 3%.
As such, the display, which measures 26'3" wide and 7'4" high, follows the curvature of the wall. With a pixel count far exceeding 10 million and a tight pixel pitch of 1.25mm, the SNA Displays BRILLIANT Interior display offers ultra-high-resolution images that captivate and impress CSC visitors.
Asked about the design objectives, Warren says, "AVI was hired to bring the display technology up to date, while increasing the viewing area and the wow! factor." A key objective was facilitating the display of more than one source in a range of configurations.
"A VuWall processor allows multiple windows — sources — to be placed in preset configurations, as well as new configurations that can be added instantly," he continues. "The space can display multiple sources in multiple configurations that can be created on the fly with their VuWall processor."
Warren says this empowers the Emerson team to "answer questions with content." A Crestron control system helps facilitate videowall operation and management. Ancillary and content-related components include a dedicated owner PC, MultiTaction sources, Barco ClickShare and a Cisco videoconferencing system, as well as laptop and workstation inputs.
An Outstanding Partnership
This project, which the AVI Systems and SNA Displays teams completed last autumn, is a prime example of what integrators and vendors can achieve when they marry commitment to quality with organizational synergies.
"Everyone on SNA's team, as well as AVI's team, is willing to be held accountable," Warren declares. "It's a partnership with SNA. We, as partners, don't start pointing fingers." That conscientiousness suffused the entire project, which was characterized by thorough, ongoing communication between the SNA Displays project manager and the AVI Systems team. Warren particularly commends the PM for their "incredibly detailed daily updates." He also offers praise to the SNA Displays sales team, saying that, during the proposal phase, they did incredibly quick turnarounds with various options.
"It's all about relationships," Warren says in summary. "You don't want to go into a large project and have that be your only project with the client. You want that to be the springboard."
Although AVI Systems and Emerson already have a multi-decade relationship, the integrator approaches each project like it's working to earn the client's business all over again. And with a vendor partner like SNA Displays, AVI Systems has the tools — both technological and organizational — to impress over and over again.
"We always have a project underway with SNA Displays," Warren notes, adding that, sometimes, several are in play at once. "The product is top-notch," he concludes, "but the people and the partnership are what really make it."
If you enjoyed this article and want to receive more valuable industry content like this, click here to sign up for our digital newsletters!