GPO Display Takes a Wider View of the Market
With its PoE panoramic LCD displays, GPO Display revolutionizes the market by delivering a more elegant, simpler, more reliable solution across verticals and applications.
Sponsored Content
Leave a Comment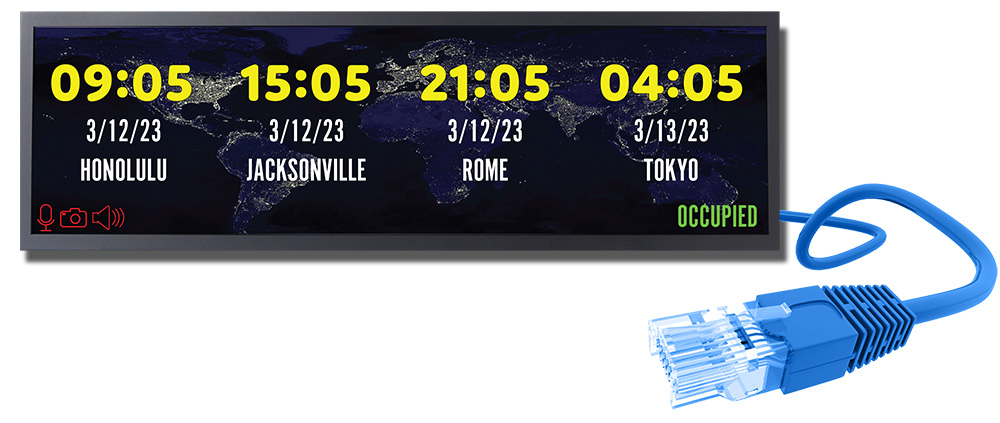 GPO Display, a true commercial display manufacturer that specializes in LCD and OLED, is uniquely well positioned to respond to market demands, owing to its history as an OEM. "We design and manufacture our own controller boards and have a lot of unique capabilities when it comes to customization and specialized features," Sean Driscoll, vice president of sales, says. "It's something that, I think, is a real luxury of working with a true manufacturer." That helps explain why GPO Display has seized the lead with respect to power-over-Ethernet (PoE) panoramic LCD displays, this month announcing a new commercial line that will suit military applications, education spaces, government clients, corporate facilities and many other key verticals. Here, we'll explore the features and benefits, as well as how they align with GPO Display's enviable brand identity.
GPO Display Means Reliable
Livermore, Calif.-based GPO Display specializes in delivering displays for clients that have very little fault tolerance. "We see a lot of our displays going into mission-critical, high-security environments," Driscoll explains. Notably, all the company's products are Trade Agreements Act (TAA) compliant, and most units are assembled in the U.S. Moreover, the company has mindfully eliminated display features that are unwanted in, and unnecessary to, secure environments (e.g., smart TV functions, network connectivity), thus reducing vulnerabilities in spaces where security is the principal concern. "The options for TAA-compliant, 24/7-rated displays that don't have those vulnerabilities are very few and far between," Driscoll states. Thus, it's no wonder that GPO Display's longstanding line of panoramic LCDs has found a welcome home in the military space.
The just-announced launch of GPO Display's PoE panoramic displays, reflecting the next evolution of its LCD product portfolio, emerges directly from the company's deep commitment to soliciting feedback from installers, designers and end users. "Every development in our product lineup over the past decade or so has been heavily informed by that [feedback]," Driscoll says. With regard to GPO Display's standard panoramic displays, which make use of an AC/DC adapter and require an AC outlet, the company learned that customers in the field were already using PoE injectors and splitters to power them. "We got to thinking, 'What if we could eliminate that one component — the splitter — and make this a lot more of a simple, elegant design?'" he muses. Leveraging its R&D and design capabilities to create products that directly respond to customer demand, GPO Display got to work! 
GPO Display Launches PoE Panoramic Displays
In building out its family of PoE panoramic displays, GPO Display chose to offer sizes ranging from 27 inches to 50 inches diagonal; within the mix are 1920×540 and 1920×360 variants. Driscoll mentions the displays' brightness of 600 to 700 nits, and he explains the reasoning behind the spec. "That's something we have seen as necessary to serve as a substitution for a lot of the LED signage that [is] used for room status, world clocks and directional signage," he says. Indeed, Driscoll observes the makings of a trend, with customers transitioning to LCD signs. "They can simply transmit a lot more information in the same amount of space," he declares.
Most notably, with the newly launched panoramic display series, all sizes can be powered through PoE++ (Type 4), and most can be powered through a 60-watt injector (Type 3). Importantly, the balance of the power available to the display can be used to power the user's input source device (e.g., a media player). "If you have a media player that's pushing content to the display, we can actually use the DC output from the display to power [it]," Driscoll enthuses, adding that a separate AC outlet or a second Ethernet cable are not necessary. He emphasizes the cleanness and the elegance of the PoE solution, saying that these PoE panoramic displays will add immense value in "…environments where you'd have to install an AC outlet or find another solution, such as a power distribution unit running DC power over long distances."
Use Cases and Vertical Markets
Driscoll underlines the difficulties that clients face when trying to install LCD signage that depends on AC power. He mentions, for example, room-status applications, which are problematic "…due to the lack of AC outlets above and alongside doorways." PoE panoramic displays, which are liberated from the need for AC power, will also resonate in a range of other applications. These include integration with consoles and furniture in operations centers, in city council chambers, in display cases, in retail and museum settings, in customer experience centers and more. "It is potentially a much more stable, reliable source of power," Driscoll adds, saying that, far too often, power outages affect displays and result in downtime. Meanwhile, PoE can come from a centralized power source, such as a PoE switch, which can be backed up with an uninterruptible power supply (UPS).
As noted, GPO Display has a sterling reputation in mission-critical markets, so it's unsurprising that military clients not only snapped up its longstanding line of panoramic displays but also are likely prime customers for its new PoE panoramic displays. But Driscoll and the team are anything but myopic when it comes to the opportunity ahead. "We're seeing some strong interest in K-12," he notes, picking just one ripe vertical market. GPO Display's panoramic displays can easily transition from room scheduler and general-purpose digital signage to a mass-notification system in the event of an emergency. "[It] would immediately transmit important information in a way that is going to reach every staff member or student," he declares. Indeed, Driscoll sees nothing but opportunity as the PoE panoramic displays get ready for rollout. "We see a lot of potential beyond the early adopters in the military," he says with a smile.
Taking Orders
GPO Display is starting to take orders on its PoE panoramic displays this month. With an initial 10- to 12-week lead time, the company plans to begin delivery toward the end of 2023 and into the early part of 2024.
For more information about GPO Display and its PoE panoramic displays, go to GPODisplay.com/products/specialty-displays/poe-displays.
If you enjoyed this article and want to receive more valuable industry content like this, click here to sign up for our digital newsletters!