Tips and Trends for AV Integrators Working on Museum Projects 
As museums continue to embrace creativity, it's essential for integrators to innovate and have a wide array of AV solutions available.
Leave a Comment
Museum clients are embracing creativity to help drive in-person visits and online engagement amid ongoing pandemic woes. Of course, every museum must have excellent audiovisual content presentation, but, these days, visitors are expecting even more. They want to see truly innovative technology, such as giant direct-view LED videowalls, immersive/interactive displays, wayfinding kiosks and much more. Visitors want to be excited about the museum experience. 
"[Being able] to enjoy and connect with an exhibition in some way has infinite value," says Matt Wilson, director of marketing at Edison, N.J.-based integration firm McCann Systems, which does projects nationwide. "The right technology is a needed vehicle to facilitate this interaction." 
Demand for

Digitized

Content

 
Although we'll turn in a moment to the wow!-worthy in-person experiences just alluded to, it's important to remember that, for much of the pandemic, most in-person trips to museums were halted. Thus, Peter Siegel, co-owner of New York City-based Digital Transitions Heritage (DT Heritage), a provider of digitization hardware, software and services, noticed an increase in demand from museums and galleries to move heritage materials online. 
"Access to heritage materials through scanning makes entire collections more accessible, and then it is possible to share these collections through virtual exhibits and online catalogs," Siegel says. "Making more collections accessible to the world has been the biggest push for museums, libraries, galleries and archives." He continues, "Scanning hardware speed has increased dramatically, without sacrificing image quality. And now, we are able to leverage the power of artificial intelligence and machine learning to help quickly create metadata. Today, we are at a very exciting point in time where more of our collective heritage can be made available to the world with significantly less effort and associated costs." That's powerful not only as COVID-19 continues to reign but also for the long term. 
Pro Tip: "Understanding the goals of the institution and the materials they are looking to scan now and in the future is essential," Siegel opines, adding that "imaging technologies need to address the demands of today and the future." 
Another important factor is to be cognizant of end users' skill levels and ensure that they get the most out of the equipment they have. "This is of paramount importance," Siegel says. "We have helped many museums and galleries optimize their workflow and integrate our technologies into existing storage and delivery systems." 
Flexible Spaces

 

 
Expert integrators like McCann Systems can turn exhibits into hybrid digital experiences and flexible gallery spaces. "A hybrid, universally designed museum can offer an equitable experience [for those] visiting from home over the web," Wilson says. What's more, if galleries are integrated with flexibility in mind, it allows for multiple and interchangeable exhibits. As Wilson says, "da Vinci one day and dinosaurs the next day, without replacing the tech." 
Let's return to the striking visual elements discussed at the start—for example, large, custom videowalls. They're on the rise throughout museums and galleries. Consider a unique installation that Aurora, Ill.-based Peerless-AV helped to design: a direct-view LED videowall at the First Americans Museum of Oklahoma.
Related: Ford AV, Peerless-AV Collaborate on 4,200 lbs Curved dvLED Video Wall System
"The museum was looking for a videowall installation on a curved wall in the center of the museum," Rob Meiner, technical sales engineer at Peerless-AV, says. "While, in the past, the installation may have consisted of a floor-standing or ceiling-hung mount to combat the wall's curve, a team of experienced individuals were able to push the boundaries and bring the installation to life with a custom-fabricated mounting system able to accommodate the curvature of the wall and support the total wall weight of 4,200lb." 
Pro Tip: "Any installation — no matter the size — takes a great deal of planning," Meiner adds. "However, installations have become more complex over the past few years, as museums look to push boundaries in terms of creativity. Museums need to work with experienced systems integrators to get the proper mounting solutions, screen calibration and alignment, testing out [of] content, as well as maintenance." 
Meiner also recommends integrators plan far in advance for all clients. "Videowalls are incredibly versatile, so it's important to have multiple solutions up your sleeve," he advises. "Don't be afraid to think outside the box to create a solution that best fits your client's needs. Videowalls don't need to be flat and rectangular; they can be any size, although it depends on the budget." 
Custom Apps for Self-Guiding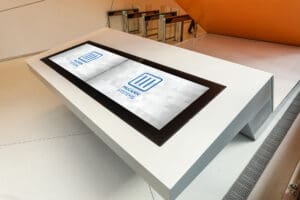 Jason Shuck, senior account manager at Ford AV, recommends improving the museum experience by creating custom apps that allow visitors to self-guide through exhibit spaces. "As an integrator, we don't create the software or the museum content," he acknowledges, "but we work with the museum and content-design teams early in the project to ensure that adequate bandwidth and wireless coverage is in place to accommodate this function." 
Due to the custom nature of museum projects, "[they] tend to be long and often require multiple changes during the project," Shuck observes. "Project fatigue can set in and delay the project further." Thus, it's important to guard against that and keep things moving forward for the client. That's especially important because, as McCann's Wilson mentions, certain public spaces will likely be closed or allow only limited access while exhibitions are being built.
Shuck concludes, "Throughout the pandemic, we saw lower visitation rates to museums overall. We hope that, in creating these unique, new installations, these pieces will create excitement [for guests] to return to museums and become talking points for visitors when [they relate] the experience to others." 
If you enjoyed this article and want to receive more valuable industry content like this, click here to sign up for our digital newsletters!