Large-Format Displays Present a Lucrative Opportunity
CI evaluates how integrators can leverage DVLED, tiled LCD and projection not only to deliver dazzling experiences but also to achieve real profits and sustainable growth.
Leave a Comment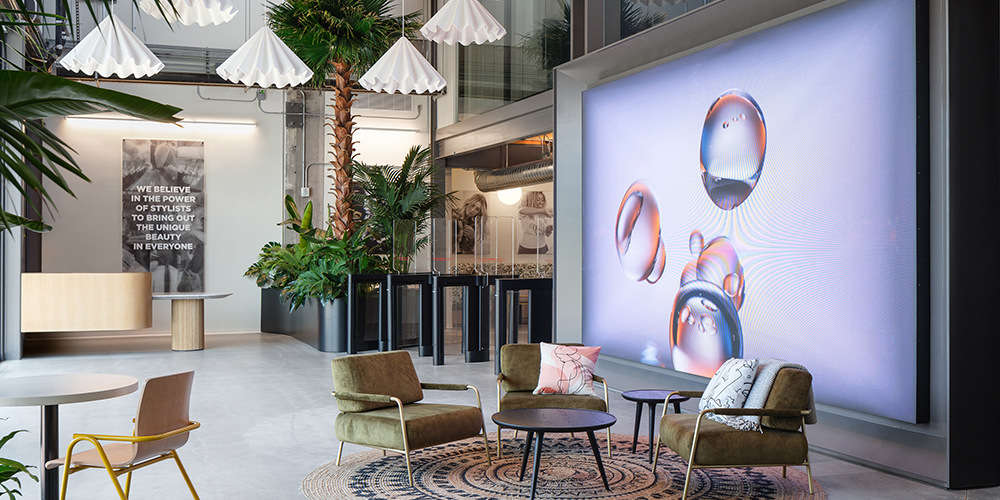 Photos & Slideshow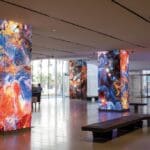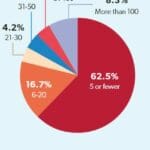 ---
Editor's Note: This post, focusing on large-format displays and their applications, originally appeared on April 3, 2023. We updated it on April 19, 2023, to include additional information.
During the COVID-19 pandemic era, digital displays that shared health, hygiene and safety-related messaging became ubiquitous. This is quite similar to how airports use information displays to share gate information, worship centers leverage them to share upcoming activities and education campuses deploy them to publicize important events. This month, however, Commercial Integrator sets its sights on a more dazzling category: large-format displays. That term could refer to glitzy DVLED displays in high-end retail, huge-scale projection mapping to showcase artists' work or eye-popping tiled-LCD videowalls that decorate walls in corporate lobbies. Which technologies are becoming dominant? Which vertical markets present the ripest opportunity? Ought integrators to jump into the content game? In the pages that follow, our subject-matter experts tackle all those questions. 
Speaking of our SMEs, CI sought to gather some of the category's brightest minds to provide insights here. Specifically, we've called upon the expertise of Trevor Flynn, technical account manager, Level 3 Audio Visual (L3AV); Mark Coxon CTS-D, CTS-I, business development director, XTG, AVI-SPL; Dalton Parker, chief technology officer, TVS Pro; Scott Smith, business development manager, Stage Front; Jeff Vinklarek, senior vice president, i.e. Smart Systems; Keith Yandell, AV practice director, AVI Systems; and Eran Sharon, creative technology director/associate, Gensler. As you will see, each brings their own emphases and accents to their analysis. 
Videowalls Remain Robust
Our respondents are essentially unanimous that 2022 was a strong year for videowall integration, which, they say, evinced robust growth across markets. "We continue to see solid growth year over year in [the videowall] product category," Smith says. "Some of the growth can be attributed to the technology expanding beyond traditional applications, such a building lobby or other high-traffic areas, to spaces intended for presentation and communication like boardrooms and lecture halls." Yandell attests that AVI Systems completed more than 150 videowall projects in 2022. "Our videowall business more than doubled from the previous year," he enthuses. "This is due in part to DVLED price reductions, but manufacturers have also simplified the process through all-in-one/kitted solutions." 
Coxon chimes in that AVI-SPL also saw a positive year-over-year trend as regards videowalls. "We saw an increase in the number of customers looking to capture attention and tell compelling stories through large-format video experiences," he explains. That language gets to the heart of this Deep Dive, whose focus is not on prosaic signage but, rather, dazzling images. Meanwhile, we've already alluded to DVLED price reductions, and Flynn underlines that point as being equally critical to videowalls' broadening deployment. "[The uptick] is especially true for DVLED installations," he explains, "where the technology is advancing enough to allow our core vertical markets access to direct-view technology at a much lower price point than years past." 
Related: LG Helps AVI-SPL Outfit its Lobby with 'Wow-Worthy' Displays
Parker, who notes that TVS Pro last year achieved a three- to four-times revenue increase from videowalls, credits much of that with the integrator's work counseling clients. All too often, he says, "…the buying agent is somewhat constrained to project budgets, but the integrator wants the sale, so they [just] design within the project constraints." He articulates an alternative approach, saying, "It takes having conversations with shareholders to truly explain why the budgets need to be increased to get a more worthwhile return on investment." Those conversations, Parker says, often evolve into discussions of DVLED and its benefits.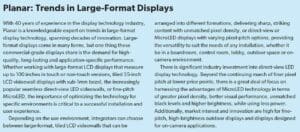 DVLED Ascending Among Large-Format Displays
Clearly, our SMEs see DVLED technology as having the power to push the envelope of end users' video experiences. But what about the technology makes its value proposition so compelling? According to Sharon, "The last few years have brought tremendous technological and manufacturing improvement, which has quickly moved the market share of this technology." In particular, he points to the lack of bezels, sizing and aspect-ratio flexibility, longer service life and lower sensitivity to ambient light. Because of these differentiators, Sharon adds, DVLED is "…quickly moving into the mainstream." 
Vinklarek zeroes in on the basic functionality that corporate settings require. He says, "In large boardrooms, large conferencing spaces and lobbies, most clients will want to walk in front of the displays and possibly even touch them. Historically, projection systems required large spaces behind the displays for rear projection to accommodate this type of design." DVLED, by contrast, Vinklarek continues, can do this without needing significant depth. Adding further texture, Flynn says that, increasingly, manufacturers are releasing 119-inch and 135-inch DVLED videowall "bundles" that perfectly suit boardrooms and conference rooms. "And the 'preconfigured' price point," he observes, "while higher than an LCD equivalent, is not out-of-this-world expensive." 
Coxon is especially bullish on DVLED in the 1.2mm, 1.5mm and 1.9mm ranges. He opines, "DVLED is gaining market share, as 1mm- to 2mm-pixel-pitch products decrease in price, due to brightness and contrast advantages over projection, as well as the lack of visible bezel structure as compared to LCD videowalls." Coxon describes these solutions as "…very viable in applications where high pixel density and brightness are needed [for images] above 165 inches diagonal." Parker hammers home the point, stating, "DVLED displays are brighter, the contrast is better, they have incredible viewing angles and near-infinite scalability. [When you] add to that an average run time of over 100,000 hours, why wouldn't you invest in that technology?"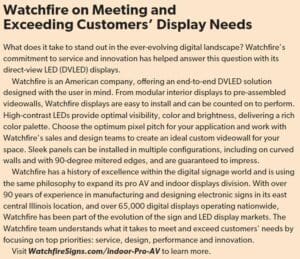 Assessing the Alternatives
Coxon readily concedes that LCD videowalls still play a key role in environments that demand high pixel density (e.g., data and control rooms) — particularly because sub-1mm-pixel-pitch DVLED continues to command a premium price. But Flynn doesn't pull any punches as regards what he perceives as tiled LCD's general trajectory. "Tiled LCDs are declining rapidly," he asserts, adding that many L3AV installations only use tiled-LCD technology that can be installed as "zero-bezel" solutions. Flynn continues, "Clients come to us with large-display requests and, often, we hear statements like, 'We don't want any lines on the screen, though. Can you do a screen without the lines on it?'" Increasingly, clients perceive image seamlessness as a key measure of a quality visual experience. 
Projection, too, faces challenges from DVLED's deepening market penetration. But the increased competition helps clarify where projection really shines (no pun intended). One example of that is the live-production sphere. Smith, who mentions that Stage Front has a separate live-production division, explains, "Projection mapping and blending is fairly common in that vertical. We see those applications even more frequently on that side of the house, as projection is easier to deploy in different environments." Sharon doubles down on projection's benefits, calling the technology "a great tool" and noting that 10% to 20% of Gensler's recent projects have included large-format projection or projection mapping. Projection, he says, is "…a cost-effective way to immerse audiences in large-format visuals, especially when non-conventional surfaces and/or materials are involved — let alone object mapping." 
AVI Systems is leaning into projection's potential to deliver "experiential" applications. Indeed, last year alone, the integrator completed more than 40 such projection-based projects, marking a 50% year-over-year increase from pandemic-era lows. "We're seeing increased interest in creative mapping solutions as a mechanism to improve customer and employee draw," Yandell remarks. But Parker articulates the other side of the argument, saying that TVS Pro's projection business decreased last year — specifically for projection mapping. "Spaces that would have been designed for projection are fighting bright-ambient-light environments that make [an LCD or direct-view LED] solution more affordable and impactful," he opines.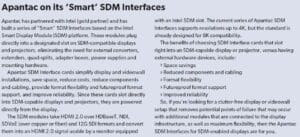 Emerging Technologies
in Large-Format Displays
Next, we'll turn to emerging technologies whose benefits and limitations might shape the large-format display landscape. In particular, we'll focus on OLED and microLED. According to Smith, "Although they have distinct advantages, the cost of [these] technologies is at its peak. Whether the delta is in line with the client's needs and expectations will again be specific to the project." Looking at today's market, he says demand is still in its early stages. However, Smith adds, "It's certainly a sub-category to watch moving forward." 
Technology solutions providers' collective focus on the experience might pave the way for increased adoption of these emerging technologies. Sharon is particularly bullish about OLED, which he describes as "…a fantastic technology, which offers form-factor flexibility and excellent color/image quality." He adds, "In fact, we are developing transparent OLED solutions — both physical and content — to seamlessly expand the digital canvas into the built environment, supporting some of the new demands of hybrid experience." Thus, Sharon predicts OLED will gain momentum, particularly as larger formats and bezel-free, tile-able OLED products come to market.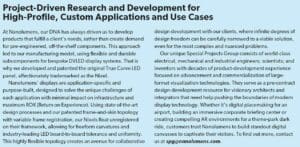 Flynn presents the counterargument, saying, "I love seeing transparent OLED technology, but I don't know what to do with it besides put it in front of a white box with a product inside." He commends OLED for its flexibility and concedes that the technology can produce impressive results; however, he explains that OLED suffers from potential burn-in issues reminiscent of the plasma era. Saying that OLED simply doesn't have the level of commercial buy in to make it a forefront technology for L3AV, Flynn concludes, "Essentially, our customers are putting OLED displays into their living rooms — not into their conference rooms." 
Download: Elevate Your Clients' Digital Signs With Streaming Art
AVI-SPL's Coxon chimes in to describe the virtues of microLED products, which, he says, "…look beautiful and offer some contrast advantages, based on their smaller package size, that also allows them to be packed closer together, reducing pixel pitch and increasing pixel density." Although Coxon readily concedes that microLED's relative cost is still rather high, he says that, for the right applications, the technology is viable. Flynn echoes many of those points, comparing microLED favorably to OLED. He remarks that it suffers no burn-in issues and doesn't require a pane of glass between the viewer and the display technology. "We have installed a few instances of 'The Wall' this past year with great success," Flynn says. "That being said, it's a technology that's still solidly priced in the 'elite' category." 
Forecasting the Year Ahead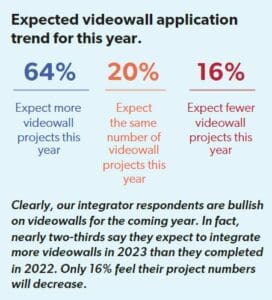 Now that we've situated ourselves by exploring different large-format display technologies and approaches, we'll explore our experts' forecasts for the coming 12 months relative to revenue and project quantity. Vinklarek points to videowalls' ever-increasing popularity and proudly states, "We have over 20 designed for 2023 already." He underscores the trendline moving heavily in DVLED's direction, adding, "We will certainly beat our sales from last year." Meanwhile, Parker paints a more equivocal picture, acknowledging that his company's successes in 2022 will be hard to beat. Explaining further, he says, "We had many years-long projects that finally came together for our 2022 that we just don't have going into this year. We've spent years educating customers on direct-view LED [and have] only recently had those opportunities take off. The added revenue per opportunity is great, but it means we need more projects with higher budgets, which can be harder to find." 
Sharon points to the pandemic receding from our lives and the resulting societal transformation, which manifests in everything from employees returning to offices to consumers flocking back to retail, cultural and experiential spaces. "Brands and corporations [that] recognize the importance of digital visual communications and the role it plays in their own growth will want to differentiate and invest in these experiences," he observes. That naturally entails investing in the technologies that enable them. 
Thus, it should probably be unsurprising that the largest integration firms, such as AVI-SPL and AVI Systems, have rosy forecasts for the year. Coxon expresses optimism about the entirety of the video category, but specifically cites strength in "…large-format video, venue-wide digital canvases, immersive projection, and virtual production and XR applications." And Yandell attests to 20% estimated growth specifically in experiential applications and, separating out large-format displays, 30% or greater estimated growth. This, he says, is "…due, in large part, to demand [for] 21:9 displays." 
Flynn makes the salient point that project timelines for large-format display systems are typically longer than those for standard displays or conference-room systems; as a result, year-to-year forecasting can be imprecise. However, he adds, "I am very optimistic regarding revenue directly tied to large-format displays. We're seeing a lot of current opportunities looking toward these larger display systems in our pipeline." Flynn makes special note of manufacturers increasingly standing behind their product, thus empowering integrators to spec and integrate them with greater confidence. He specifically cites enticing — sometimes "lifetime" — device warranties. 
Assessing Vertical Markets
for Large-Format Displays
The term "large-format displays" might naturally call to mind those stadium and attraction applications that I began this story by citing. But how do our experts describe where these displays are going? Sharon sets the tone by citing strategic investments in large-format displays "…across markets that benefit from digital visual storytelling, placemaking through the use of technology, or simply capturing audience/end users' attention — and hearts." But it's striking that several of our interviewees immediately cite corporate as their leading vertical. For example, Vinklarek points to corporate spaces and headquarters as comprising the majority of i.e. Smart Systems' work. "Typically, we provide solutions and standards for a corporation and then deploy them throughout the United States," he reports. 
Flynn expands on that point, calling corporate "by far" L3AV's largest market for DVLED technologies. "Many of our corporate clients are attempting to draw their workforce back into the office, [but] finding their technology is less impressive and immersive than what a worker has been using at home for the past three years," he explains. Clients' efforts to remedy that present real opportunity for integration businesses. "Many large-format display deployments are purposefully right out in the open — in lobbies and other high-traffic areas — to evoke an 'experience' with its intended audience," Flynn adds. That "audience" is not only prospective recruits but also partners and stakeholders up and down the line. 
Smith concurs with large-format displays' relevance in the corporate vertical, but he hastens to add operations centers and performing-arts centers to the conversation. "Typically, all three of these verticals refresh their technology within certain time frames," he relates. "It's common in these refreshes to see an upgrade to previously unavailable technology, such as DVLED." But that's not to say Smith doesn't have an eye on emerging opportunities and applications. "With the versatility of DVLED and costs trending downward, we also see specialized verticals, such as immersive simulation, outdoor installations and art-wall displays, trending upward," he offers. 
Applications of Tomorrow
Continuing to consider the large-format display applications of tomorrow, Coxon lays out a vision of an exciting, technology-infused future. "I think we'll see more experiential retail environments, virtualization of spaces for sales purposes — think of an immersive environment that creates a digital twin of properties for sale, but not yet built — digital storytelling, R&D and enhanced remote communications," he describes. Among the growth verticals he is eying are real estate, finance and healthcare. Vinklarek is quick to concur as regards deployments in the healthcare vertical. "[Large-format displays] will become more popular in [medical] lobbies," he explains. "But, with the increased resolution, we anticipate that these will move to larger gathering spaces in hospital auditoriums, as well." 
Flynn puts forth another particularly ripe opportunity — namely, higher education. "I…could see a large uptick in large-format displays over the next three or four years," he predicts. "Enrollment has seen declines around the country, and institutions could see large-format displays in a similar light to our corporate clients." In short, decision-makers could determine that this technology provides an experience that can't be duplicated remotely. "Many universities have been deploying their same classroom standard for over a decade," Flynn laments. Those education institutions are now "…realizing that [they] may need a deeper level of investment into technology to set them apart from the next place down the road." 
The Content Conversation
"Content is infinitely important," Coxon says with conviction. "I often advise clients to budget as much — if not more — for content as they do for technology." The question is this: What role should integrators play in that sphere? Commercial Integrator, along with likeminded associations like NSCA, often propound the message that integrators must move more toward a service-based approach, rather than a hardware-centered approach. Does that then mean integrators ought to dive into content creation and management for their large-format displays? We ask our SMEs directly. 
Echoing Coxon, Parker eloquently describes the centrality of content. He says, "A truly great signage experience has both [content and environment] in mind. The content matches the physical environment, and the environment complements the content on display." Only when these elements align with and amplify each other, he declares, can a truly memorable and impactful experience emerge. 
Related: Sony Offers BRAVIA Professional Display White Glove Service
Gensler's Sharon extends open arms to integrators who want a place in the content conversation. He says, "As experience designers and content creators, we embrace collaboration with manufacturing and integration partners and believe it's important for them to become familiar with content creation, production and management pipelines." When integrators are intimately familiar with what their systems ultimately deliver, Sharon continues, it "…helps all of us to design and implement better, longer-lasting, more effective and more resilient solutions." This resonates with Vinklarek, who implores integrators not to allow large-format displays to "become the billboards of the future" — that is to say, largely ignored visual background noise. "In order for us to keep our clients happy, we will need to invest in content creation or partner with the various creative content creators out there," he asserts. 
Most of our experts fall on the side of partnership, rather than building out new core competencies in content. "Content creation is a very specific skill," Smith observes. "We've partnered with some of the best in the business on some very large-scale projects." By working in tandem with those partners, he adds, Stage Front has delivered outstanding results. Flynn, meanwhile, brings up client marketing teams, some of whom take the lead on content development and updating. "The clients who are deploying large-format displays for Level 3 largely also employ their own marketing teams that handle content generation," he attests. "Clients across all vertical markets are grabbing hold of their brand and marketing in new ways." This creates an opportunity for deeper client relationships, Flynn adds, because it empowers integrators to focus on the delivery mechanism while, at the same time, collaborating with the client on the best content-delivery strategy. 
Identifying the Bottlenecks
for Large-Format Displays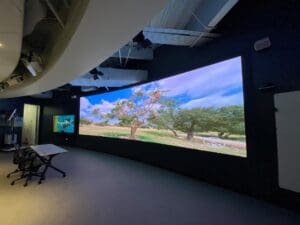 It's evident that our experts are optimistic about large-format displays' prospects in the coming months and years. But that doesn't mind they've blinded themselves to lingering challenges and potential bottlenecks. "The biggest thing holding back the large-format display market is in its fragility," Flynn opines, citing DVLED technology in particular. "Many of our manufacturers are building in significant spare panels to accompany their tight-pixel-pitch videowalls due to their tendency to drop pixels and require replacement," he adds. Flynn underlines another complicating factor: Many manufacturers require those replacements to be built from the same manufacturing batch as the original, thus maintaining the same general color and brightness characteristics. 
Other concerns center on content. According to Vinklarek, "The costs of the displays have dropped dramatically, but content has grown to be quite expensive. We did a corporate headquarters in 2016 that had $3 million in signage displays and $5 million in content creation." This means that, even as hardware costs come down, the barrier to entry can remain somewhat high for clients who want to create truly impactful display experiences. Talented content creators have the opportunity to do fantastically well leveraging their skills for those clients. As Parker observes, "Video gaming and esports have taken the market by fire, and there are hundreds of careers surrounding content creation in their market." He adds, "Digital signage has so much potential to incorporate [this]," although he acknowledges relatively few are doing so. 
Meanwhile, Coxon points to supply-chain improvements — in particular, fewer ships waiting to dock — as propitious for large-format display applications. Video extension might be a bottleneck in some cases, he suggests. "But," Coxon continues, "DVLED utilizes controllers and receiving cards that eliminate the need for extensive HDMI extension, if the source devices and the controllers are co-located." His biggest concern, therefore, centers on exogeneous factors like the broader economy, layoffs at tech companies and murkiness about the future of the office. "However," Coxon says with optimism, "place-based experiences are still increasing, so the verticals may just shift for a short time." 
In Conclusion
Leading integration businesses are leaning into DVLED's continued ascent and corporate clients' desire to attract people back to the office with dazzling images, as well as our society's collective hunger for the immersive, technology-fueled experiences we missed for two-plus years. Even with some economists forecasting a possible recession, most of our experts view the next 12 months as an opportunity to generate strong profits by integrating videowalls, projection-mapping installations and other large-format displays across commercial verticals. 
One thing that attracts Parker to the category is its resilience against commoditization. "I have a deep passion for DVLED," he enthuses. "You can't buy it online; you don't see it sold in stores and warehouses; and you can't install it yourself." In short, only those who are properly certified have access to the product and, thus, only they can design, install and maintain it. "So many aspects of AV have been edging on 'commodity' status," he laments. "But DVLED solutions require so much more than just 'plug and play.'" In that way, large-format displays represent the ideal category for integrators not merely to be resellers but, rather, to focus on selling knowledge, consultation, expertise and value. 
Selling expertise carries additional responsibility, however; that's especially true when, as with large-format displays, the price tag is high. All parties — client, integrator, consultant, etc. — must be aligned on the vision and understand how to measure ROI. Coxon makes the point, saying, "Any purchase of a large-format display that doesn't start with intent and content at the beginning is bound to be a waste of money long term." He closes with a powerful warning: "No one wants a screen; they buy a business result." 
Download a digital copy of the 2023 Large-Format Display Report here.
If you enjoyed this article and want to receive more valuable industry content like this, click here to sign up for our digital newsletters!