LG launches 25 New Pre-Configured DVLED Displays
LG is releasing 25 new DVLED display models that will make it easier for integrators to order, deliver, install and calibrate displays.
Leave a Comment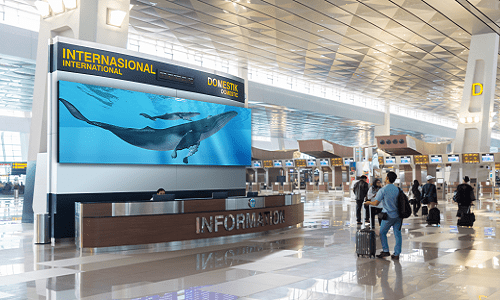 LG is building on its rollout of 10 new direct-view light-emitting diode (DVLED) display series from 2020 with 25 new display models that will make it easier for integrators to order, deliver, install and calibrate displays as their commercial customers return to form post-COVID.
According to LG, the 25 new display models are available now in 16:9 and 32:9 Ultra Stretch formats and are designed to simplify the entire process, from ordering to installing.
This not only streamlines the deployment of some of the most advanced digital displays on the market, but also will help you meet your customers' demands for this technology as they welcome people back into their stores, stadiums, boardrooms, lobbies and more.
According to Dan Smith, vice president of business development for LG Business Solutions USA, the company saw an opportunity to "demystify" selecting and buying of DVLED displays for different use cases, including board rooms, lobbies, digital signage, stadiums, houses of worship and wherever a company needs to communicate visually.
The company studied demand for the DVLED displays and created the pre-configured displays to address common use cases.
"And we've brought all of LG's DVLED technology to bear, from ultrathin panels to stretch configurations, in order to deliver simple display solutions to the broadest cross-section of commercial applications," Smith said.
Read Next: LG Introduces New Line of Outdoor LED Digital Signage
The displays come fully configured and with all display components, like accessories, spare parts and modules and a 4K LG DVLED controller, all delivered in wheeled flight cases for easy transportation.
According to LG, the controller "features a quad-core SoC, built-in media player, LG's unique remote control, 3.6GB of flash storage and an AV-over-IP decoder for displaying multiple streams. Users can adjust the resolution up or down in various areas of the finished display. And, the displays support screen sharing via Miracast and WiDi wireless display connectivity.
The new displays come in a variety of sizes and resolutions, including:
2K Full HD Displays (81 to 217 inches diagonal)
Dual 2K Ultra Stretch Displays (147 to 393 total inches)
4K Ultra HD Displays (163 to 325 inches)
Dual 4K Ultra Stretch Displays (294 to 598 total inches)
8K Ultra HD Displays (325 inches only)
Outdoor 16:9 Displays (230 to 578 inches, up to 5,000 nits)
Scoreboards (230 to 445 inches, 1,000 to 5,000 nits)
Each comes with the company's support services free of cost for a limited time, including a five-year LG ExtendedCare limited warranty, three years LG ConnectedCare Remote Monitoring, three years of on-site LG TotalCare Health Checks and exclusive in-field training hosted by an LG field engineer.
The company also continues its pledge to support integrators with custom DVLED displays for specialized requirements.