LG Releases Platform-Agnostic Interactive Displays For Classrooms
The LG TR3DJ displays are available in 65-, 75- and 86-inch models and can be used with virtually any software for hybrid learning
Leave a Comment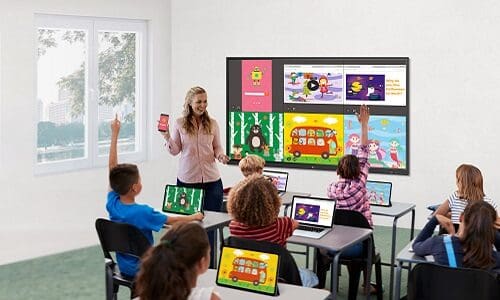 LG has released a new line of affordable interactive displays designed for educational settings that can work with a variety of education software, cloud drive or conference platforms to support hybrid learning models.
The line is the LG TR3DJ series, and displays are available in 65-, 75- and 86-inch models and feature IPS display panels for wide viewing angles, making it useful in classrooms still practicing social distancing, the company announced in a press release. 
The displays also feature 4K and Ultra HD resolution, a 20-point multi-touch surface and two stylus pens in differing colors and tip sizes that can be used simultaneously.
The new displays run on the embedded Android 8.0 OS and are compatible with other major operating systems. They also come equipped with a built-in web browser and an Open Pluggable Specification (OPS) slot for adding a computer module, making them able to support "virtually any application, content management system, learning platform or online conferencing solution" that schools used to engage students wherever they are.
They TR3DJ displays are also enabled with Wi-Fi for out-of-the-box connectivity, allowing for enhanced collaboration when students and educators join the same network. Using built-in software, educators can show up to six screens at once, including from mobile devices that support wireless mirroring.
Other features include polling, interactive Q&As and messaging for up to 30 connected students, and virtually all file types can be annotated from an on-screen toolbar.
Read Next: LG Renews Sponsorship of UGC EDU Battle Academy Collegiate Esports Tournament
For audio, the displays include two built-in 10-watt speakers with embedded Bluetooth so users can connect wireless peripherals like headphones, speakers, keyboards and mice. Other connections include three HDMI ports, one RS-232C port, audio in/out, RJ-45 LAN ports and six USB 2.0/3.0 ports. For security, the displays include USB Block Mode to prevent copying data to unauthorized devices.
Victoria Sanville, education account lead at LG Business Solutions USA, said in a statement that many schools are undergoing a technology refresh as schools plan their full reopening without trying IT departments to a single platform.
"These new solutions work with virtually any software they choose, making them ideal replacements for the latest-generation technology. Teachers can display, annotate and share content from a wide variety of sources, while technology managers will appreciate the devices' plug-and-play ease of deployment," Sanville said.
"With these new models, LG now has a full family of classroom products that support a wide variety of pedagogies while remaining budget-friendly for schools trying to do the most for students in challenging times," Sanville continued. "The interactivity offered by the TR3DJ series is especially important now as students get back to normal and rediscover learning alongside their peers."
With the release of the new displays, LG also launched a new program to support wellness in schools across the U.S., called the Life's Good: Experience Happiness program. It aims to give students skills to better cope with stress and anxiety, build resilience and support a life-long happiness mindset.