Melbourne Airport Travelers Can't Help But Be Exposed to LED Display Video Wall
Running 85 meters around the Melbourne Airport Terminal 2 International Baggage Reclaim Hall are 2.5mm pixel pitch SiliconCore LED display panels.
Leave a Comment

They say the market for LED display video walls is growing exponentially. Travelers walking through Melbourne Airport will believe that after being exposed to the 85-meter .5mm pixel pitch SiliconCore LED display panels that wrap around the Terminal 2 International Baggage Reclaim Hall.
SiliconCore calls the impressive project "an 85-meter statement LED for digital art" and you can't argue with that.
The 84-meter video wall was provided by EngieAV via John Holland Group for MelAir, according to a SiliconCore press release. The "Carousel" project consists of over 85 meters of 2.5mm pixel pitch SiliconCore LED panels, which run continuously around the airport's Terminal 2 baggage carousel.
EngieAV also worked closely with Architects, Grimshaw.

Why Melbourne Airport Wanted the LED Display Video Wall:
"The new carousel is a necessary piece of infrastructure, which will enable the airport to process more international travellers, especially during the peak morning and evening periods," says Simon Gandy, Melbourne Airport chief of aviation.
"The reality is we are growing at a rapid rate, handling on average 96,000 travellers each day and we need to upgrade our assets across all areas of the airport in order to meet the demands of our passengers."
Part of the strategy is for the LED ribbon to be a platform for immersive art installations – an opportunity to offer passengers a positive and engaging experience, as well as provide a sense of depth to the space, according to the press release.
"It was very pleasing to be involved in such a professional project process from design, construction and installation through to a smooth go-live," says Glenn Bailey, VP APAC, SiliconCore Technology.
"With the project based on providing an engaging digital art platform, it was the perfect installation for utilizing our latest Z.A.C.H technology with HDR for improved grey scale and vivid imagery throughout the airport display.
"The higher processing clock speeds of the Z.A.C.H driver technology also permit much improved video performance for the digital art."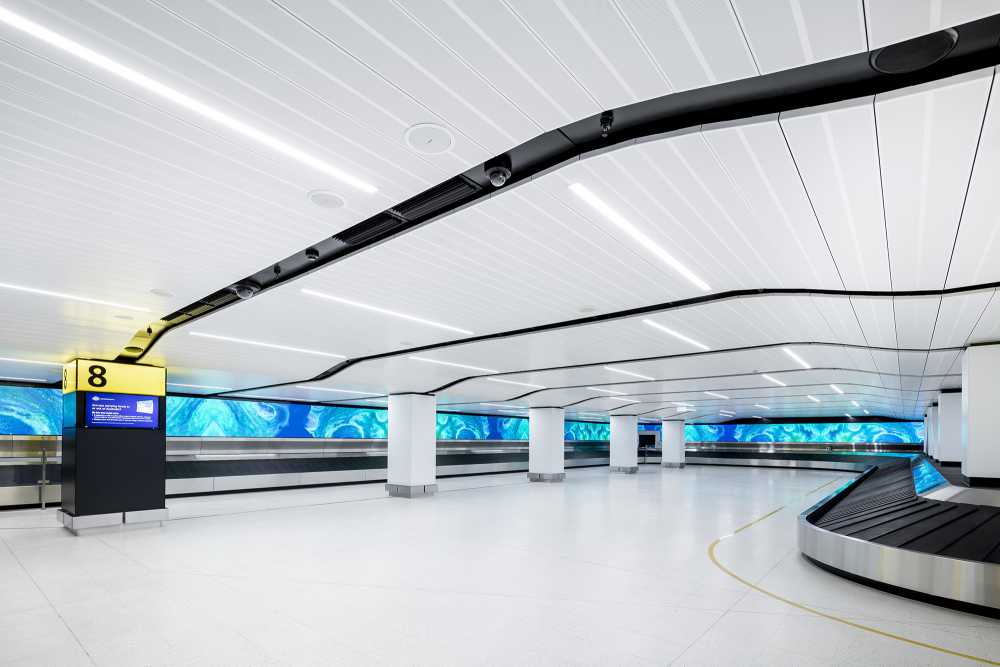 More on the SiliconCore LED Panels Solution:
The SiliconCore 2.5mm airport display offers a complete canvas of 33600 x 405 pixels at an impressive brightness of 1700 nits, and 160 degree vertical and horizontal viewing angles, according to the press release.
It adds that the airport display features SiliconCore's patented Common Cathode technology, which enables high resolution, color and brightness uniformity, as well as low power consumption of up to 40 percent less than other displays.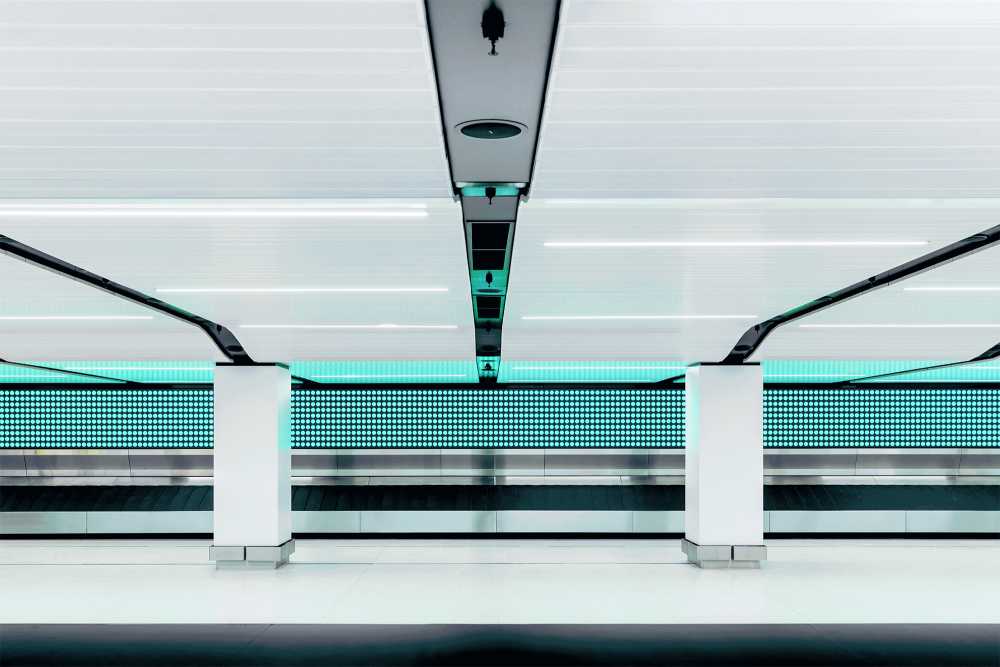 More from SiliconCore's press release:
A standout feature of the airport display is its 90 degree angles. Existing architecture had to have cut outs around the screen to accommodate fire doors and chutes.  SiliconCore assisted with the entire process, partnering with Engie AV Technologies to deliver the design and frame of the LED ribbon.

16×9 cabinets provide pixel perfect content displayed on the screen. Each length section consists of eight cabinets providing an exact pixel length of 1920, resulting in the complete display configuration made up of 18 sections of 1920 pixels.

Each section was within the half height of HD1080 allowing two section strips per 1920x1080P of content. Custom V shaped cabinets were deployed for providing the smooth curves and included use of half cabinets to provide neat and tidy cutout positioning of the LED display around the doorways and bag chutes.

Content is controlled via a 7th Sense Design media player, and all graphics scaling and processing is managed natively via SiliconCore Technology.

State-of-the-art audio is reinforced by Bose Corporation FreeSpace professional speakers.  Materials and finishes to the walls and ceiling have been selected to provide a robust and contemporary design, while the black and white color palette gives prominence to the LED ribbon …

Melbourne; a city with a celebrated art precinct and an emergence of digital art, now provides visitors arriving via the international terminal with an impressive canvas on which to display the city's many attractions and diverse culture.

Rather than using a LED video wall for the usual churn of advertising dollars, Melbourne Airport has deployed this screen to provide travelers with a totally immersive and inviting experience.
If you enjoyed this article and want to receive more valuable industry content like this, click here to sign up for our digital newsletters!