NEC UN552S 55-Inch LED Panel Features Enhanced Factor Color Callibration
NEC UN552S near-bezelless 55-inch panel part of UN Series of video wall panels that are easier to set up and create more multi-screen configuration options.
Leave a Comment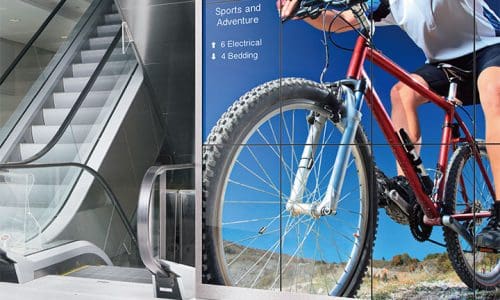 NEC's 55-inch UN552S LED panel—which was announced at InfoComm 2019 in June—"sets the standard for quality color reproduction in video wall environments," according to the company press release.
Direct LED backlighting and factory calibration for brightness intensity, gamma, uniformity, white point and RGB "allows for ideal panel settings and an easy out-of-the-box experience," according to the NEC announcement.
"Brand-new panel technology minimizes the bezel gap of this display, allowing for a <1.0mm distance between adjacent displays with a 0.44mm even and near bezel-less design per unit," the company announcement says.
The NEC 55-inch UN552S LED display is integrated with the proprietary SpectraView Engine, which "not only allows for ultimate color control but also allows for increased color calibration capabilities including white copy, self-calibration to an external sensor and manual CIE chromaticity adjustment for maximum control when color matters most," according to the company announcement.
The UN552S display also includes both a DisplayPort and an HDMI Out connections for daisy chaining signals up to 4K UHD. This new generation of display also received a full chassis upgrade with faster processing times, evolved daisy chain performance, and new TileMatrixing capabilities.
Inside the NEC UN552S LED Display
Here are a few more features of the NEC UN552S 55-inch LED display:
SpectraView Engine exclusive color processing allows for an unparalleled level of color control, uniformity, accuracy and stability
Near Bezel-less panel technology allows for an even 0.44mm design, allowing for the distance between adjacent displays to be <1.0mm
700cd/m2 panel brightness combined with full HD resolution will capture the attention of the audience
Industrial-strength, premium-grade panel with additional thermal protection, internal temperature sensors with self-diagnostics and fan-based technology, allow for 24/7 operation
HDMI and DisplayPort daisy chain capabilities can support up to 4K UHD resolution
New TileCut function added to the TileMatrix functionality for ultimate adjustment of the imagery in the wall
Uniformity calibration of each display for gamma, intensity and RGB for consistency from display to display
The NEC UN552S 55-inch LED display was one of many launched during InfoComm 2019 in Orlando in June.
AVIXA's most recent Industry Outlook and Trends Analysis global summary points to LEDs as one of the reasons the global AV market is expected to reach $247 billion by the end of this year and about $325 billion by 2024.