Neoti Sponsors Jack Harvey's 2023 INDYCAR Entry
DVLED provider Neoti teams with Rahal Letterman Lanigan Racing to sponsor Jack Harvey's No. 30 car at INDYCAR racing events this year.
Leave a Comment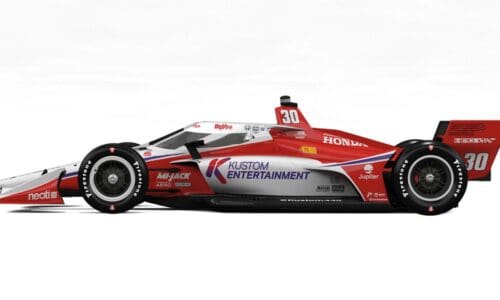 Neoti, the Bluffton, Ind.-based video display technology provider was selected as the LED partner for the new Rahal Letterman Lanigan Racing (RLL) headquarters. As a result of a successful working relationship on this project, the company is now an associate sponsor of RLL. Thus, Neoti will have its logo appear in the NTT INDYCAR SERIES racing events this year on Jack Harvey's No. 30 car.
Large Neoti LED walls are located in both the entry lobby and the control room, with an additional ribbon display in the lobby. Global integration firm AVI Systems brought the opportunity to Neoti and is the integrator on the project. RLL uses a remote-control room as command central during a race, with essential data showing on the giant screen in real-time allowing engineers to make adjustments on the fly.
"RLL is known for being an innovator on and off the racetrack," says Bobby Rahal, co-owner of Rahal Letterman Lanigan Racing. He continues, "Our partnership with Neoti means that we are fully leveraging the latest LED technology to help us innovate and win races. Leaning into new technology, both on the racetrack and behind the scenes, helps us gain a competitive edge." RLL is co-owned by Rahal along with former CBS Late Show host David Letterman and Mike Lanigan.
Related: Neoti Celebrates 15 Years in dvLED Industry
According to Derek Myers, CEO of Neoti, sometimes opportunity comes in unexpected places. "Though we have a long history of providing LED displays of all kinds for sporting facilities, the partnership with RLL is unique for us," Myers comments. "The ownership team at RLL is to be commended for actively seeking local partners for their projects. We've done several projects with AVI Systems in Indianapolis, so they immediately thought of Neoti for this exciting opportunity."
The 2023 INDYCAR SERIES began with the Firestone Grand Prix of St. Petersburg on March 3 through March 5, with the race broadcasted live on NBC. Neoti says it will be proudly zooming around the track at the INDYCAR racing events on Jack Harvey's No. 30 car and cheering him on this season.
If you enjoyed this article and want to receive more valuable industry content like this, click here to sign up for our digital newsletters!