PPDS Ramps Up Manufacturing of MediaSuite TVs
Amid growing demand for Philips MediaSuite TVs, PPDS confirms a sustainable yet substantial increase in local production in 2024.
Leave a Comment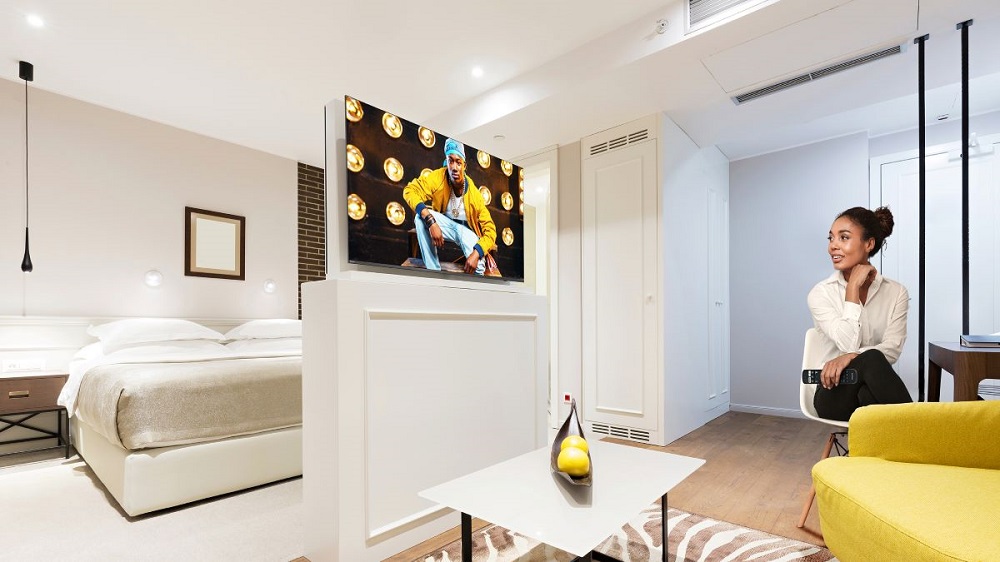 To support a growing demand for Philips MediaSuite TVs, PPDS announced its latest phase of its local-for-local manufacturing approach, with an expansion from 30,000 displays in 2023 to 100,000 pieces to be produced in its Mexico facility in 2024. PPDS is the exclusive global provider of Philips professional displays and solutions.
Fueled by sustained interest and requests from industry partners and hoteliers, the extension of PPDS' hospitality business is part of the company's continued strategy to provide the accessibility of its full suite of solutions to partners and customers around the world. These include digital signage, DVLED, interactive displays, professional TVs and dedicated software solutions, supporting all key market verticals.
Available through its system integration partners in Mexico, PPDS says the Philips MediaSuite is one of the most complete hotel TV on the market. It aims to achieve cutting-edge hotel room experiences and evolves with the needs and requirements of guests into the future.
Related: PPDS Delivers In-Room Entertainment at SkiStar Lodge
Growing Opportunities in Mexico
Per the company, since debuting in Europe in 2019, and in North America in 2021, Philips MediaSuite has quickly become the brand of choice for some of the world's leading hotel groups. The company now has projects and partnerships with Accor, Wyndham Hotel Group, Louvre Hotels. Most recently, it collaborated with InterContinental Hotels Group (IHG), all of which are prominent key players in Latin America.
According to PPDS, the availability of Philips MediaSuite TVs in Mexico is a $7.55bn market accounting for more than 22,560 properties and approximately 808,000 rooms. Thus, the company says it brings an incredible opportunity for hoteliers looking to enhance the guest-room experience.
Carlos Miranda, general manager Latin America North at PPDS, explains, "Mexico is one of the world's leading holiday destinations, with close to 40 million  international tourists forecast to arrive in 2023, rising to almost 55 million by 2027. Competition is increasing and it is essential hoteliers provide their guests with the very best, personalized experience, the results of which will encourage repeat business and generate positive reviews."
Jeroen Verhaeghe, global business development director hospitality at PPDS, says, "Today, more than ever, the TV plays a crucial role in achieving a positive experience in hotels. No two guests are the same, and that's why we created Philips MediaSuite to offer the guest's choice of TV experience, via our commitment to providing Chromecast built-in, Netflix securely and professionally embedded onto the TV itself, and our Android SoC delivering access to the Google Play store, and more. We're delighted to have extended this availability for Mexico."
Related: PPDS Studios Now Open Across Europe and North America
Stream big with Chromecast
Running on PPDS' exclusive Android SoC, and available in 43-inch to 75-inch size variants, Philips MediaSuite TVs combine 4K picture quality, with extensive and unrivalled levels of entertainment choice, customization and back-end control, for a personalized home-from-home experience.
Philips MediaSuite also includes a number of unique features, including Chromecast built-in technology. It creates a secure, 'all in one' solution by removing the need for additional and costly subscription accounts, set-top boxes and unsightly wires.  The Chromecast built-in thus provides guests with the freedom to wirelessly cast their streaming content from their favorite apps, straight onto the big screen, from their own smart devices, whatever their mobile operating system.
A recent hospitality study showed 70% of guests surveyed rated Smart TVs/content streaming inside the guest room as a high factor in selecting a property, while forecasts in February revealed for the first time, U.S. adults will spend more time watching digital video (3 hrs 11m) compared to traditional linear TV (hrs 55m) TV.
Part of a long-term commitment to featuring Chromecast built-in, extensive security protocols have also been integrated, with all guest data automatically deleted upon a guest checking out of their room. This, combined with hoteliers being able to manage guest room TVs entirely remotely (including troubleshooting, updates, marketing and messaging) and eliminated risk of theft, brings significant advantages.
Users have secure access to thousands of popular apps on Google Play, including popular services such as local news, sports, and games, as well as content streaming from providers such as Disney+, HBO, Hulu, HBO, Paramount, Spotify, and many more.
Improving the Guest Experience with Philips MediaSuite
Mikael Da Fonseca, global director IKAM, hospitality at PPDS, adds, "The way we access and consume digital content has changed dramatically in recent years and it is vital hoteliers adapt to ensure the experiences they are used to at home can be achieved effortlessly in their hotel room. At PPDS we understand that importance, and with Philips MediaSuite we provide all the tools to let guests take control of their own experience, watching what they want, when they want, and how they want.
Franck Racape, VP global commercial at PPDS, concludes, "With our expanding commitment to manufacturing in Mexico, coupled with forecasts for significant growth in tourism here, PPDS is in a prime position to support the needs of the market today and into the future."
If you enjoyed this article and want to receive more valuable industry content like this, click here to sign up for our digital newsletters!