Retail Reinvented: Display Technologies that Push the Boundaries of Customer Experience
Learn how Sony's retail displays and digital signage solutions can help reinvent and revolutionize customer experiences everywhere.
Sponsored Content
Leave a Comment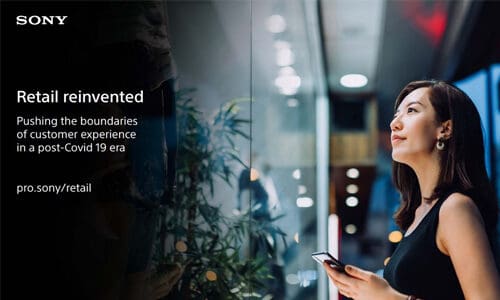 We're living in a connected, hyper-competitive world where customer loyalty is hard to earn and easy to lose. The customer experience is more important than ever. Sony's retail displays and digital signage solutions can help support a wide range of applications — whether the goal is to attract shoppers, advertise the latest products and promotions, or inform shoppers with clear, easy-to-read information to help drive sales.
Store owners must be ready to meet the challenges of a rapidly evolving retail industry landscape. That includes customers who are more informed than ever before, facing ever more tempting choices. Today's in-store consumers expect a personal, immersive, interactive shopping experience that's emotionally rewarding.
The advent of online shopping means countless digital and physical retail opportunities, all jostling for time-pressed consumers' attention. Today's smart shoppers have already done their homework before they set foot in a store. Sony's innovative display solutions empower retail brands to create deeper, more rewarding digital customer experiences. And these are exactly the kind of experiences that engage those shoppers.
Digital Signage for QSR
Quick service restaurants (QSRs) also need digital signage that can enable real-time information, product offerings and promotions. Indeed, today's customers demand smooth, interactive self-order experiences that match their online shopping interactions.
Sony's retail display solutions help QSR outlets grab shoppers' attention, streamline order handling, increase sales opportunities and guide diners through a mouth-watering food-and-beverage experience.
The BRAVIA BZ40H series is ideal for presenting offers. Rich color, coupled with the SLS-1A line array speaker, delivers clear and powerful promotional messages that can be heard in busy environments.
Sony Retail Displays for Automotive Showrooms
Post-pandemic, automotive dealers must lure clientele back to the showroom with that "wow" factor. Sony's displays are tailored to create an eye-catching, welcoming environment, which conjures a positive sense of wonder and discovery in the customer from the minute they walk in. Sony's BH- and CH-series displays harness the latest Sony imaging innovation to deliver extraordinary picture quality at an affordable price.
Discover More Sony Retail Display & Digital Signage Solutions
Find out much more about Sony's 4K digital signage solutions, as well as its newest Crystal LED displays, for any size and scale, by downloading this brochure now or by visiting pro.sony/retail.
If you enjoyed this article and want to receive more valuable industry content like this, click here to sign up for our digital newsletters!