Samsung OMN and OMN-D Digital Signage Fosters a New Era of Business
Samsung OMN and OMN-D Digital signage products are helping quick service restaurants (QSRs) and other businesses communicate with customers.
Leave a Comment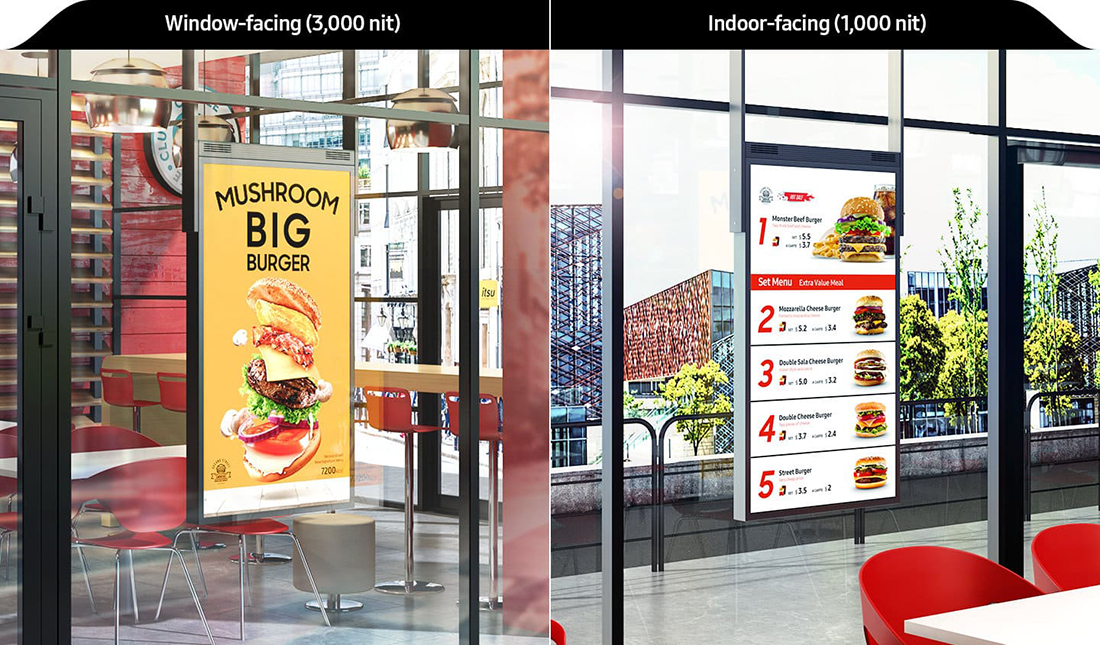 A new set of solutions designed to meet the rapidly increasing demand for quick service restaurant (QSR) environments, the Samsung OMN and OMN-D products provide a range of display options.
Samsung entered the QSR market about six years ago, and the company says that today's market conditions, which include the use of apps driving business towards services such as Doordash, Grubhub and UberEats, as well as Millennial purchase habits, are greatly impacting a number of markets.
The company says that businesses are taking the data cultivated from apps, and applying that information to digital signage and offering pro-integrator initiatives such as customer loyalty programs.
Andrew Catellier, senior business development manager, Samsung Electronics, mentions that some of the information included in digital signage applications include calorie counts, which are required by law for restaurant chains that have more than five restaurants.
"The current law has been suspended I think, but you are seeing the trend, but everything is moving to a healthier look. That is helping to drive some of that," says Catellier.
Catellier points out that some of the other market conditions that are affecting QSRs are the differences between older consumers and younger consumers.
He explains that traditional customers want to eat quickly based on what is on the menu. Today's customer is looking for healthy ingredients and the customization of food through kiosks.
These conditions he notes are shaping the way these types of businesses are using digital signage products.
Samsung OMN and OMN-D Digital Signage Meets Current Market Conditions
As QSRs, retail and other similar businesses evolve to better compete in today's economic climate Samsung is supporting these markets through the launch of its OMN and OMND product lines.
The global electronics manufacturer emphasizes that as business continues to evolve and more consumer rely on electronic products and services, the investment into digital technologies will provide businesses with return on investment (ROI).
Some of the specific applications for digital signage Samsung notes that QSRs are looking to implement include:
kitchen displays
digital menu boards
drive through
crew board
self-ordering kiosks
window signage
The Samsung OMN and OMD-D digital signage products are engineered to engage customers in these types of settings to provide them with the information they immediately want according to the company.
Samsung specifies the OMN single display as a solution that produces up to 3,000 nits of brightness to allow the public to see its graphics on bright, sunny days.
The OMN-D's dual-display delivers up to 3,000 nits of brightness to the window-facing side to maintain picture integrity in bright sunlight. The in-store side of the OMN-D produces up to 1,000 nits of brightness to provide consumers an easy-to-read interface.
Read Next: Go 'As-A-Service' and You, Too, Can Grow Like Cenero
Both the OMN and OMN-D incorporate Samsung's Circular Polarizing Technology to permit wearers of polarized sunglasses to read the displays, as well as other features such as slim designs that support a range of mounting scenarios.
The displays also incorporate Samsung's MagicInfo Player S6. Samsung says this media player utilizes the Tizen operation system and it is designed for easy content management and playback without the need for an external player or computer.
In addition, the Samsung OMN and OMN-D digital signage products provide 24/7 messaging capabilities, and the company backs the products with a three-year warranty.
OMN and OMN-D Displays Features
Both series of products available in a choice of 46- or 55-inch screen sizes
The OMN and OMN-D series deliver 1920 x 1080 resolutions
All of the products incorporate Wi-Fi network connection options
OMN Series features DisplayPort 1.2, HDMI, USB, stereo mini jack
OMN-D Series features HDMI, USB, stereo mini jack
Both series include RS-232 connectivity
If you enjoyed this article and want to receive more valuable industry content like this, click here to sign up for our digital newsletters!