Using Digital Displays For Financial Information Is Becoming More Popular
Using digital tools, integrators can create engaging and dynamic content displaying stock market and other financial information.
Leave a Comment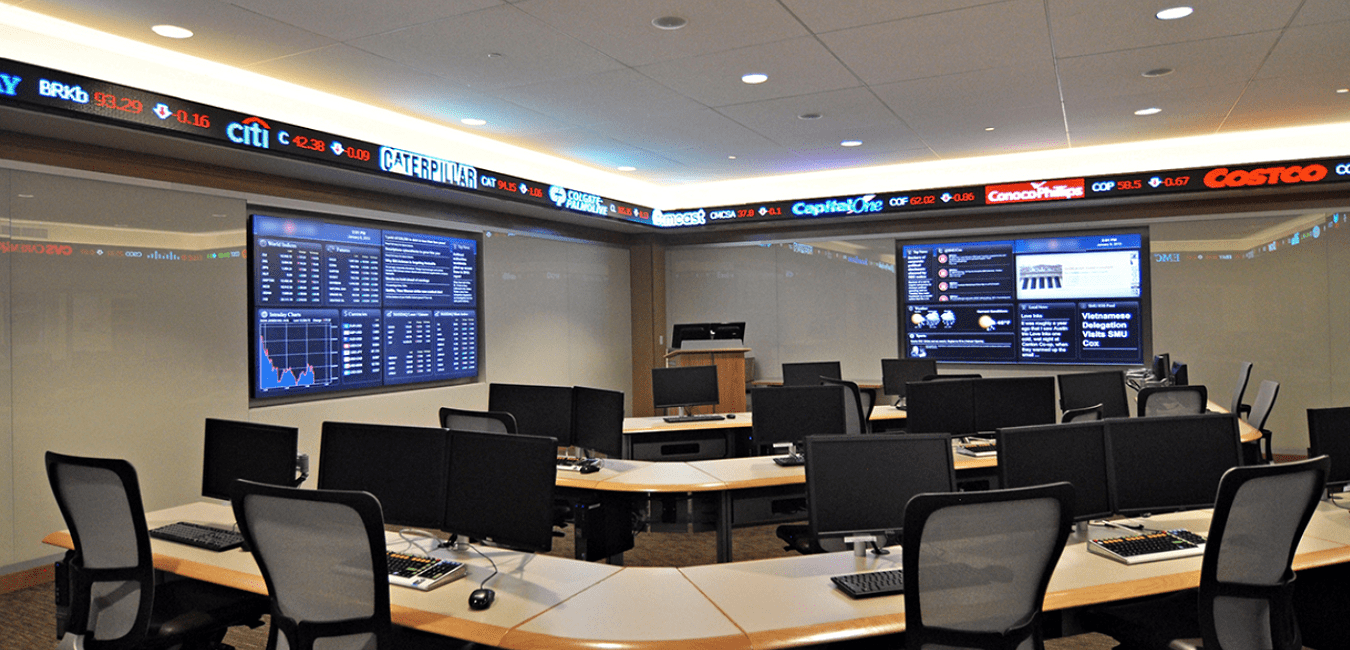 Interest in investing and the stock market is reaching an all-time high, giving integrators another opportunity to bring dynamic solutions including stock tickers and digital screens displaying financial market information to customers in various industries.
According to AV professionals with knowledge of this trend, retail banks, educational institutions, corporate lobbies and even some home offices are driving a spike in interest of digital stock tickers, financial market templates on digital signage.
As with any other digital display, these solutions are designed to grab a person's attention, draw their gaze and bring valuable and timely information to them via dynamic digital medium.
Rising interest in financial literacy in education
According to Ryan Cahoy, a managing partner at LED ticker display company Rise Display, the company has been fielding many requests from customers – particularly in education – for dynamic stock ticker displays in financial literacy classes.
Recently, more than a dozen states mandated financial literacy education, prompting schools to invest in technology that will make the course material more engaging to students, Cahoy says.
"And then on the heels of the whole Robinhood thing and day trading and everything else, I would say we are probably getting three to five requests a day for high schools looking at building up financial literacy programs," Cahoy says.
Robinhood is a financial services company that offers commission-free trades of stocks and exchange-traded funds that has become very popular among casual and professional investors like due to the simplicity and ease of use of the company's mobile app.
Recently, the company has garnered international headlines after troves of day traders used the app to execute short squeezes on struggling companies like GameStop, resulting in massive gains for some, and equally massive losses for others.
"They're trying to ride the coattails of the interest," Cahoy says, as the availability of Robinhood and similar investing platforms has made investing more accessible than ever to young people.
Seeing the interest among students in financial markets, educators hope to capitalize and roll these ideas into the curriculum.
"Teachers want to capitalize on that interest and teach them, 'Hey, what happened with GameStop was really glorified gambling. That's really not what financial literacy is all about.'"
Read Next: ANC Creates Enhanced Banking Environment at Chase's Madison Avenue Flagship
Retail banks, brokerages
The more traditional use case, of course, is for financial clients like banks and brokerages.
According to Cahoy, a decade or so ago provided a lot of business as the line between banks and brokerages faded away, which was followed by a "quiet period" thanks to online banking and regulations.
Now, many of the big commercial banks have financial arms and relationships with brokers and want to provide a holistic financial experience to their clients that will help prevent clients from taking their money elsewhere.
"So you're seeing banks offering those services as a cross sell and upsell," Cahoy says. "That's where the tickers come in. People realize, 'I can trade stocks here.' They're like eye candy – they get people's attention."
Banking is also where digital signage company Mvix is seeing the biggest demand for visual stock content, says Mike Kilian, vice president of client relations.
"It forces people's attention to specific content a brand is trying to push," Kilian says. "it's a really good way to show people how they're losing or making money."
Financial information on digital signage can also help drive attention to a bank's other products if displayed alongside digital advertisements.
But, above anything else, organizations are increasingly interested in stock information for their digital displays as end users begin to struggle to keep digital content dynamic.
Historically, digital content may have included slideshows, scrolling news feeds and the link as a tool to capture a customers' attention.
As customers demand an increasingly dynamic and engaging digital experience, integrators and digital signage companies must evolve with them.
"Getting attention is pretty easily done with stocks – whether it's scrolling or graphical," Kilian says. "As a mere tool for getting people's attention to the displays themselves, stocks are pretty powerful."
The opportunities for integrators
Cahoy suggests integrators engage educational customers, including higher education institutions that are building out a business school, or a high school introducing financial literacy curriculum.
In addition to robust conference rooms, signage and audio solutions, offer solutions like stock tickers and signage designed for financial information.
"It's easier for clients to buy that all in one purchase order from that one company that's already doing all the technology for them," Cahoy says.
Schools typically ask for an 8-to-12-foot long ticker in a classroom or computer lab along with a digital display that's running CNBC or other software that tracks a portfolio or student-managed fund.
For financial markets integrators should be prepared for a top-down sales approach, Kilian says.
Retail banking is still a relatively new vertical for the AV industry and the scope of services is still evolving.
"You're really got to be working with a decision maker," Kilian says.